If there is sexual innuendo to be used, Richard Branson will use it. And that's exactly what the Virgin entrepreneur's brand did recently in an event to reveal more details of Virgin Voyages—the forthcoming cruise line from Virgin, expected to set sail from Miami in 2020. It was not a presentation, but rather, a #ShipTease
Renderings of the ship are very, well, Virgin: mod furniture; a red, purple, and white color scheme; and violet-tinged lighting reminiscent of Virgin Atlantic's signature ambient cabin lighting.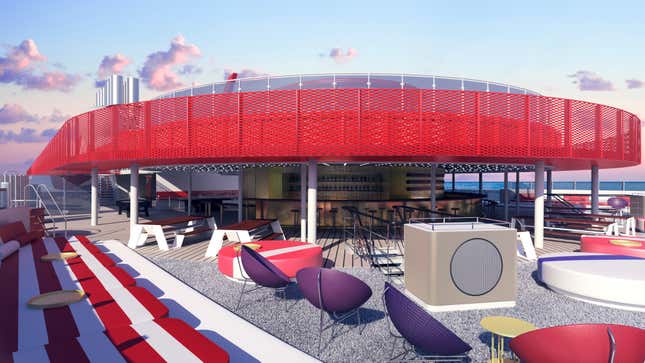 Other features include a catamaran-inspired "Athletic Club" lounge featuring the world's largest daybed at sea, a private VIP deck somewhat creepily called Richard's Rooftop, and a "test kitchen" which looks like something you'd find on an episode of Masterchef. The design partners—which include Tom Dixon's Design Research Studio in London, among other prestigious names—are reportedly drawing inspiration from trendy boutique hotels, rather than conventional cruise ships.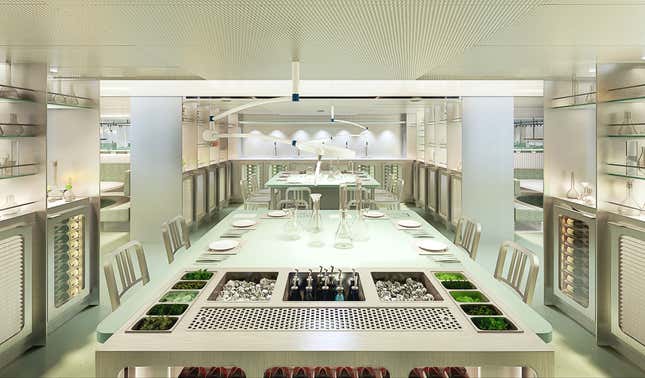 All of which is to say: Richard Branson wants to make cruising sexy. And in doing so, he wants to eliminate children. As he told Conde Nast Traveler back in October when an early look of the ship's exterior was made public: "We want to get people who'd never dream of going on a cruise ship. We're going to start without kids, which will make me a very unpopular granddad. It sends a message. I think there are a lot of people who find that kids running around a cruise ship gets in the way of their holiday."
Branson's play is far from the first attempt to make cruises hip again. But he might find that clearing his decks of under-18s is the least of his problems. Indeed, big cruise lines have made it their mission to appeal to younger audiences for some time now. Many have launched millennial-focused and experience-centric products—think music festivals, culinary themes, and influencers galore—and made an effort to spend more time in popular port cities. Numerous new outlets have parroted the claim that younger people are flocking to cruises in ever greater numbers, helping the industry shed its reputation of catering solely to baby boomers and retirees.
The thing is, there is very little proof that any of that is working.
As Quartz reported in April, there is scant reliable data to support the claim that cruises are increasingly appealing to a younger demographic. The Cruise Lines International Association's widely-repeated stat that the average age of a cruiser has dropped to 46 does not indicate that any one age group is the reason for that. (You would need a median age to tell you that). After all, a ship that's half 80-year-old grandparents and the rest their 12-year-old grandkids would show an average age of 46.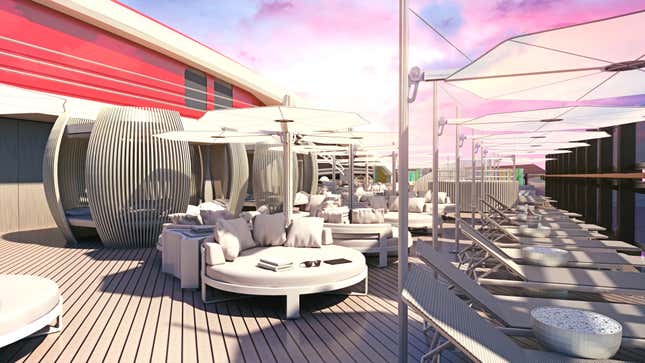 One striking example comes from U by Uniworld, a millennial focused cruise that launched in April. It was initially meant to be restricted to those between the ages of 21 and 45. And yet, despite its influencer-heavy pre-launch event—which included "a drum circle creating a spiritual energy onboard, sabering champagne on the top deck, and a renaming ceremony where guests released bio degradable lanterns"—the company decided to open it to all ages before its maiden voyage, citing "consumer demand."
That said, it's true that attracting millennials isn't the only way to make something hip (though, young people usually help). And Branson certainly has a history of of making transportation sexy and fun again—that was his stated goal with Virgin Atlantic airlines, after all. But with cruises, he might well find some rough seas ahead.