Dior's first female creative director, Maria Grazia Chiuri, has made strong women part of her storytelling. Since taking the reins at Dior in 2016, she has paid tribute to Peggy Guggenheim, Georgia O'Keefe, and the sexually liberated 1960s student protesters with her designs.
The 2019 Cruise collection, shown in the 18th century-era Great Stables of Chantilly, France on Friday (May 25), was no exception. This season, said Chiuri, was all about escaramuza horseback riders: female equestrians in the traditional Mexican rodeo known as charrería.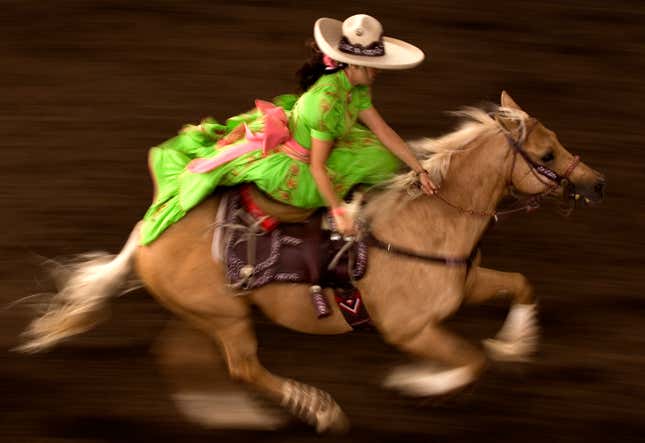 With elaborate embroidery, cotton lace, and sombreros worn low, many looks in the Dior Cruise collection echoed the traditional Mexican dress of the escaramuzas charras, as the riders are known. While the traditional herding and competitive riding known as charreria dates back centuries, escaramuza is a relatively newer development. Escaramuza style is a tribute to women warriors of the past: the Adelitas, who fought in the Mexican Revolution. Dressed in suede suits and  lavishly embroidered cotton dresses with silver pins and leather-strapped sombreros, escaramuza teams perform intricate choreographies as a group of up to eight riders at a time—like an equestrian ballet. (See 4:00 in the video below.)
In an age where critics are wont to cry "cultural appropriation," Chiuri stepped carefully to pull off a respectful tribute, melding the traditions of Mexican dress with Dior's French heritage. The nipped-in waists of equestrian-style jackets and full, sweeping skirts showed echoes of Dior's "New Look," and a toile de Juoy print looked distinctively French.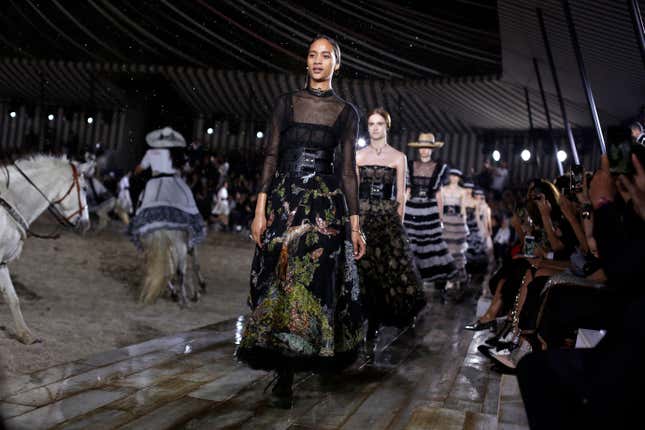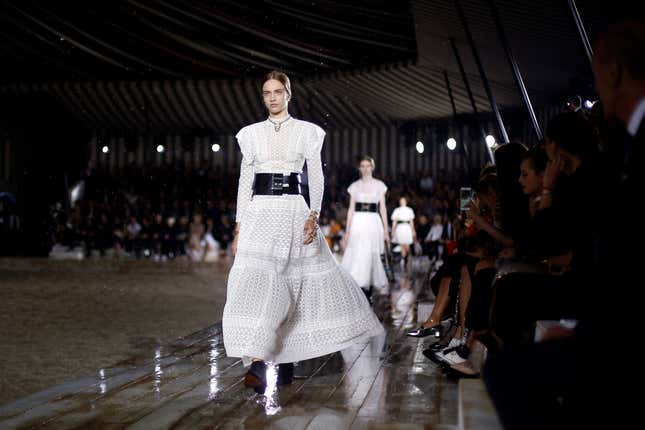 "This kind of tradition of embroidery is part of my culture, which comes from southern Italy where my father was born, but also in the south of France, as in South America," Chiuri told Women's Wear Daily. "In some way, I think that all the South has the same language. When we speak about lace, when we speak about embroidery, it's such a part of different countries that it's very difficult to understand where they come from."
According to Vogue, an eight-woman escaramuza team flown in from Mexico opened and closed the show—in custom Dior, of course.