As anyone who's opened a pill bottle in the last fifty years can attest, childproof packaging has remained remarkably consistent: push and twist, and off the top pops. It's a concept that hasn't changed in decades, until now. The legalization of recreational marijuana is unleashing a wave of creativity among package makers, as they look for ways to reinvent child-resistant design.
"The advent of cannabis, and more specifically the requirements for cannabis, has really changed the world of child-resistant packaging in dramatic ways," said Robert Lerman, owner of ebottles.com, which sells child-resistant packaging for the marijuana industry, as well as other industries. Shoppers at marijuana dispensaries are now toting their purchases home in nifty boxes with slide-out sheaths, groovy glass containers with bamboo tops, and sleek mylar envelopes with built-in zippers.
In 2011, just before Colorado passed Amendment 64 (pdf) making recreational pot legal (medical marijuana passed in 2000), the Medical Marijuana Code required that products be enclosed in packaging that can't be quickly opened by children, but that doesn't present a challenge for seniors and disabled people. California, which legalized recreational marijuana in January of this year, also requires that packaging be tamper-evident—the way bottled water or vitamin bottles might be, with a seal that must be unbroken.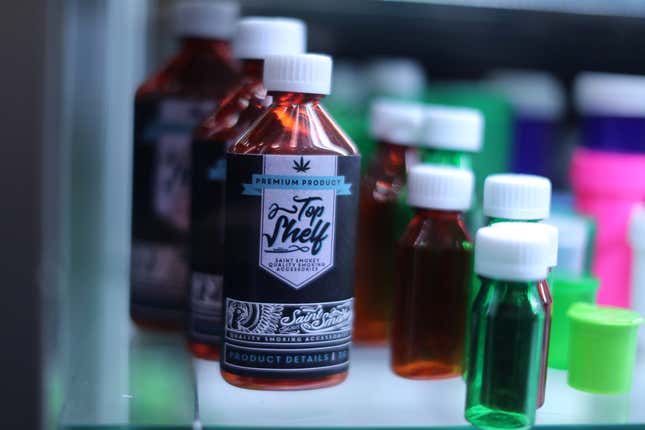 None of that presented a design quandary—any pill bottle could be rejiggered to fit that bill. But as the pot industry has exploded—it was a $1.5 billion business in Colorado in 2017—and expanded into products like edibles, topicals, and concentrates, the need for pot-specific packaging has pushed designers to think of ways to be compliant without sacrificing creativity.
"It's such a green market," said Minh Truong (un-ironically, I swear), a sourcing manager at California-based MarijuanaPackaging.com. "We try to be compliant but also try to be different. We're pushing new ground."
Jim Burack, director of Colorado's Marijuana Enforcement Division, which is responsible, indirectly, for those new packaging products, since they're responsible for those requirements, agreed: "There has been an evolution and sophistication of different containers and packaging as the industry has evolved."
It's unclear what impact these newfangled products will have on the packaging industry itself, but the explosive growth in all things marijuana-related means that there will continue to be innovation as more states legalize pot and look for ways to make it both accessible and safe. For design geeks like myself, that's reason to be excited.
Packaging Gets Special
The US has child-resistant packaging, known officially as "special packaging," thanks to the 1970 Poison Prevention Packaging Act, enacted in response to the high number of children ingesting hazardous household products, from cleaning products to prescription drugs. Before the act, poisonings from household products were thought to be the leading cause of injuries (pdf) for kids under five, according to the U.S. Consumer Products Safety Commission (CPSC).
The act required child-resistant packaging to be "significantly difficult" for kids under five years to open within a few minutes and "not difficult for normal adults to use properly." It has to be tested at facilities approved by the federal government.
The requirements of the tests are so stringent and specific, that it's worth taking a quick detour into what they entail. Fifty boys and girls—30% between 42 and 44 months, 40% between 45 to 48 months, and 30% between 49 to 51 months—are given a sample package and have five and then ten minutes to get it open. The requirements note that: "If one or both children have not used their teeth to try to open their packages during the first 5 minutes, the tester shall say immediately before beginning the second 5-minute period, 'YOU CAN USE YOUR TEETH IF YOU WANT TO.' This is the only statement that the tester shall make about using teeth."
Once it passes the test with kids, it moves on to 100 seniors between 50 and 70 years old (The tests precede our rise in longevity and our notions of what a senior citizen is.) The seniors only get printed instructions; no one tells them they can bite it if they want to.
Child-resistant packaging design has been so effective, reducing oral prescription medicine-related deaths in the US to 1.4 deaths per year per million kids under five, that it's barely been updated since its introduction in 1970.
Pot changed that.
Exit the Exit Packaging
In 2013, just as recreational pot was about to be sold in Colorado, the law required that pot purchases leave dispensaries in childproof exit packaging, typically a childproof bag that held all purchases. Your Green Crack brownies and Girl Scout Cookie leaf would all go in a hard-to-open pouch, like MarijuanaPackaging.com's Pinch N Slide or the FunkSac by Kush Bottles.
The problem with exit bags was that once people got home, they took their pot products—e-pens, edibles, flowers—out. According to a 2016 report, some 14,000 Colorado homes with children between one and 14 years old had marijuana in "potentially unsafe storage."
Between 2016 and 2017, Colorado's Department of Marijuana Enforcement conducted a series of focus groups, talking to multiple stakeholders, from growers to public health officials, about their concerns—both for regulations that ensure public safety and for the industry to keep up with those regulations. The result was a new set of rules, requiring that any containers holding "medical and retail marijuana, concentrate, and infused-products" had to be child-resistant, according to an email from MED.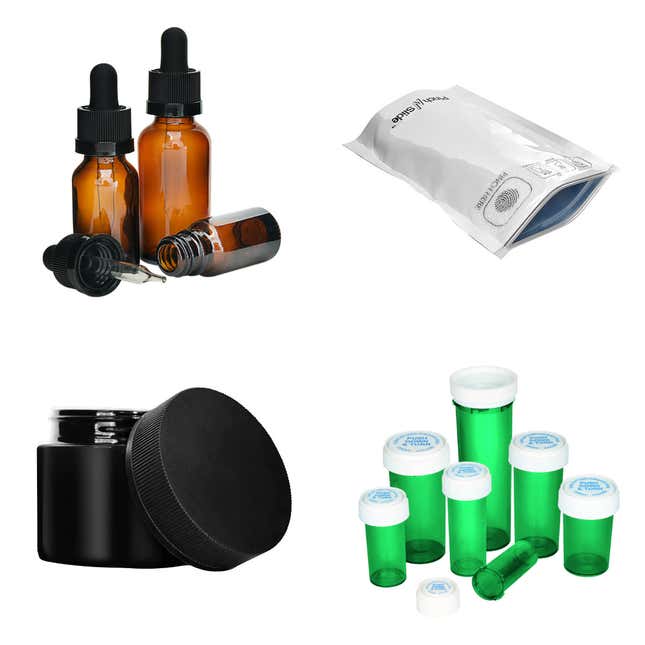 Enter the next generation of special packaging: tins, slide boxes, blunt tubes in funky colors. Little jars that look like contacts cases. Tamper-resistant dropper bottles.
There are even options for that traditional pill vial, like a walnut screw top instead of the traditional white plastic. Or bamboo. Or ash. Believe it or not, this is a radical change. Until recently, the screw tops were usually pictorial, with a diagram of how to open the vial embossed in the plastic.
But, said Lerman of ebottles.com, "There's so much regulatory information on the container that there's very little room for marketing." In other words, all the information about THC content and provenance, also required by the MED, left little room for branding. Manufacturers of pot products wanted to brand the top. And, since everybody knows how to open pills bottles, the picture was no longer needed.
"It created this demand for closures that are smooth on top. That's the new generation."
A new product of Truong's is the black glass jar, which protects against sun exposure. "You want to keep the temperature [of pot] stable and make sure there's no sunlight oxidizing it." Black glass was already popular with marijuana users, but, he said, "there was nothing in the market with a child-resistant cap on it. We tried to find a different, innovative combination that the public would actually want."
I'll admit I felt a little underwhelmed by the packaging myself—it's a black glass jar with a hard-to-remove cap; it's not the printing press. But I get it—this particular product did not exist until the legal marijuana industry did.
Lerman said the next step is aesthetic. "We're developing some dome-shaped closures that will be very cosmetic in appearance, that will look like a product from Estee Lauder, for CBD creams," he said. "It can be completely cosmetic and child-resistant at the same time. And that's just the bottle world."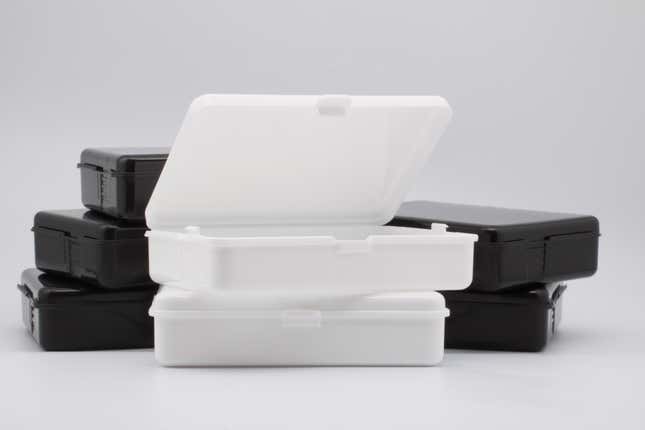 Bill Ludlow, president and CEO of Denver-based CRATIV Packaging, and his partner Paul Burek both started as mechanical engineers in the medical device manufacturing industry. When Ludlow moved to Denver for work, he started scouting where there might be "an opportunity for innovation," he said. He found it in packaging.
Their creation is the CRATIV Case, a plastic box that has to be pressed on the sides and front to open. "It's different from anything in the industry and different from anything ever launched," he said.
CRATIV is designed with edibles in mind. Ludlow measured the sizes of $500 worth of edible pot products to create a food-grade plastic case with flat surfaces that make for easy labeling. "We wanted to design something that is able to become beautiful," he said.
Ludlow pointed out that while the CRATIV case is recyclable, it can also be repurposed. Once the edibles are eaten, it can host a number of other things, like a lighter, jewelry, rolling papers, or credit cards. "Twelve pieces of Starburst fits perfectly in there," he said. CRATIV sent me one in each size. Though mine was never used for its primary purpose of holding pot products, it's doing a nice job storing my retainer (TMI? Sorry.)
CRATIV's case is practically adult-resistant packaging; it took me more than a minute to figure out that I had to press the sides and then depress a latch in the front. (For the record, my husband never figured it out, but a friend of ours opened it in seconds.)
That said, I'm not the consumer that stakeholders really need to worry about, says Lerman. "You really want to keep your cannabis away from teenagers," he points out.
"How do you do that?" I asked him.
"It's called a safe," he laughed.
This article is part of Quartz Ideas, our home for bold arguments and big thinkers.