After suffering through a slump in the US through much of 2017, Nike is now growing again on its home field—its most important source of sales and the world's biggest sneaker market.
The company announced yesterday (June 28) that quarterly sales in North America grew about 3% versus the same period last year. It's a modest increase, but given that the region makes up about 40% of Nike's business, it was an important one. Combined with Nike's continued strength overseas, especially in China, and its thriving direct-to-consumer business, the growth helped lift Nike's total sales 13% for the quarter.
A few factors boosted Nike in North America, including its strong digital business and healthy sales of apparel. But Nike is, of course, foremost a sneaker business, and as CEO Mark Parker pointed out on the company's call with investors, its newest sneaker styles are playing a part in the company's return to growth. Smartly, Nike has been sure to push the newcomers as lifestyle sneakers as much as performance products, matching what customers want today. They seem to have shoppers excited about buying Nike shoes again.
Here are the new styles in Nike's roster helping the swoosh back to its feet in North America:
Air VaporMax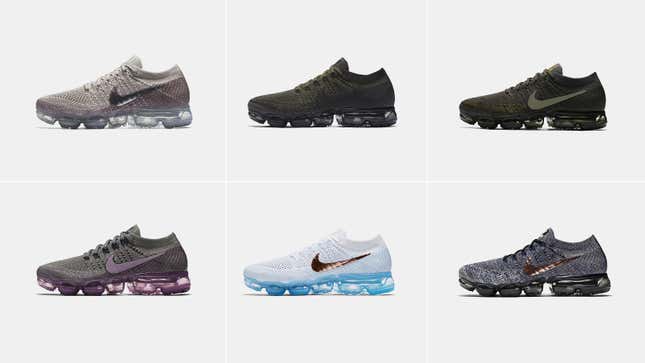 Nike launched the VaporMax last year as the newest addition to its fabled Air platform, which now has a history three decades long and has played a crucial role in the company's overall success. Nike called it "the pinnacle of Air," since it used the idea of Air—basically a polyurethane bubble inflated with gas—to create an entire standalone outsole.
The shoe has a distinct look and feel, and while Nike introduced it as a running technology, it made clear that its appearance was just as important. Among the first views the public got of the sneaker was on the runway at Paris Fashion Week in 2016, where Nike and Japanese label Comme des Garçons showed a laceless version they collaborated on. Since then, Nike has been putting the VaporMax sole on a number of different sneakers, including popular retro styles like the Air Max 97, cleverly giving a fresh update to designs that have been around for years and drawing customers.
Air Max 270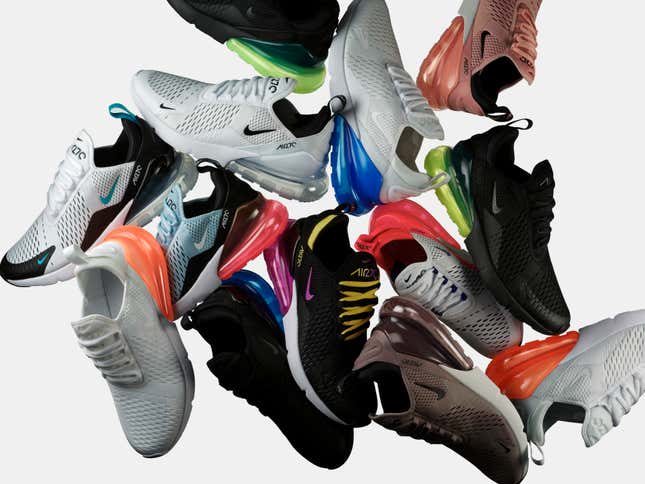 Though it's also member of the Air Max family, the Air Max 270, released at the start of 2018, is unique in the Air platform's history. It's the first to be designed purely as a lifestyle shoe, rather than starting as a performance sneaker.
It has taken off as a fashion shoe. The massive Air bubble at the heel gives Nike a way to inject a big, bright burst of color and energy in the design, and the company has released numerous version that mix and match colors across the upper and the sole.
Epic React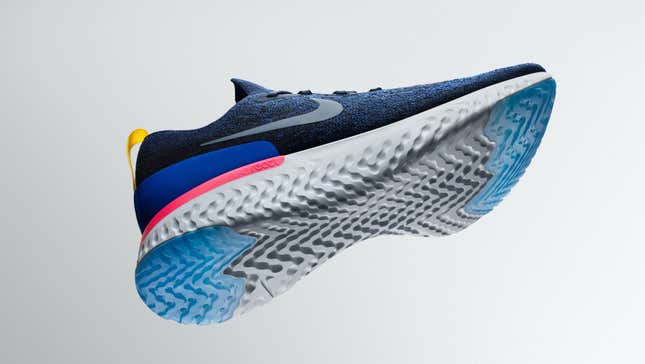 It took Nike's chemists, engineers, and designers more than three years to develop React, a running platform that has the cushion and bounce of a very firm marshmallow. The company had big plans for it when it debuted the shoe in January. Brett Holts, Nike's vice president of running footwear, told Quartz they expected it to quickly become one of their biggest running platforms, and to essentially replace its predecessor, Lunarlon.
Comfort is a top priority for shoppers today, making React appealing to customers whether they plan to run with it or not. Nike, in fact, is in the midst of launching a new iteration designed for everyday comfort—and style—the Nike React Element 87. Nike again turned to Paris Fashion Week for the shoe's debut, working with Japanese label Undercover. But it has also started selling non-collaboration versions of the React Element 87. They were already beginning to appear on the feet of guys at the Paris men's shows last week.
Though one important point to note about all three of these sneakers is that they aren't just appealing to men. "The success of our new cushioning platforms is driving momentum in our women's business as well," Parker said on the investor call. "In fact, following our launches the past three months, the 270, VaporMax and Epic React are already the top three selling women's athletic footwear models, above $125."