It's long been held that Americans have an aversion to napping. Unlike the Spanish who pioneered siestas, the Chinese who put their head down after lunch, or Italians who close shop mid-day, most Americans just power through the workday.
Despite many experts extolling the productivity and brain boosting benefits of power naps, sleeping in the workplace is still generally perceived as a sign of laziness in the US. But with irregular work schedules on top of a national sleeplessness epidemic, this may be changing. Already, sympathetic universities, offices and co-working spaces have started creating siesta spots furnished with hammocks and space-agey napping cocoons.
Now, marketing-savvy mattress start-up Casper is joining the campaign for guilt-free daytime snoozing with a new napping headquarters called "The Dreamery." Located on the back of its New York City flagship store, the Dreamery offers 45-minute power naps for $25.
"America has a cultural problem around sleeping in the workplace," says Eleanor Morgan Casper's SVP of experience design. "We're trying to change this mental model and extend sleep beyond the home."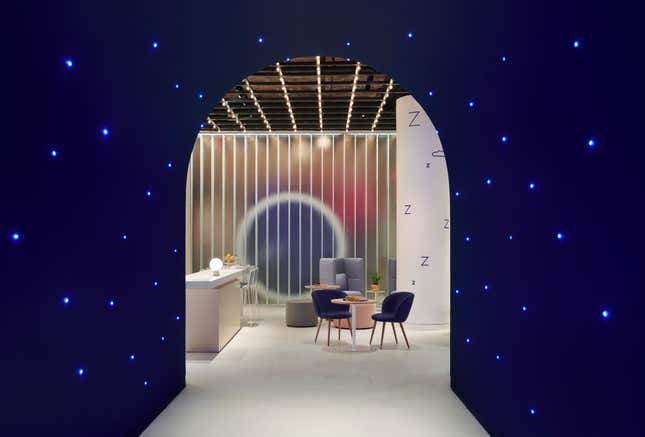 More than makeshift napping nooks, Casper's design savvy is apparent throughout the convivial oasis intended to "refresh the body and the mind." Upon check in, customers are offered pajamas, slippers and lockers to store their belongings, including mobile phones, if they they choose. They're invited to wait in the lounge with free refreshments and comfortable seating.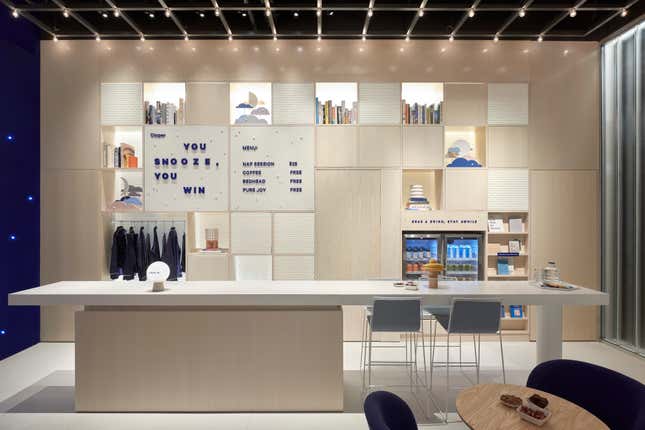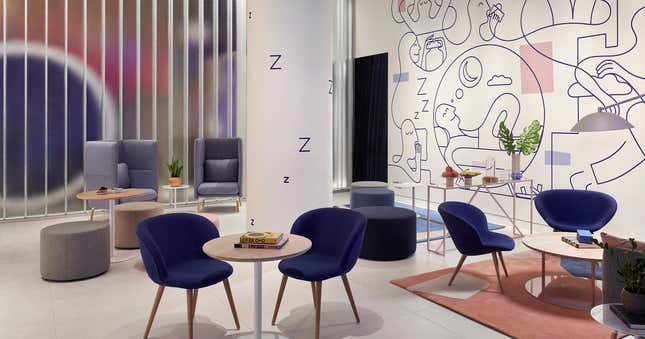 In the sleeping area, customers are ushered to one of nine curtained pods equipped with a single mattress and a sleeping mask. And even for those who don't feel like napping, the Dreamery offers one of the greatest urban luxuries: a quiet place to be alone to gather oneself.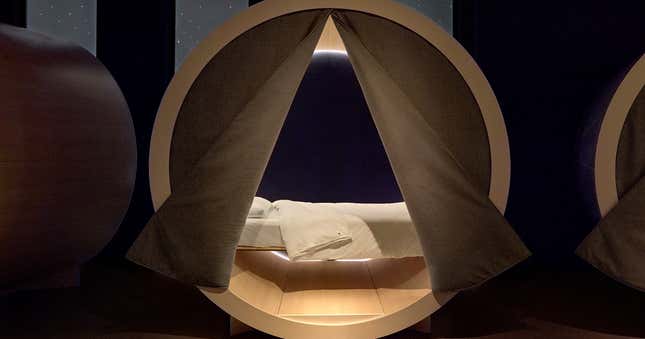 After the 45-minute session, customers are led to refresh stations equipped with toothbrushes and Aesop products. (Even the cult-favorite Aesop anise-spearmint mouth-wash is on stock.) Customers can pre-book sessions at the Dreamery's website or fitness apps like ClassPass and MindBody. The Dreamery's pricing is based on the amount New Yorkers are typically willing to pay for a group exercise class.
Single occupancy, no hanky panky
Casper has a lot of experience with pop-up napping stations and "napmobiles," but designing its first brick-and-mortar center required a bit more consideration. For instance, with steady stream of free coffee and wi-fi, how do you keep customers from squatting in the lounge all day and turning Dreamery to yet another co-working nightmare scene? Additionally, the Dreamery's rules state that only one person can occupy a bed, but will they turn away parents with infants? And, perhaps most urgently, how do they plan to prevent "afternoon delights" from rocking the Dreamery?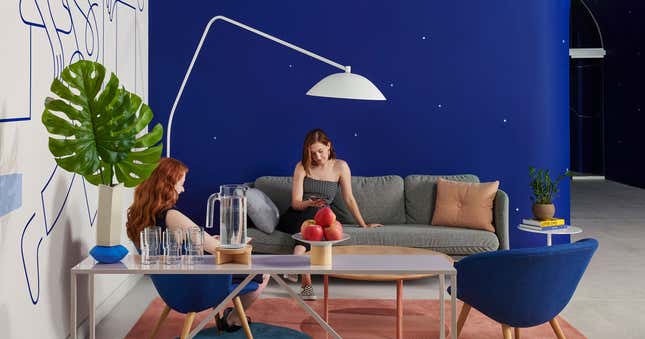 Casper says that there will be attendants to monitor the sleeping quarters at all times to deter rule-benders. Attendants will also be responsible for gently nudging over-sleepers from their temporary cocoons. They're also considering instituting parent-baby afternoons like in "cry baby matinees" in some movie theaters, based on the demand.
As the Dreamery welcomes its first nappers today, Morgan says they're eager to see how Americans take to the idea. She explains that Casper is already exploring partnerships with airports, offices, and tech development companies, who are notorious for pulling all-nighters to meet deadlines.
"We want to spark a cultural movement, " Morgan says. "The Dreamery is a cultural provocation."
Designed by New York-based architecture firm Hollwich Kushner and Casper's inhouse team, the Dreamery joins the growing network of nap-focused "wellness centers" opening in major metropolitan cities across the country. They include the "blissfully noise-free" Nap York in Manhattan, Peace Power Napping in Chicago, and Recharj in Washington, DC.