Subscribe to the Quartzy newsletter to receive this in your inbox each Friday.
Happy Friday!
As a relative newcomer to Los Angeles, I'm still elated to be invited to dinner in someone's home, and so have been amassing tips for being a gracious guest.
Bring this pie
Who knew a pie could be beachy? Chef Bill Smith's Atlantic Beach Pie is. The Saltine crust is buttery, sandy and, of course, salty. The citrus filling is bright and sunny, and has enough acid to cut through the cool froth of fresh whipped cream on top. What's more, the whole thing requires only seven supermarket staple ingredients, making it a great one if you're actually in a beach town where the provisions are basic. Perhaps this is why Atlantic Beach Pie has become a bonafide phenomenon. We discovered it via Food52's Genius Recipes collection, but the New York Times featured it this week and reported that an internet search for the pie surfaces no less that 458,000 results.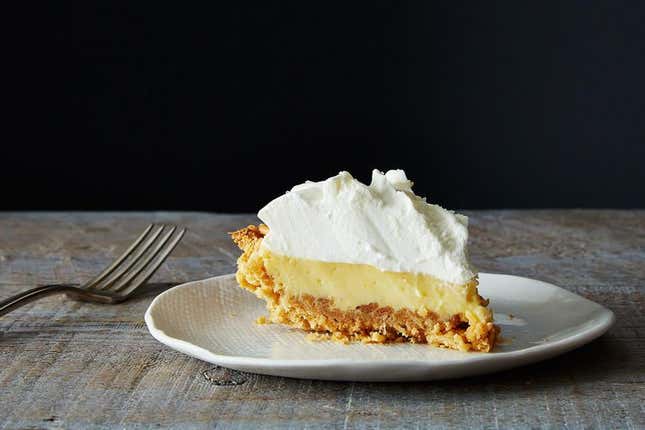 When I made this for a recent barbecue several hours in advance, on the advice of Quartzy editor Indrani Sen, I stabilized the whipped cream with a dollop of cream cheese (about two ounces of cream cheese per cup of whipping cream), and brought it in a separate bowl. Come serving time, I dashed to the fridge, spooned the cream over the pie, and was greeted like a goddess.
Some quick do's and don'ts
In bringing that pre-whipped cream, I was following one of a few simple "do's" and "don'ts" provided by one of the most frequent dinner-party hosts I know: Do ask what you can bring. Do bring dishes that require minimal prep (if asked to). Don't assume you'll have easy access to kitchen appliances or counter-space. And if you're not given an assignment, don't hesitate to bring a bottle of wine anyhow.
Or, Bring a next-level cheese plate 
And be a hero without turning on the oven, wrote Annaliese (a former cheesemonger), in her guide to the art of cheeseboard building. A few pro-tips for a perfect cheese plate:
Mix your milks
Choose two to four cheeses made from cow, sheep, and goat's milk to give you a good array of flavor, textures, and colors to work with.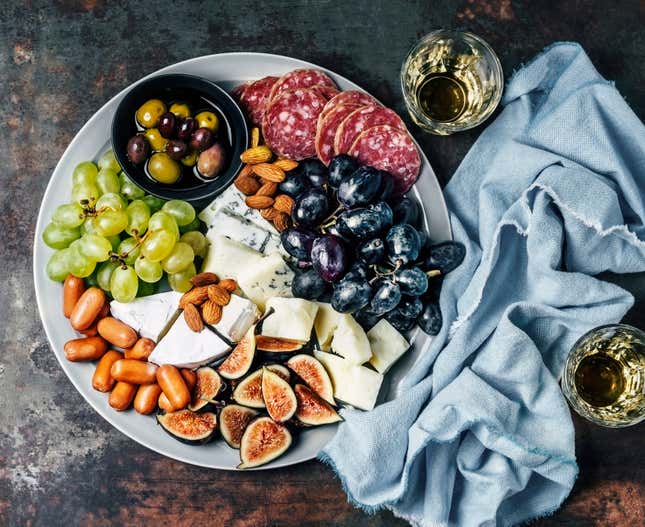 Know your shop
If you've got a solid local cheese shop, a monger will happily help you choose your cheeses and probably serve you some samples in the process. If not, never fear. "Small logs or buttons of fresh goat cheese, nice goudas, and solid blues can usually be found in the dairy or deli sections of the supermarket," writes Annaliese.
Beyond the cheese 
Especially when it's hot out, it's nice to have alternatives like olives, grapes, and fresh-cut veggies in addition to crackers or baguette slices. "Dried fruit, nuts, pickles, sun dried tomatoes, honey, mustard, and spreads of any kind all make good accompaniments," writes Annaliese, adding that charcuterie like prosciutto and paté can hold down a cheeseboard too.
My friend Nan, a champion cheeseboard assembler, swears by Trader Joe's Marcona almonds and will go out of her way for good Castelvetrano olives. She is always a welcome guest.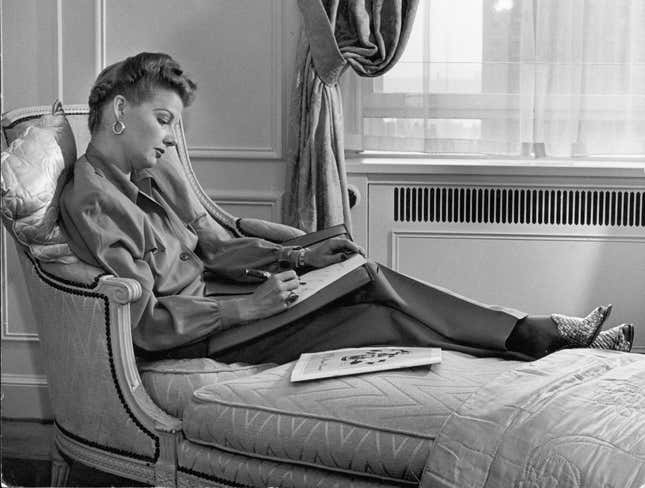 And don't forget to send a thank-you note
A new study proves what moms everywhere have known for years: It really makes a difference. The authors of the study, published in Psychological Science, found that people basically need to get over themselves when it comes to sending notes of gratitude. Or, put another way, the study showed that senders overestimated how awkward a recipient might feel upon receiving the note, and underestimated how happy or surprised they'd be. These were emails, but a handwritten card or note by snail mail is a first-class move.
In appreciation: Jonathan Gold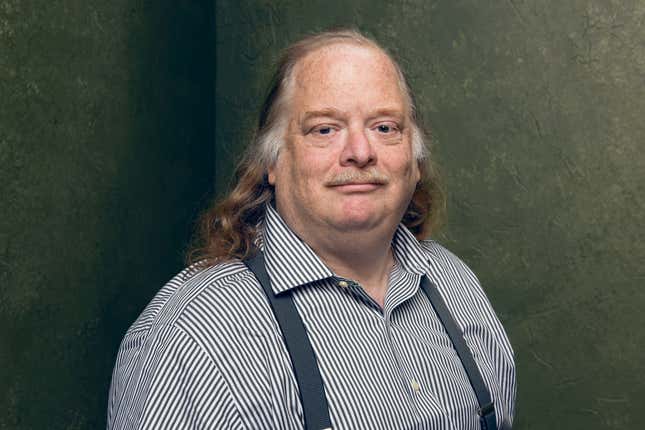 One of the joys of being a newbie in LA has been listening to the superlative public radio station, KCRW—especially on Saturday mornings when Good Food with Evan Kleiman is on. (You can listen in too.) Kleiman chats with farmers, restaurateurs, chefs, and food writers—including, on a weekly basis, the LA Times' beloved food critic, Jonathan Gold, who died last Sunday at age 57 of pancreatic cancer.
In a cadence that seemed to mimic a musicality of thought, Gold would recommend a Los Angeles restaurant he had reviewed for the Times, ranging from strip mall spicy noodle joints and roving taco trucks to the swanky stalwarts of California cuisine.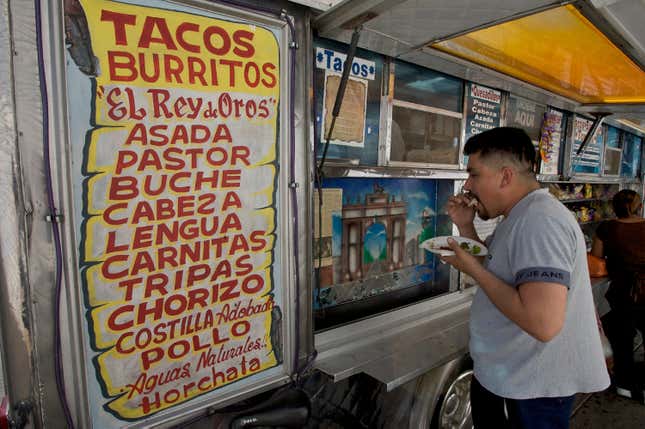 This city is vast and can feel unknowable in a way that New York, with its compact subway map and elbow-to-elbow exposure to other residents, does not. Gold, as a chronicler of Los Angeles and urban living, helped provide a map. In the documentary City of Gold, "the camera follows him around the city as he ducks into mini-mall after mini-mall, pointing out the city's best dim sum of the moment, a place famous for adding boiled ox penis to pho, or a Chinese-Islamic restaurant," Quartz's Annaliese Griffin wrote this week.
What's wonderful about Gold's writing—as well as this documentary, which I highly recommend—is that it really looks like Los Angeles. Not the filtered, polished, and exported LA of Instagram or Hollywood, but rather a "glittering mosaic," as Gold himself put it, made up of strip malls, freeways, and storefronts with menus taped in the windows.
In the LA Times, culture writer Carolina Miranda remembered Gold telling her that criticism was not just about writing what one saw, but what one would like to see. In writing about a diverse and delicious Los Angeles, Gold did both.
Have a great weekend!

PS: Celestial event alert 
The longest lunar eclipse of the century—in which the moon passes through the earth's shadow for a whopping hour and 43 minutes, giving it faint orange glow—is happening tonight! Stargazers in Australia and Indonesia can see it as the moon sets, while those in Europe, western Africa, and South America, can see it when the moon rises. Enter your location here to find the exact time where you are. If this one is missing you (sorry, New York) Ephrat Livni reminds us, "All of us can enjoy the moon every night, and it's always awesome, whether it's a sliver or full and bright."