When it comes to famous European neighborhoods, the east London neighborhood of Hoxton isn't quite a household name. But if an east London-born luxury hotel brand has its way, that will soon change.
The Hoxton Hotel first opened in its namesake neighborhood in 2006, when the area was still up-and-coming (it has since very much arrived). After new ownership took over in 2012, three other European outposts opened in Paris, Amsterdam, and central London—the latter giving rise to the slightly confusingly named The Hoxton, Holborn.
And now, it's crossing the pond, bringing its neighborhood-as-brand approach to several American cities starting, naturally, with Brooklyn, in early September.
"The Hoxton is always going to be an east London-born brand at heart, and wherever we open our doors, there'll always be a bit of that certain London charm, in terms of our characterful interiors, relaxed atmosphere, and 'Hoxton hustle,'" Romilly Martin, brand director for The Hoxton told Quartz in an email. "That said, we're never going to be a cookie cutter brand—our hotels are designed to be a true reflection of the neighborhood they're in."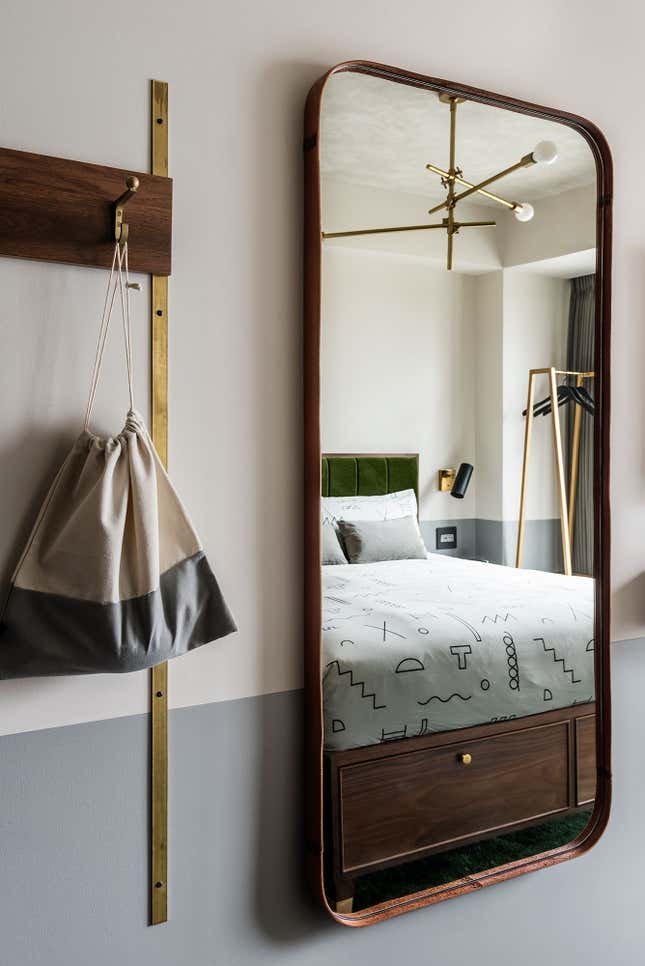 Hoxton's brand follows the lean luxury rubric with which forward-looking hotels are finding success: Its lobby and bar doubles as a co-working or meeting space for locals and guests alike; its service is top-notch but not that of an overly fussy or formal hotel concierge; and its design-led sensibility means it looks as good on Instagram as it does IRL.
Indeed in that way, Hoxton bears a striking resemblance to that other hipster hotel brand, The Ace. What Martin described as an approach of "opening our doors in neighborhoods we like to hang out in" could be said of either chain. And it's hard not to notice that the four American cities where The Hoxton is slated to open first—New York, Portland, Los Angeles, and Chicago—are all cities where Ace has hotels.
But while they may appeal to a similar guest, The Hoxton has some notably unique touches that feel charmingly of a piece with the affordable luxury era. Its "shoebox rooms" offer a smaller floorspace with a single bed at a much cheaper rate, designed for solo travelers or business travelers on a budget who want the hipster flair at an affordable price. It also offers free international phone calls, pay-by-the-hour late checkout, and a free daily breakfast bag that is delivered to guests' rooms. Lastly, some of its properties offer discounted rates for locals, lending it a "live like a local" vibe that many modern travelers crave.
Meanwhile, just as it gets a new competitor, The Ace seems to be diversifying beyond its everyone-is-welcome premise. In spring of next year, the hotel's design firm, Atelier Ace, will open the Maison de la Luz in New Orleans, which is described as a "private refuge" where guests can book a guesthouse that's "more intimate and discrete than a hotel." This is similar to its pared-down and intimate Sister City concept, slated to open in New York in autumn as well. These spaces are less designed for non-guests and locals to hang out in—as other Ace properties are—and more for discerning travelers who want to retreat from the hustle.
The Hoxton, for its part, is not worried about the comparison.
"We've always co-existed in neighbourhoods alongside other brands we admire," Martin wrote. "And we're looking forward to growing in new markets where we can welcome new guests, whether it's to work in our lobbies, drink cocktails at the bar, join us at our events, or stay the night."