Aretha Franklin was revered on all the stages that stretched across her many realms, from awards shows to academia. One story linking those two worlds stars David Bowie alongside the Queen of Soul—though it didn't happen quite as he later recounted it.
In a 1999 commencement speech, Bowie told the graduates of Boston's Berklee College of Music about the night at the Grammys that Franklin—who died today (Aug. 16) at age 76 in Detroit—snubbed him.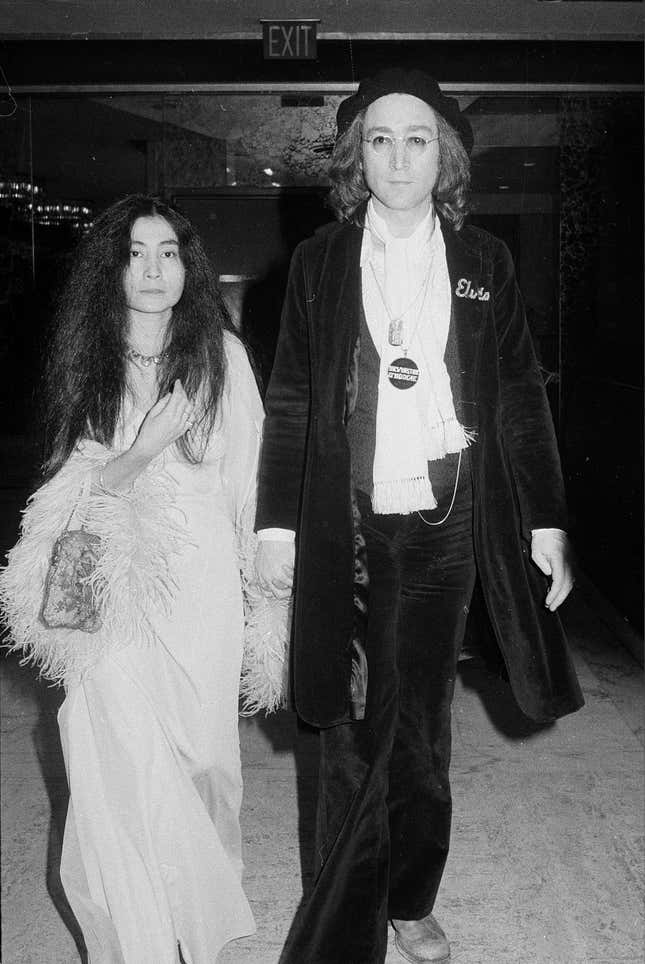 It was 1975 and Bowie had just met John Lennon for the first time. A couple of evenings later, the two were at the music industry awards show in New York. Bowie presented the Grammy for best R&B vocal performance by a woman. For the eighth year in a row, the same singer won: the already legendary Franklin.
Bowie spun a somewhat embellished tale for the graduates on the day his honorary degree was conferred:
Before the show I'd been telling John that I didn't think America really got what I did, that I was misunderstood. Remember that I was in my 20s and out of my head.
So the big moment came and I ripped open the envelope and announced, "The winner is Aretha Franklin." Aretha steps forward, and with not so much as a glance in my direction, snatches the trophy out of my hands and says, "Thank you everybody. I'm so happy I could even kiss David Bowie." Which she didn't! And she promptly spun around, swanned off stage right. So I slunk off stage left.

And John bounds over and gives me a theatrical kiss and a hug and says "See, Dave. America loves ya."
That's not exactly how it went, as becomes apparent when seeing moments not shown in the official Recording Academy clip above. Perhaps Bowie can be forgiven. In 1975, he was deep into his coked-up Thin White Duke journey.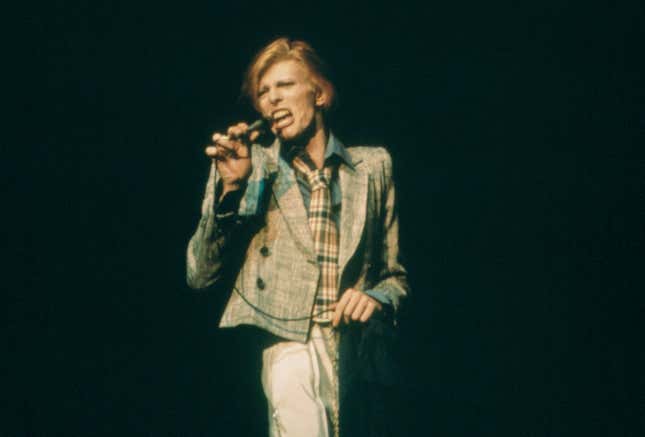 His first words to the Grammy audience were a playful hint at what he had been up to in those days and nights. "Ladies and gentleman and others. I am honored to have been selected to perform this particular task," he said. "I gave it a Grammy enthusiasm, in fact," pausing for a dramatic sniffle that drew knowing laughs at the Uris Theatre. (You can watch here, starting at 49 seconds in.)
A radiant Franklin did, in fact, lean in for a kiss on the cheek (at 3:41 in the extended video) when Bowie handed her the award. (So much for snatching the trophy without a glance!) After Franklin speaks, she walks off the stage, and steps down toward the audience without flourish. Bowie heads into the wings—on the same side of the set—at a relaxed pace. So no stage-right, stage-left business either. (See all that starting at 4:24.)
Honored in two worlds
Franklin, who won a staggering 18 Grammys, was the first woman inducted into the Rock & Roll Hall of Fame and received countless other music awards. Like Bowie (who himself died in 2016), she was also adored in academia. Franklin was awarded at least a dozen honorary degrees from institutions including Yale, Harvard and the New England Conservatory of Music.
She linked those worlds in spirit and in deed, taking to the piano on the commencement stage to perform the "Star-Spangled Banner" at Harvard in 2014.
When Berklee presented Franklin with her own honorary doctorate in 2006, she told that year's class, "Follow your dreams, follow your heart, sing yourself. Go out there and let them have it."
Fellow honoree Melissa Etheridge, the 2006 commencement speaker, told a more uplifting story than Bowie's. The singer-songwriter cited Franklin's role in inspiring her, a wanna-be drummer in the third grade in 1968:

I would go home and I would receive my inspiration from the radio and from the records my parents and my sister had. Thank God they had good musical taste. My parents would bring home Simon and Garfunkel and I remember when they brought an amazing album called Amazing Grace. I sat and bathed in the amazing music of Aretha Franklin. Music was a way to communicate with my family. We didn't have much to say, but we could listen to Aretha Franklin. We could feel that way.