Royal Kate Middleton and reality superstar Kylie Jenner have recently given birth, although you wouldn't know it from looking at them. Often celebrities seem to have a super-human ability of returning to their pre-pregnancy size and shape within weeks of giving birth.
So it was refreshing to hear Beyoncé share her experience with her post-baby body in her Vogue cover feature last week. The singer shared how she "embraced being curvier" after giving birth to her twins, Rumi and Sir, last year. "I accepted what my body wanted to be," she said. Meanwhile, her casual use of the term "FUPA" sent the internet into a frenzy.
For most of us non-celebrities, this ability to regain our pre-pregnancy figure is often unachievable, which leaves us feeling unhappy about our bodies. Many new mums will go on a diet in an attempt to return to their previous shape. But dieting doesn't usually work, and it only makes our relationship with food worse.
Body image dissatisfaction in new mums
Just two weeks after the birth of their children, 63% of all women wish to return to their pre-pregnancy size and shape.
The discord between how a woman's body looks and the way she wishes she looked after pregnancy can lead to high levels of body image dissatisfaction and lowered self-esteem.
This leaves new mothers at high risk of body image disturbance, depression, anxiety, disordered eating patterns, impaired milk production, and decreased psychological wellbeing. It can affect both mother and child's future eating behaviors.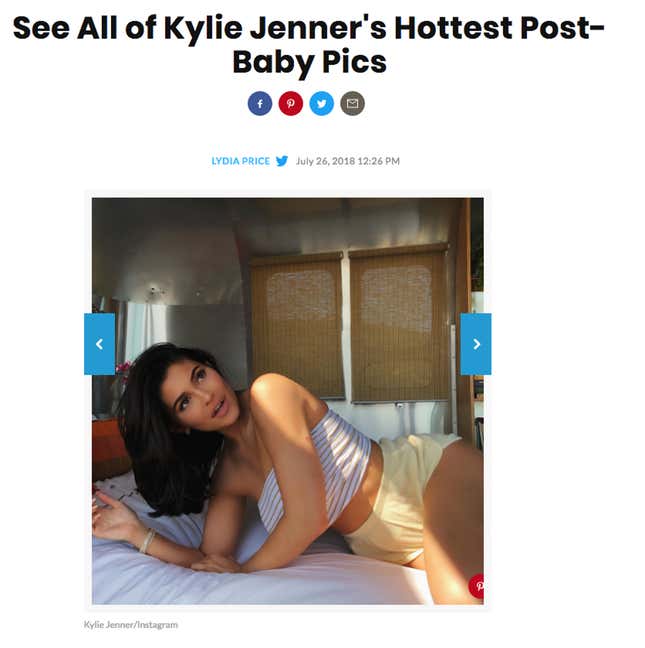 Usually mums who experience body image dissatisfaction turn to traditional weight-loss methods such as dieting and food restriction. Unfortunately, weight-focused thinking is usually ineffective for weight loss and often leads to women depriving themselves of the foods they love.
This then can result in food pre-occupation, consistent cycling between weight loss and weight gain, even greater body image dissatisfaction levels, and dangerous eating habits such as avoiding whole food groups, binge eating or fasting.
These eating habits can impact an already fragile psychological wellbeing, especially at a time when mothers have the extra responsibility of caring for a young child.
Don't 'diet'
Restricting the foods we can eat makes us more preoccupied with food. Non-dieting eating styles involve listening to your body's internal cues to eat when you're hungry, but learning to stop eating when you're full.
They also encourage concentrating on the texture, smell and taste of food as it's being eaten, moving your body for enjoyment every day rather than sticking to grueling exercise routines, being kind to yourself when it comes to your body's natural shape and size, and ending self-deprivation and food preoccupation by eliminating all forms of dieting.
It has been found that women who follow non-dieting eating styles have better physical and psychological health outcomes and are happier with their current weight. They also have better self-esteem and achieve greater weight loss than those who do not.
In 2017, we surveyed 419 women who had children between the ages of six months and four years and found only 32% of new mothers in Australia followed non-dieting eating styles. So a majority of new mothers are at risk of unhealthy weight control behaviors.
We also found the mothers who reported following non-dieting eating styles were happier with the size and shape of their post-pregnancy bodies, ate a broader variety of healthier foods, were less likely to binge eat when emotional and less likely to suffer symptoms of depression and anxiety, and had higher self-esteem levels. This research is awaiting publication.
Many pregnant women are often unprepared for the physical changes that occur once they've given birth. This may be due to the many images and examples shown in the media and unrealistic societal and self-imposed expectations.
Education at a prenatal level about the drawbacks of dieting and the benefits of non-dieting eating styles could better prepare women for developing healthy body image and appropriate eating behaviors and attitudes for the future.
This article was originally published on The Conversation. Read the original article.