Four million tourists flock to the Empire State Building's world-famous observatory each year to get a glimpse of Manhattan's landscape. Before they get to the view, however, they often have to contend with more than an hour of waiting in a labyrinth of queues.
"We had two things to offer before: the line and the view," admits Anthony E. Malkin, CEO of the Empire State Realty Trust. The notoriously long queues have frustrated time-crunched tourists and created a logjam at the Empire State's office building lobbies. Speaking at the opening of a new visitor entrance yesterday, Malkin explained how he turned to a team of designers and architects to fix the problem.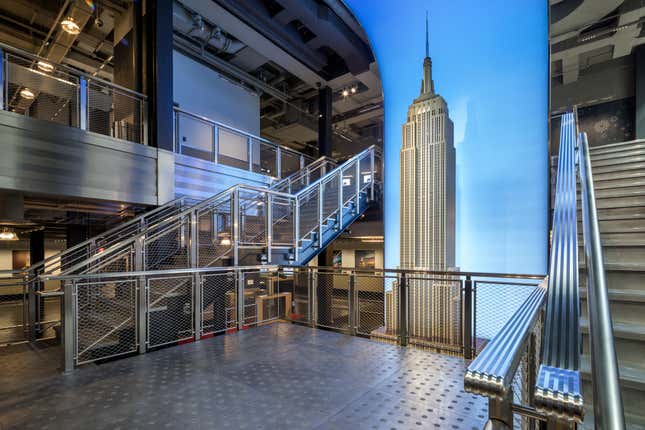 The first phase of the renovation includes new touch-screen ticket kiosks, more security lanes, and an impressive model of the Empire State's iconic Art Deco style structure, which was designed by William F. Lamb in 1929.
All of the design elements are meant to allay the tedium of waiting in line, explains Tom Hennes, founder of Thinc Design, a firm renowned for its work in museum exhibitions and World Expo pavilions. Of the many thoughtful touches in the space, Hennes points to a charming photograph on the second level as the one that has proven to be surprisingly effective at calming frayed nerves.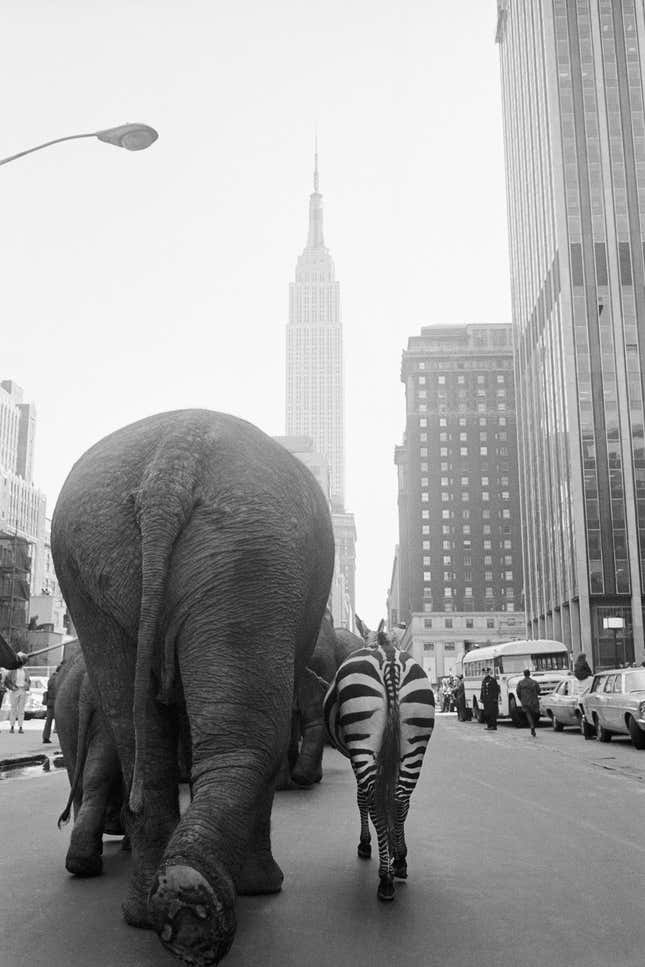 The black-and-white photograph was taken in the 1950's when more than a thousand circus animals—elephants, horses, giraffes, zebras, and camels—walked from the Bronx to Madison Square Garden, where the Ringling Brothers circus was held. It shows a zebra trailing a parade of elephants with the Empire state looming in the background.
Its prominent placement in the new entrance is both a subtle jab at the building's long tourist lines and a fitting nod to P.T. Barnum, who invented the idea of entertaining crowds in line when he sent entertainers to greet the people waiting to get into circus tents. Most of all, it's funny. "Why not give people enjoyment early on?," says Hennes. "Especially at a place as exciting to the imagination as the Empire State Building, why not leaven the experience with humor and even joy?"
Through a series of intercept interviews in 2016, Thinc's researchers—led by former Smithsonian social scientist Zahava Doering—learned that this sight of circus animals walking down Manhattan "improved perceptions of the value of their visit."
Duke University psychologist Vanessa Woods has described queuing as "a strange alchemy of increasing displeasure at having to wait matched to an increasing feeling of commitment and an unwillingness to abandon one's place in line."  It is decidedly unpleasant, and Empire State's humor stratagem is just one of the many tricks designers have tried to address this. Guided by research on the emotional psychology of queuing, Disney, for instance, introduced snaking, serpentine lines for its popular rides—knowing that the sight of a long line of people is utterly demoralizing. In addition to their design strategies, Disney and the Empire State Building today also have the number one anti-boredom amenity: complimentary Wi-Fi.