Celebrated cellist Yo-Yo Ma is on a crusade to prove that expressing culture is the key to fixing political divisions.
The 62-year-old musician believes that culture is inseparable from politics and his newest album, Six Evolutions–Bach: Cello Suites, has a political tenor. Ma is traveling to 36 cities in six continents and using Johann Sebastian Bach's 18th century masterpiece, he says, as "a force for good."
His world tour—hashtag #CultureinAction—is a call to action during a time "when the ties that bind us politically, economically, and socially are fraying," as he put it during a lecture at MIT last April. After each concert, Ma will conduct a "day of action," inviting people in the area to showcase their cultures through food, music, art, science, and conversations.
Ma says listening to people living in the margins of society is especially necessary, including those living in rural towns, inner cities, or places where industries have abandoned. "I think culture can do everything to dispel fear because fear makes us smaller and culture makes us larger," he explains.
Why Bach in particular? Ma says the German baroque composer is a great teacher of empathy. "This is a state of mind, a type of thinking, that culture helps us train for. Nobody does this better than Bach," he said at MIT, noting how the stirring Cello Suite No. 5 "combines total objectivity and total subjectivity, analysis and empathy, the conscious and subconscious." Ma played the solemn second movement from the Suite No. 5 during the first anniversary of the Sept. 11 attacks in New York City.
Born in Paris to Chinese musicians, Ma understands how music can build bridges between strangers and ideological opponents. Throughout his career, he has sought to defy the stuffy, "high culture" stereotype of western classical music, joyfully dabbling in bluegrass, Brazilian bossa nova, and jazz. The superb Silkroad ensemble that he founded 1998 features artists from different musical genres jamming together to prove that "embracing difference leads to a more hopeful world."
In an interview with Quartz, Ma elaborates on why culture is such a vital force today.
Quartz: When did you first come up with the notion that culture has a role to play in improving human relations? 
Ma: Music, arts and sciences, and the humanities—culture—have always been fundamental. They meet a most basic need: to understand. Culture turns the "other" into "us." And as a bridge between the sacred and secular, it helps us to understand nature and human nature, to explore wonder, and to turn darkness into light. The practice of these forms of thinking encourages understanding over domination, truth over ideology, and humility over egoism.
What do you hope will result from "Culture in Action"? What are tangible indicators that it's working?
My hope for this project is to change how we think about culture and its role in society. In my own life, Bach's music has reminded me again and again of culture's power, its ability to speak to our shared humanity, to offer solace, to connect, to express meaning, to help.
We are all participants in creating a strong social fabric. And culture—everything that helps us to understand our environment, ourselves, and one another, from music to literature to science—helps us to do that. By sharing what I have learned over nearly 60 years as a cellist, and inviting others around the world to share what they know deeply, I hope that we, together, will discover just how powerful culture can be as an engine for growth, community, and collective hope.
It is often said that culture should have a seat at the table with economics and politics. I believe we will find that culture is the table at which we all sit together, that it is the foundation for our most effective economic and political practices.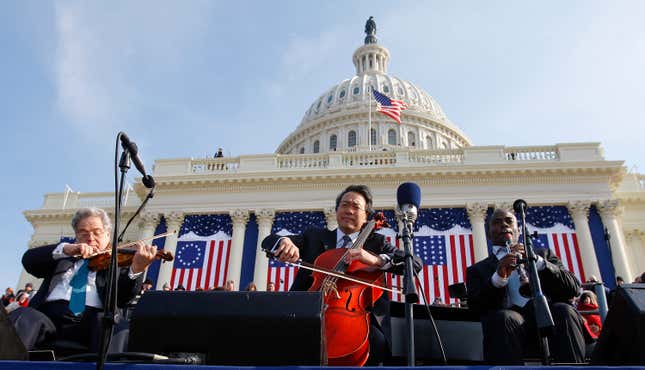 How would you characterize art's relationship to politics?
I once met Mikhail Gorbachev at the Kennedy Library in Boston. I asked him what he thought about the connection between art and politics, referring to the cellist Mstislav Rostropovich's outspoken public support of his friend Solzhenitsyn, for which he was prevented from playing publicly for many years. Gorbachev's reply was simply: "I think they should be kept separate."
I believe that a strong society depends on the intersection of culture—including the arts—and politics. Both the art of expression and the art of governing were invented to serve our most basic need: to understand our environment, ourselves, and others. And both culture and politics seek equilibrium between order and chaos. When there's no connection between the two, politics is raw power and culture is just an ivory tower talking to itself.
Society's wellbeing depends on culture and politics (and economics) working together. It's when politics and culture intersect that culture can truly create shared values and common understanding, that politics can be responsible governance rooted in trust, that we can work together to shape a better future.