I have an unfortunate weakness for Instagram. It sucks me in like few other things, whether it's scrolling through my haphazardly-curated feed, or clicking through Stories for half an hour. Sometimes I can't believe I'm just looking at another person's vacation or skincare routine; sometimes I find it oddly comforting. Still, I usually feel like it's a waste of my time, and that I could be doing other things—like reading books.
I've always read a lot, and I resent Instagram for eating into my book time—and myself, for not being able to put down my phone. I have the Kindle app, and have read full books on my phone. But I haven't been able to make it a habit. Instead, I've tended to read shorter pieces of writing on Pocket—the article-saving app—as it's easier. But it's even easier still to just look at some pretty photos. That's why I was intrigued by the New York Public Library's (NYPL) new project: Instagram novels.
The library, which has been an adept social-media user for years, is creating a new way of consuming literature, in collaboration with the advertising agency Mother. It recently posted a version of Lewis Carroll's 1865 novel, Alice's Adventures in Wonderland on Instagram Stories, accompanied by beautiful illustrations from the designer Magoz.
The book is separated into two parts, and saved to NYPL's Story "highlights" section of Instagram. Each page is one frame. By default, these frames only stay on your screen for 15 seconds, so NYPL included a special icon on the bottom right of the page to place your thumb which pauses the story so you have enough time to read each page. Alice is the first novel it's put on Instagram, and the library is already planning on putting out two more classics: Charlotte Perkins Gilman's The Yellow Wallpaper, and Franz Kafka's Metamorphosis, NYPL said.
The Insta Novel's background color is warmer than the white usually found on reading apps, which makes reading on a screen easier, according to a NYPL release. The font is Georgia, which was the first serif font designed to make long-form text legible and pleasing to read in digital form.
Gamifying reading
Although curious, I was also initially skeptical of the idea, which is meant in part to promote the NYPL and its eBooks app. I useInstagram for other things, things I considered lesser pursuits. Long Insta stories are usually a chore to get through. The process seemed cumbersome. 
And it does take some time to get used to reading a book on Instagram. At first, I was going through the pages very quickly, retaining little, nervous that the page will disappear. I'd skip pages by mistake. I would get annoyed by having to constantly press my finger down on the placeholder.
It was also quite easy to get sidetracked, because it's Instagram. I'd reach for my phone to read the novel, but forget what I was supposed to be doing when I opened the app, and watch a story about a horrifying new fashion gimmick that makes your neck look like it sprouted flesh-colored seashells, a stranger's 7am workout, and another stranger's accounting of their beach day snacks.
It's far from a perfect reading experience. Once you leave the story, you can't simply go back to where you left off—it starts over from the beginning when you go back to it. However, because the novel is short, you can, in a matter of seconds, click through to the last page you were reading (although I think the experience would benefit from splitting a book into even smaller chunks, and posting those to the account's story highlights).
But the Insta Novel kept me engaged. The illustrated introduction is mesmerizing, and the book is a collection of small, fun surprises. As you "turn" the pages, the thumb placeholder gradually transforms from a keyhole into an opening eye into a watch (and other icons, which I won't spoil), all in true Alice in Wonderland spirit. It felt a bit like a game—waiting to see what visual element appears next, following the poems line by line. Going from chapter to chapter weirdly felt like completing levels.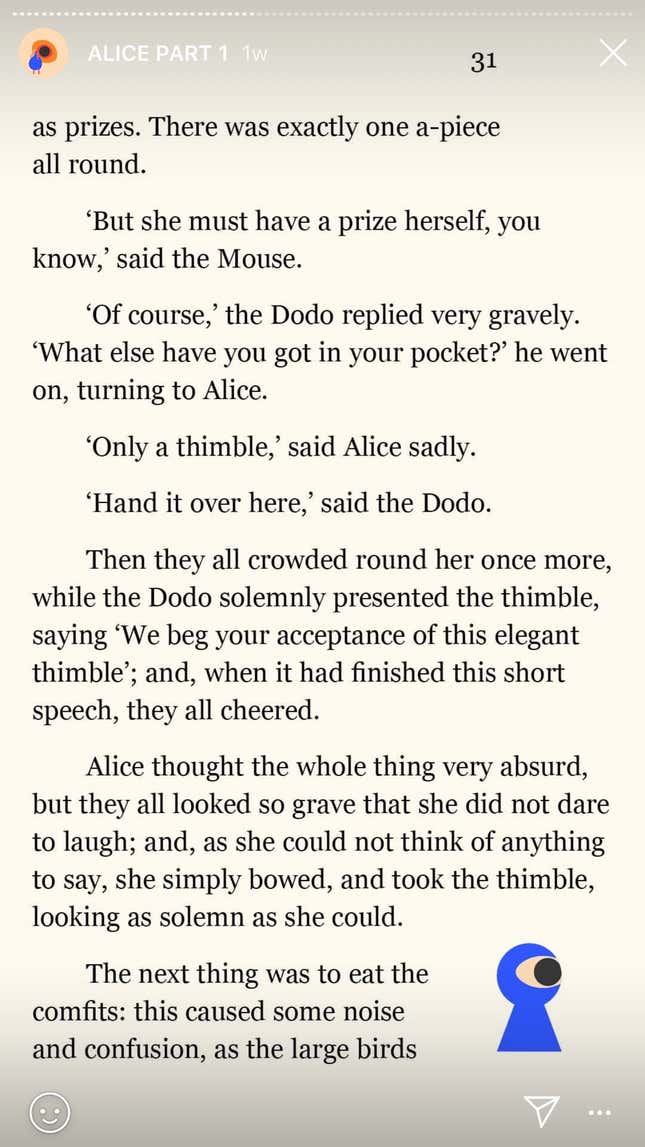 There are animated pages that work well with the strange recitations and songs by Alice and the different creatures she encounters, spitting out verse after verse. The Mouse's Tail poem, which in the original printed book is shaped into an actual tail, actually slithers on the screen. But you have to be focused and have a quick-thinking thumb—if you want to go back and re-read a line, the story will replay the poem all over again.
Introducing these "gaming" elements into reading a novel is likely to make most book-lovers cringe. But it could get more people reading: In only a few days after it was posted, nearly 40,000 people opened the novel, and clicked through to the end, the NYPL told USA Today.
Another potential positive side-effect is changing our Instagram behaviors. It could convince some people to reduce the time they mindlessly scroll through the app and consume empty content that hurts their self-esteem or induces a plethora of unhealthy feelings. Reading Alice was delightful and amusing, and with some hiccups, it did prevent me from, well, going down the often pointless Instagram rabbit hole.
The Insta Novel can also counteract the short attention span social media has fostered in internet users. Reading generally forces focus, and the gaming elements help make it engrossing.
"Gamifying" a novel almost seems like the opposite of the healthy approach to reading my colleague Thu Huong-Ha suggested, of treating it as a "meandering stroll," rather than a hunt or checklist. And I don't think it ever could or should substitute more traditional forms of reading. But on the other hand, taking in chunks of a clever, fragmentary novel (I doubt a plot-driven opus will work well with the format), is another form of casual literary exploration, allowing you to dip your toe in a great piece of art while indulging in the guilty pleasure that is Instagram.