Money talks, and free champagne talks even louder, apparently.
As Malaysian financier Jho Low allegedly looted billions from a state fund, 1Malaysia Development Bhd (1MDB), meant to develop his country, the guest list at his parties grew ever more dazzling. That's according to Billion Dollar Whale, a new book in which Wall Street Journal reporters Tom Wright and Bradley Hope chronicle one of the most audacious corruption heists ever. The celebrities on nearly every page play a large part in the book's unreal, movie-like quality—almost as large as the jaw-dropping details of the swindle itself.
Published by Hachette in the US today (Sept. 18), the book is already out in Malaysia, where bookstores are fast running out of it. Many believe Wright and Hope's revelations about the fund, published since 2015, played a key role in stoking public anger against the government of Najib Razak, leading to his surprise election defeat in May.
On a newly launched website, Low said he's innocent of any crime, and plans to tell "the true story" of the 1MDB fund. A statement on his behalf posted yesterday (Sept. 17) complained that "the narrative is framed to allow the authors to write about celebrities, and models and parties, without ever proving any of the allegations… Billion Dollar Whale is guilt-by-lifestyle."
Here's a peek into that lifestyle from Billion Dollar Whale.
Paris Hilton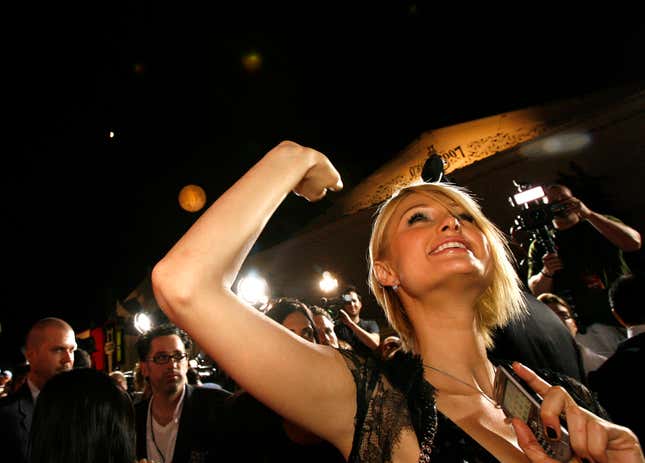 Hilton began hanging out with Low in 2009, the year 1MDB was set up as a state fund. In November that year, she was whisked by Low on a leased private jet to a ski trip at Whistler, a Canadian ski resort. Low, the book says, had fantasized about Hilton since he was in college at Wharton, and had contacted her manager earlier that year to arrange for her to come to his parties. Friends of hers say the hotel heiress got about $100,000 an event.
The two seem to have actually become friends, of a sort. On her 29th birthday the following year, at a party at the Venetian's TAO nightclub in Las Vegas, Low presented her with a Cartier watch and gave her $250,000 in gambling chips so the two could play baccarat together. They didn't just party in America.
That year, in Saint-Tropez, "a warren-like medieval old town… heaving with the world's richest 0.1 percent," they hung out at the Les Caves du Roy nightclub, every inch of which is apparently covered in gold. Low had a bidding war with a scion of a New York real-estate family over who could pay the most for Cristal champagne—and "won" to the tune of 2 million euros ($2.3 million). Hilton opened a bottle and sprayed it over Low and the others to celebrate.
Leonardo DiCaprio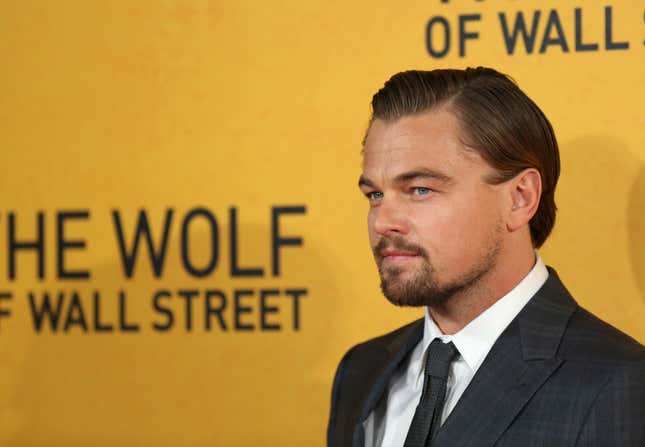 File this one under life imitates art imitates life imitates… or just Google an image of a snake eating its tail. DiCaprio starred in The Wolf of Wall Street, the 2013 movie directed by Martin Scorsese based on the memoir of hustler Jordan Belfort, a stockbroker who pleaded guilty to fraud and later became a motivational speaker. It was financed by a brand-new production company, Red Granite Pictures, one of whose founders, Riza Aziz, happened to be the stepson of former Malaysian prime minister Najib, while the other was Joey McFarland, a little-known producer who connected with Low on the party circuit.
Like Hilton, DiCaprio seems to have entered Low's orbit a decade ago, when the actor was fresh off filming for Shutter Island. For DiCaprio's 38th birthday in 2012, as buzz around The Wolf of Wall Street was picking up, Low and Aziz gave him Marlon Brando's best actor Oscar statuette for On the Waterfront—purchased from a Hollywood memorabilia dealer for $600,000. (It had gone missing from Brando's home years earlier.)
In a tale full of extraordinary details, the fact that a movie about financial wrongdoing and over-the-top parties was made possible by 1MDB's financial wrongdoing and connections forged at the parties it paid for manages to stand out. DiCaprio comes across looking rather oblivious in the book, swilling endless rounds of champagne with Low while having this statement prepped on the movie:
This is an indictment of Wall Street. But it's an indictment about something that's in our culture, this incessant need to consume and this incessant need to obtain more and  more wealth with complete disregard for anyone except yourself.
Miranda Kerr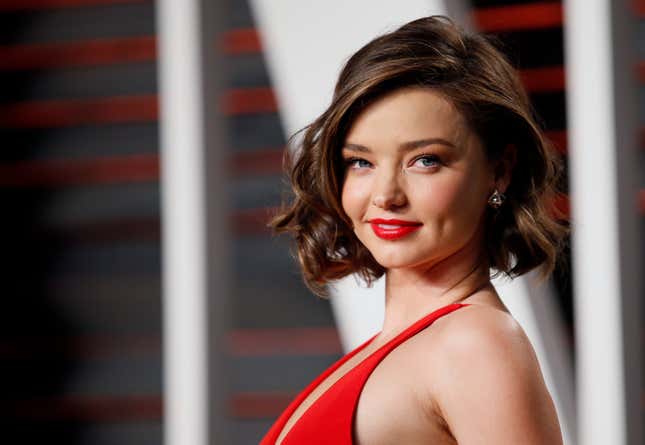 Recently divorced from actor Orlando Bloom, Australian supermodel Kerr showed up in a ballgown to a dinner in Manhattan's Koreatown hosted by Low in early 2014, and soon the two were chatting about how she could promote her new KORA Organics skin-care line. One of the world's highest paid models, she was nevertheless trying to segue into being an entrepreneur. Soon, the two became romantically involved. They kept their relationship under wraps, however, and Kerr's agent chaperoned them when they went out. For Valentine's Day that year, he gave her a $1.3 million diamond necklace inscribed with her initials.
For Kerr's 31st birthday, he threw a party at Chelsea Piers and hired Salt-N-Pepa and Vanilla Ice to perform. In July 2014, Low took her sailing for 10 days around Italy and the Greek island of Corfu on his yacht Equanimity, where he feted her with elaborate meals and gifts of jewelry.
Kimora Lee Simmons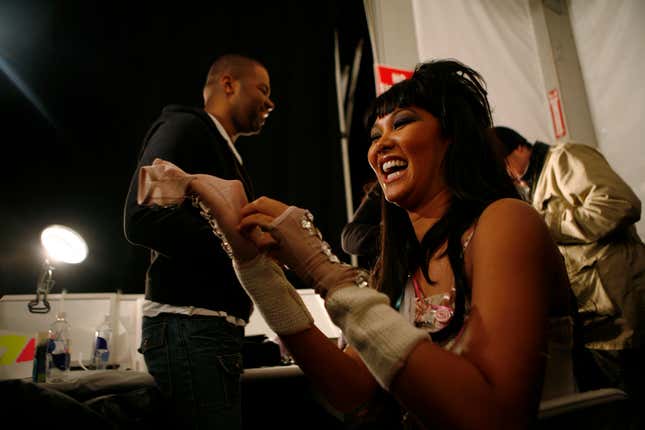 On a Cathay Pacific flight from Hong Kong to Kuala Lumpur, the fashion entrepreneur and former model found herself seated in business class next to Tim Leissner (paywall), the Goldman Sachs banker who helped 1MDB raise millions in bond offerings—and earned his employer extraordinary fees as a result. They began by fighting over the spare seat between them, but by the end of the four-hour flight Leissner had proposed to her. As they dated, she accompanied Leissner to Malaysia, and she tweeted about her experiences rubbing shoulders with the country's First Lady, Rosmah Mansor.
Elva Hsiao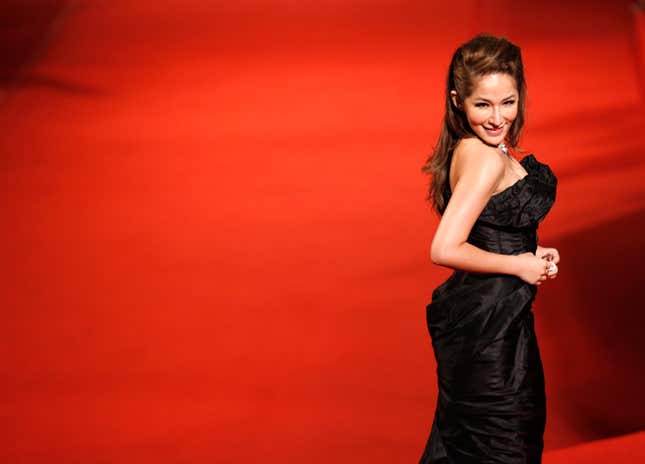 Before Kerr, Low honed his extravagant, yet cheesy, wooing skills on Taiwanese singer Elva Hsiao. In 2010, he took her on a $1 million date to Atlantis, The Palm, a hotel on Dubai's manmade Palm Jumeirah island. Low had organized candles to be arranged in the shape of a heart on the beach, and their names spelled out in lights. Later, during dinner, a blond musician serenaded them on a jewel-embellished violin, before two men in tuxes parachuted from a helicopter to bestow upon Hsiao a diamond-and-gold necklace.
Jamie Foxx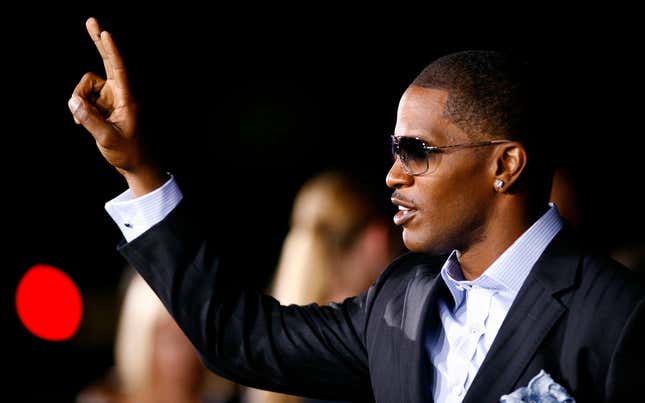 Foxx was among the many stars at what was perhaps Low's most extravagant party of all, his 31st birthday in November 2012. He also was part of a crew that did a double countdown for New Year's in 2013, thanks to a private jet Low chartered for a group of friends that also included DiCaprio and Jonah Hill (DiCaprio's co-star in The Wolf of Wall Street). They partied in Sydney, then flew back to the US to catch the stroke of midnight again. Speaking on a British talk show about it later, he said:
I got a friend, you know he got some money, and he flew me, Leonardo DiCaprio, Jonah Hill, and some other cats, and we flew to Australia right. And we did the countdown in Australia, then jumped back on a plane and then did the countdown in Vegas. That's crazy! That was nuts!
Busta Rhymes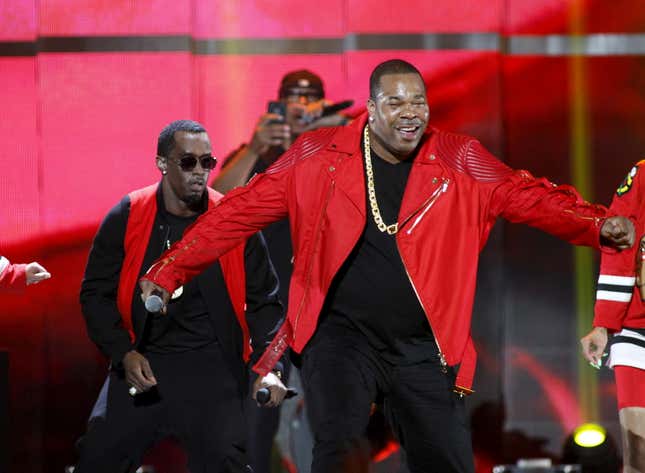 Low's Hong Kong-based investment firm, Jynwel Capital, the vehicle he used to put $100 million into EMI Music Publishing, brought him closer to many music stars. He was EMI's non-executive chairman for Asia, and on its advisory board. The purchase might have gone to his head—when Low bumped into Busta Rhymes while recording a vanity song at Jungle City Studios in Chelsea, he shouted out, "Yo! I own you. You're my bitch!"
Kasseem Dean, aka Swizz Beatz, and Alicia Keys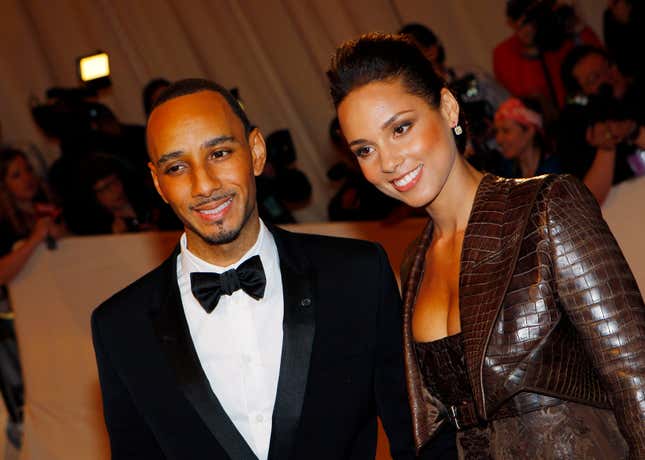 Music producer Dean and his wife Keys both went to Low's parties and became close to him. For his efforts that turned Low's 31st birthday into a success, Swizz Beatz received $800,000. The couple also earned $4 million from Low's efforts to help Hsiao with an album to launch her music career in the United States.
Dean, who hails from the Bronx, was extremely ambitious, and hoped to become a music mogul, perhaps with Low's help. In turn he was a kind of guide for Low to the world of music stars—and, as an avid collector of works by Jean-Michel Basquiat, the world of art collecting. Low began spending tens of millions on art, including $9 million on one Basquiat work.
Pras Michél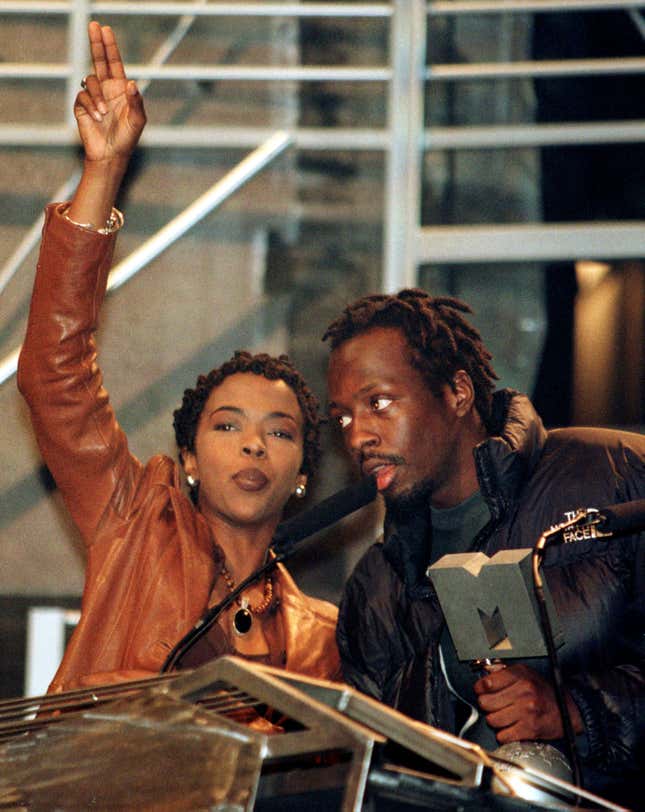 A former member of the hip-hop trio Fugees, along with Lauryn Hill and Wyclef Jean, Michél was hoping to reinvent himself as a private-equity investor, again with some help from Low. He was also among the inner circle who partied with Low at the Palazzo Hotel's chairman suites in Las Vegas ($25,000 a night) for the Malaysian's 31st birthday.
Low's parties were never subtle, but that November night took it to another level. It involved a star-studded guest list, circus performers, airport-style frisking, and non-disclosure agreements for the guests. It also saw Britney Spears jump out of a cake to serenade Low with "Happy Birthday."
Even Robin Leach, chronicler of 1980s extravagance as host of the TV show Lifestyles of the Rich and Famous, was wowed—here's his story on it for the Las Vegas Sun newspaper.