Forget what you know about sleek self-driving cars. In the hands of IKEA's think tank, autonomous vehicles look like cheerful, bright-colored living rooms on wheels.
With fully autonomous vehicles expected to hit the road as early as 2022, IKEA sees a way into the potential trillion-dollar sector by recasting self-driving units as rooms instead of passenger cars. "We don't have ambitions of manufacturing cars," says IKEA's Göran Nilsson. "But in a future where people no longer have to worry about driving, vehicle interiors can expand to a point where we no longer are designing cars, but rather small spaces. Then it's suddenly an area where we have a lot of experience in."
For a recent research report, IKEA's Copenhagen-based think tank SPACE10 prototyped seven public service units that can be summoned to any location via an app (the prototypes can also be explored through an augmented reality app). They include a medical clinic, a farm stand, and a fully equipped mobile office reminiscent of IDEO's "Work on Wheels" concept. Inevitably, there's also a prototype for an IKEA pop-up store, where customers can buy (or return) products without having to drive to the brand's suburban mega outlets. The project isn't a formal proposal but a provocation designed to inspire the public to imagine alternative uses for driverless vehicles.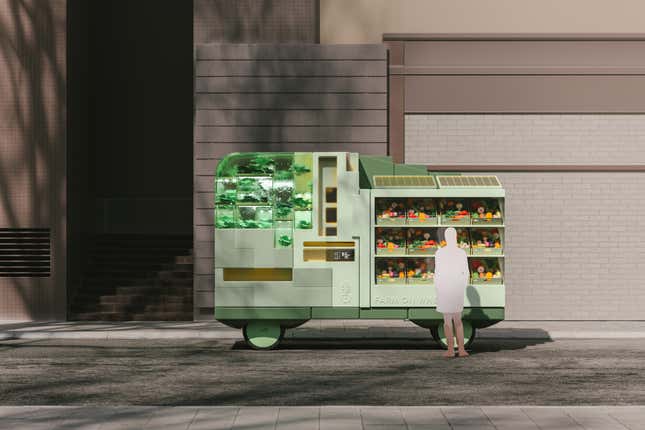 SPACE10 suggests that autonomous vehicles can bring a suite of services to remote or underserved neighborhoods instead of being used to ferry people and goods from place to place. For instance, its concept "Healthcare on Wheels" would allow doctors to reach infirm patients who can't travel to clinics and "Farm on Wheels" would deliver fresh produce to"food deserts," areas without affordable healthy food outlets. "When spaces are able to move themselves, then they would no longer just be means of transportation," says SPACE10 co-founder Kaave Pour. "This could profoundly change the lives of the many people for the better."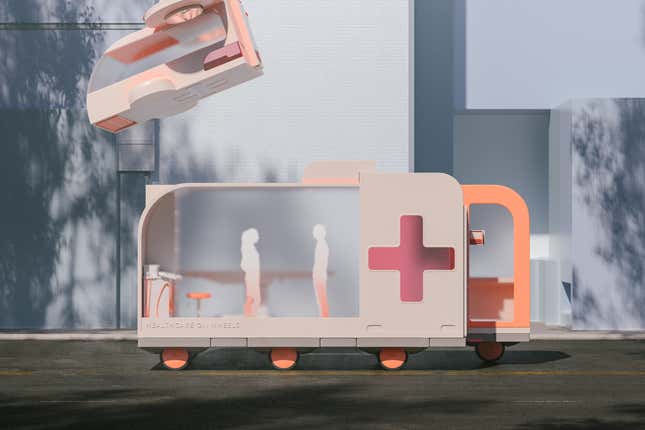 The friendly, faintly Scandinavian styling that SPACE10 developed with the Berlin-based trends lab f°am Studio is a counterpoint to the slew of science-fiction-inspired "sleek, sterile, chrome painted machines."
Not so fast
But there's a flip side to this Nordic utopia, says Brian Jencek, the leading autonomous vehicle expert at one of the US's largest architecture-engineering firms, HOK. For one, enabling fleets of private, commercial vehicles could further edge out citizens from public spaces. "A lot of people believe that the point of autonomy is to reduce roads for vehicles so we can increase the size of the pedestrian realm," explains Jencek. "This is an interesting counter to the parklet movement that seeks to reclaim roads for pedestrians and bikes." For SPACE10's concept to work, more parking spaces are needed to accommodate vehicles and the hub of activity they'll attract, much like food trucks do today. "There's a push and pull whether we need more road or more sidewalk," says Jencek. These once free spaces can actually be exclusionary, especially for citizens who can't afford to pay for services contained in the businesses on wheels. Food trucks are wonderful and provide a lot of convenience and access, but they're not so wonderful if you don't have $7 to buy a taco."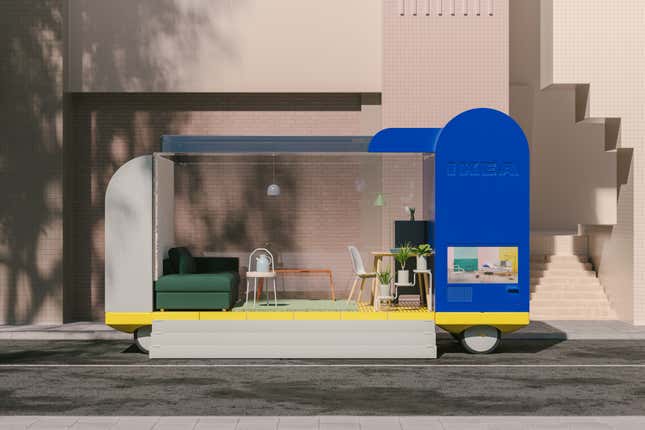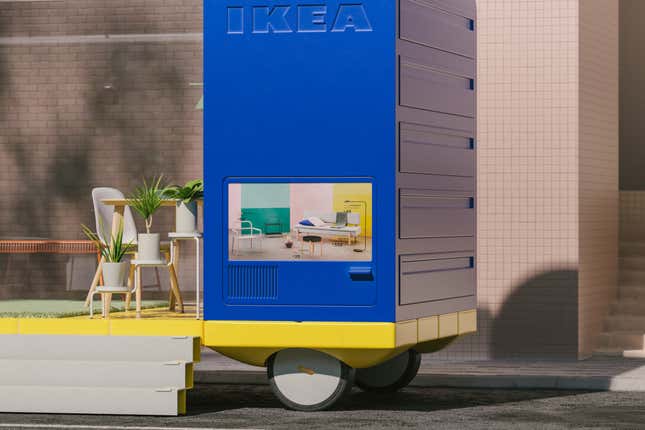 There's also something lost when we can conjure anything via an app. "As a planner, I am more concerned about the decline of public life and public spaces where they still exist," says Tom Angotti, professor emeritus of urban policy and planning at Hunter College.
On-demand, autonomous, vehicle-powered services could make us more insular, adds Jencek. "In America, you don't have to leave your house for any reason—food, groceries, books, avocados–they're all brought to you," he says. He sees what SPACE10 calls the Spaces on Wheels initiative as further evidence that "we no longer value the idea of the marketplace or the souk where you exchange goods and ideas."
Those spaces, Jencek says, are where people often learn about other cultures and ways of life: "That's an overarching problem with autonomy. We don't just exchange money for goods when we meet—whether it's at farmer's markets or IKEA stores. We're actually exchanging much more information in those environments. If you take that away, you wonder what we'll become if we no longer have to interact."