Not too long ago, it was unthinkable for a new Yeezy sneaker to drop and not sell out almost instantly. Every new release in the collaboration between rapper Kanye West and Adidas was a marriage of limited supply and abundant hype that sent sneakerheads scrambling for a pair and produced astronomical resale prices on secondary markets like StockX.
But it's now been a week since the latest drop—of the Yeezy Boost 350 in triple white—and while Adidas.com lists them as sold out, never fear: If you want a pair, you can easily find every size from 7 to 11.5 available on the official Yeezy Supply site (as of this writing).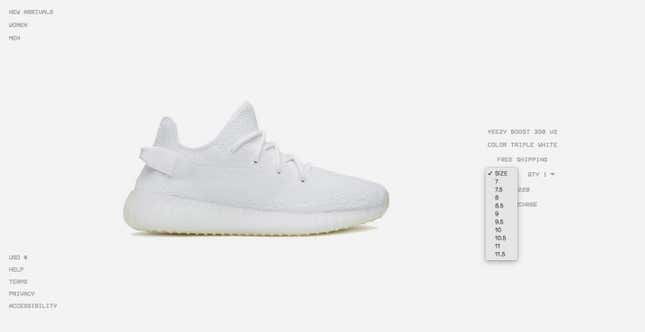 Adidas looks to be heavily cranking up distribution of the sneakers in an effort to realize West's years-long dream of making Yeezys so widely available that everyone who wants a pair can get one. It's a risky gambit. Hype-driven fashion, whether its Yeezys or Supreme hoodies, relies on scarcity for value. History indicates that as Adidas scales up and makes the sneakers available to the mainstream, that value will decline, potentially hurting the cachet of the Yeezy brand.
The strategy Adidas previously used for Yeezy releases was the "drop" model pioneered by streetwear and sneaker brands, and now being adopted by luxury fashion. The basic premise is to offer occasional, limited releases of new designs, instead of putting out a large number all at once, keeping supply low and demand high.
But in August, Adidas CEO Kasper Rorsted hinted that Adidas would greatly increase the number of Yeezys for sale, and a couple weeks later, West tweeted that Yeezy would do its "largest drop ever" of the white 350s on Sept. 21. Previous releases were limited, totaling in perhaps the tens of thousands. But this release—technically a restock, since the sneaker originally came out in 2017—supposedly totals about a million pairs, though Adidas hasn't given an official count. More than a million additional pairs are already rumored for another release this holiday season.
You don't have to be an economist to see how increasing the supply of a sought-after brand can change demand for it. Nike is currently reversing course on its decision to pump up the amount of Jordan sneakers it put in the marketplace. Long exalted as rare gems, they were extremely difficult to find at retail and commanded extraordinary resale prices. But as their numbers increased, they ceased to sell out. Resale prices tanked, and the brand value as a whole has suffered.
In a 2014 post for Forbes, Matt Powell, the sports industry analyst and vice president at research firm NPD Group (also the man dubbed the "world's biggest Yeezy skeptic" by GQ in 2017) compared the then-new partnership between West and Adidas to earlier deals Reebok struck with Jay-Z and 50 Cent. The first small runs of shoes Reebok made for both artists sold out. But as Reebok tried to scale them to commercial levels, demand dried up and the lines folded.
Not everyone is so pessimistic about Yeezy's outlook. Some of the sneaker-industry insiders WWD spoke with (paywall) about the strategy pointed out that the white 350 was already getting tired among sneakerheads. "Maybe they are trying to capitalize on this style, generate revenue and put it to sleep," said Bernie Gross, creative director at sneaker shop Extra Butter.
Will other Yeezy styles retain their appeal though, if sneakerheads see this shoe everywhere? It remains to be seen. As for the Yeezy 350 in triple white, its resale value keeps dropping, according to StockX, and is barely any greater than the shoe's original retail price.