On a Sunday morning earlier this year, I set off from home on a long trail run. My apartment building is a ten minute walk from one of Hong Kong's busiest shopping districts. Incredibly, it is also a mere 10 minute jog from a dense network of running trails.
Over the next couple of hours, I climbed peaks, rounded a quiet bay, and ran along a ridge called Dragon's Back as I watched paragliders fly overhead and took in expansive views of the South China Sea. I ended my run 20 miles (32 kilometers) later downtown, in the neighborhood of Shau Kei Wan, a former fishing village on the northeastern edge of Hong Kong Island. There, I walked into a snack stall and bought two whole-wheat steamed buns. Then I strolled to the tram terminus, hopped on, climbed to the upper deck, and sat nibbling away at my well-earned snacks as I watched the city go by beneath me. Half an hour later, I was back home.
This is the magic of trail running in Hong Kong.
With a mountainous topography marked by lush and soaring hills, the city has no shortage of peaks to climb and ridges to run along. And Hong Kong's compact layout means that you can be out of your office and onto a trail within a matter of minutes, looking back down at the glistening skyscrapers and hearing the distant roar of the city as you stand on a steep dirt path on the hillside—both away from it all and in the thick of everything.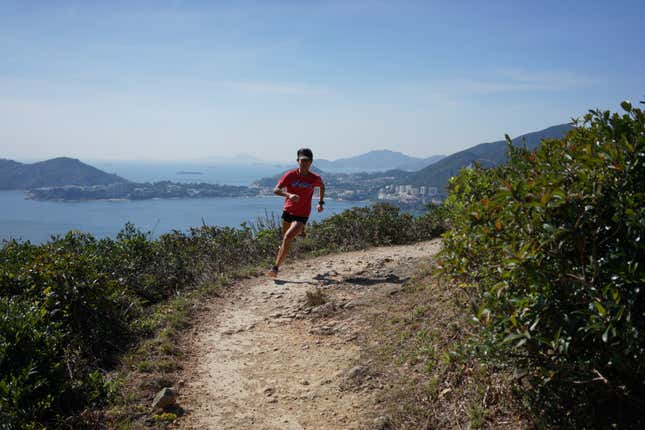 A little-known fact is that some 40% of the city is protected as country parks (paywall). That makes for a lot of green space, even in a city of 7.4 million where developed land is squeezed into 24% of the total area. And with a world-class public transportation system covering almost every corner of the territory, the trails are easily accessible to everyone.
Hong Kong's country parks were established in the mid-1970s by Murray MacLehose, a former British governor of Hong Kong. MacLehose was building upon the work done by Lee Talbot, an American conservationist who had been commissioned by the Hong Kong government to write a report about citizens' needs for easily accessible green and open spaces. Writing in the mid-1960s, Talbot noted that Hong Kong's population had increased more than sixfold in the two decades since the end of the Second World War, and he envisioned the country parks as a place for Hong Kongers to "regain equilibrium" from hectic city life.
These factors have fueled the explosion in popularity of trail running here over the past decade. Between 2010 and 2017, the number of permits issued for races held in Hong Kong's country parks nearly doubled, according to government statistics. And during the racing season, which spans roughly September to April, almost every weekend has at least one trail race on offer.
Trail running is so popular here that at the Ultra Trail du Mont Blanc, considered to be one of the sport's premier events, competitors from Hong Kong were overrepresented in terms of runners per capita, sending more participants per million people than power houses like Italy, Japan, and the United States.
There is also no shortage of spectacular trail-running races here. Among the most epic is the Hong Kong Four Trails Ultra Challenge, which has competitors running all four major trails of Hong Kong, totaling 298 km (185 miles) and 14,500 meters (47,572 feet) of elevation, with a goal of completing it solo and self-supported in under 60 hours. It is quite possibly the only trail-running ultra event in the world that traverses a bustling metropolis— a film has even been made about it.
These days, I log anywhere between 60 to 75 miles a week on Hong Kong's trails. Each run is a feast of the senses, melding the tranquility of the countryside with the intensity of the urban core. Often, as I fly along a trail and admire the city below, I can't help but let out an exclamation of awe.
On a recent Friday, I was running along a trail called Sir Cecil's Ride (named after Cecil Clementi, a former governor) when I rounded a corner and came face to face with a wild boar. I stopped dead in my tracks and slowly edged away, not wanting to alarm her. Then I noticed that behind her were five tiny, adorable piglets, following in a neat line. I stood to the side as I waited for them to pass, and the mother largely ignored me, ambling by slowly with nonchalance. But as soon as the piglets got wind of my presence, they all dashed—in perfect unison—into the bushes. The cuteness of it all warmed my heart immeasurably.
Twenty minutes later, I was back downtown, threading my way through the Friday evening traffic.