As one of the oldest cities in Europe, Belgrade's position at the crossroads of the Danube and the Sava have long made it an important meeting point. From its founding 7000 years ago through a tumultuous 20th century to its position as the capital of Serbia's political, commercial, and cultural activity, this city of two rivers tells a story of resilience and tradition, and is now emerging as a global creative hub. One landmark building perfectly symbolizes this transition.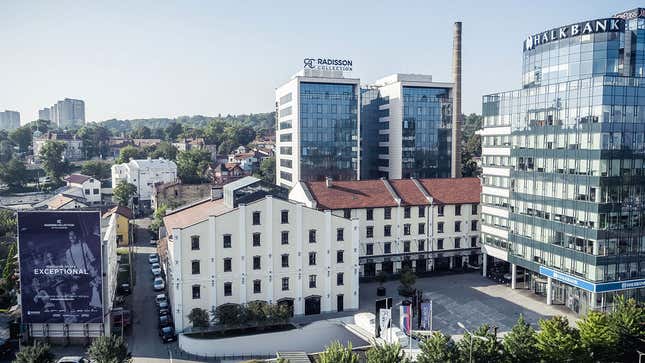 Rising from the foundations of one of Belgrade's most important 19th century processing mills, the Old Mill mirrors the dynamic mix of old and new that characterizes Serbia's flourishing capital city. History is inescapable in this changing city, and global architecture firm Graft drew on the past for inspiration in the design of the hotel. Bold geometric lines and natural materials such as oak and copper speak to the building's past as a vital part of Belgrade's economy, while exposed brick and reclaimed wood serve as reminders of the living history of the building.
Designers and architects worked hard to preserve as much of the building's character as possible. Swipe across the image to discover.
Today, Serbia's flourishing capital city is both a sprawl of ancient towers and walls, built over the ruins of a thriving Roman trade center, and a masterpiece of socialist urban planning, occupied by extraordinarily forward-thinking Communist-era marvels. From pioneering Brutalist business towers to surreal experiments in geometry and glass, 60s-era Yugoslavian architects used Belgrade as their own personal playground, and the wild diversity of structures still visible across the city showcases the ingenuity and creativity that continues to characterize Belgrade's unique approach to design and city planning.
Rich textures and subtle design cues hint at the city's history. Swipe across the image to discover. 
In this new era of stability, Serbian artists and designers are making their mark on the world art scene, with Belgrade being eyed as "the new Berlin" for its startling and inventive aesthetic. Where else can you tour an Ottoman-era fortress, explore graffiti-covered Communist architecture, and dance on a riverboat-turned-nightclub all in one day? Belgrade Design District, a market for emerging artists in the remains of a crumbling shopping mall, showcases the best of Serbian fashion and art, while the developing Savamala district has transformed abandoned art-nouveau mansions into thriving coffee shops and galleries. The Radisson Collection Old Mill celebrates this inventiveness and the spirit of making the old new again by giving life to the existing industrial structure through contemporary interior design, allowing the spirit of the Old Mill to live on.
From wreck to riches, The Old Mill offers guests a chance to relax after exploring Belgrade. Swipe across the image to discover. 
In this way, the Old Mill Hotel is itself a metaphor for the transformation taking place all over Belgrade: that of a once-troubled city merging its multifaceted history into a bold new vision of the present.
Discover Belgrade for yourself and learn more about The Radisson Collection Old Mill Hotel here.