If you've been wondering what to do with your crockpot ever since you bought an Instant Pot, I have three suggestions for you: Use it for warming drinks such as spiced apple cider, hot toddies, or mulled wine at your next winter party. Make your stuffing in it at Thanksgiving, and pop the inner container in the oven after the turkey comes out to crisp up the top.
Or, most impressively, use it to ferment garum—an ancient Roman concoction as pungent and useful as Vietnamese fish sauce—from the new book, Foundations of Flavor: The Noma Guide to Fermentation.
Noma, René Redzepi's restaurant in Copenhagen, is famous for using intensely local Scandinavian ingredients including foraged mushrooms, reindeer, lichens, and scurvy grass, treated with methods new and old, and from around the world. The book comes out of several years of experiments in the Noma fermentation lab—which started out as a shipping container converted into a space perfect for wild experimentation, transforming everything from gooseberries to grasshoppers into vinegars, pickles, misos, and kombucha. In Noma's new location, the lab was expanded and incorporated into the design of the restaurant.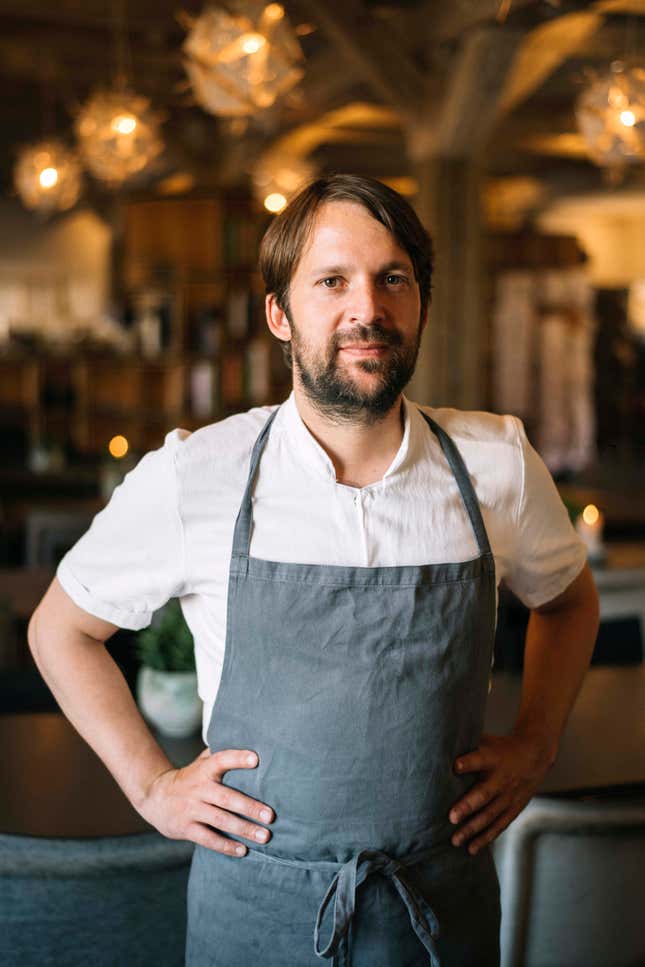 Redzepi told me over the phone that he knew he wanted to bring the deep umami-packed flavor of Southeast Asian fish sauces and shrimp pastes into the kitchen at Noma. "We tried to understand whether there was any old tradition within our region for fish sauce already," he said. "It turns out that there is a little bit—people used to use the pickling brine from herring, but it's more salty. It doesn't have, you know, that funky goodness."
In researching fish sauce, Redzepi and David Zilber, director of the fermentation lab and co-author, became a obsessed with the idea of making a modern garum. According to the two chefs, garum was first made about 2,500 years ago, in the port city of Carthage, in present-day Tunisia. Surplus tuna, mackerel, anchovies, and sardines were chopped into small pieces, packed into limestone vats with salt, covered to keep flies out, and and left alone for months. "The heat of the sun would effectively cook the fish, while the salinity would act as a safeguard against the propagation of harmful microbes," they write. "Most important, the guts of the fish contained enzymes that fueled the transformation from vat of fish parts to potent seasoning."
When the Romans sacked Carthage during the second Punic Wars, they took garum with them, and it remained a vital flavoring throughout the Roman empire, with versions for nobles and slaves alike, priced accordingly. The ruins of garum factories have been found in Spain, Portugal and North Africa.
Food historian Sally Grainger says that garum production  slowed when the Roman government imposed a high tax on salt, and because of pirate attacks on fishing villages, and in time it largely disappeared from European food culture. The modern fish, shrimp, and squid sauces and pastes produced in Southeast Asia follow much the same process, but usually with a higher salt content.
For Noma's garum, the fermentation lab mixes different proteins with water, salt and koji, a fungus traditionally used to ferment soybeans into soy sauce and miso. "Koji steps in and does the job of the digestive enzymes in the guts of fish, yielding a finished product with as much umami as the traditional method, but far more pleasant smell," Redzepi and Zilber write.
The proteins they've used have varied widely. Recipes for beef, squid, bee pollen, squid, and rose and shrimp garums are all included in the book. "What was really the special one was when we did a grasshopper garum," says Redzepi.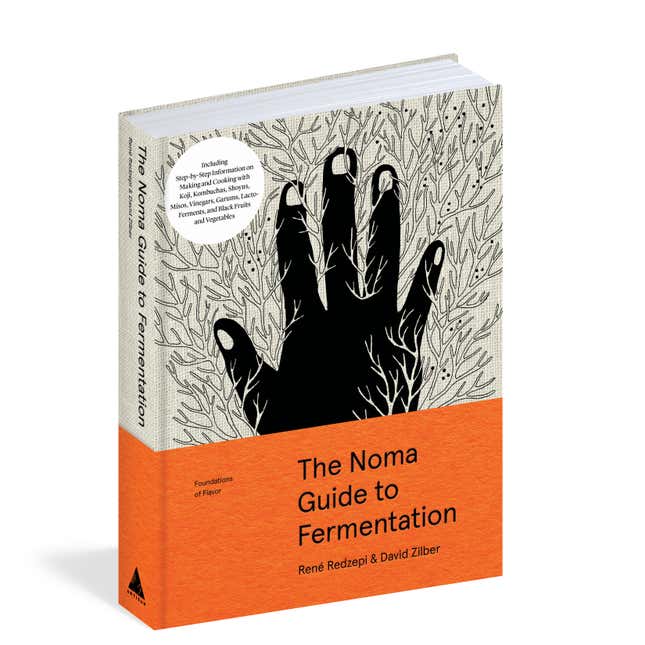 At Noma, one of the most popular dishes, crab with egg yolks, relies upon garum: Chefs whisk 15 grams of beef garum with four egg yolks and use the incredibly rich sauce that results to finish the dish. Redzepi also suggests whisking two large spoonfuls of parmesan into the egg yolk sauce to dress hot pasta, with some freshly ground pepper on top. An even simpler use is adding a spoonful to your ground beef before you make burger patties to season them from the inside out, and add an umami bomb at the same time.
Noma's beef garum takes a kilo of ground meat and turns it into 1.5 liters of intense umami flavor to be meted out by the teaspoon. And in this way, Garum is an especially potent representation of what Redzepi is doing at Noma. Conscientious chefs and eaters often speak of the heavy toll meat production takes on the planet. But by promoting the idea of using meat as a seasoning—rather than the center of the plate—Noma actually shows a way to eat with the environment.
With grasshoppers they take it one step further, creating intense flavor from an underused source of protein. "We didn't really know how to cook them, or even how to make them look appetizing," Redzepi said. "When we realized they are closely related to shrimp, grasshoppers, we simply thought to ourselves, let's try to do, not a shrimp sauce, a shrimp garum, but a grasshopper one…the end result was this incredibly potent liquid. It's in between a mix of chocolate and soy sauce with maybe even some Mexican molé-type of complexity to it."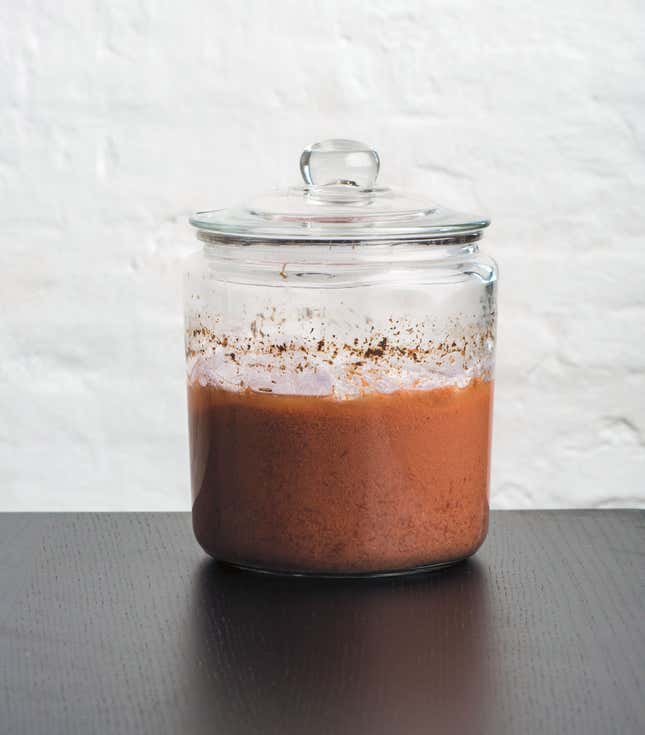 At Noma, garums are made in a temperature-controlled fermentation chamber and there are instructions for building a self-contained home version from a speed rack in the book. The good news is a crockpot or a rice cooker, works as well—it's actually one of the simpler and quicker processes outlined in the book. Your garum is complete in 10 weeks and the only specialty item you need is koji, which you can order from Amazon.
If you're the kind of cook who would undertake a several-week-long fermentation project to produce an ancient fish sauce, it's very much worth your time to read Redzepi and Zilber's introduction to garums, and the science behind their specific process in the book. There are also more than a few garum recipes that have been devised by culinary historians kicking around on the internet.
If grasshoppers are a bridge too far, and raw beef doesn't appeal, the cooked chicken wing garum recipe in the Noma book might be a good starter garum. In it, roasted chicken wings and chicken bones are fermented with salt and koji, and Redzepi says the garum that emerges after a month in the crockpot is insanely flavorful, transforming even the most basic stock into a deep, rich base for ramen and other soups.
"Think of those few morsels of crisp pan drippings you get when you roast a whole chicken in the oven. Now take that, and concentrate it into a hyper potent liquid and stuff it in a bottle," he wrote in an email, describing its flavor. "Imagine the way people use Tabasco, as a dash to spice up all sorts of food, but now turn that into the richest roasted chicken jus crossed with soy sauce, that's meaty and salty and slightly sour and rich."