Most of today's buzzy kitchen gadgets are best for project cooking or feeding a crowd. Instant Pots turn out vats of butter chicken; stand mixers are great for whipping up a couple dozen cookies; sous vide wands will set you up with a rack of steaks to finish on the barbecue.
The air fryer, on the other hand, makes cooking a delicious meal for one on a Wednesday night feel totally normal.
The first thing you need to know is that despite this gadget's name, you should not purchase one because you want to make French fries in your apartment kitchen. The air fryer as stand-alone appliance was cooked up by the Dutch electronics company Philips, and launched in 2010. With its "rapid air technology," it promised to create the much-sought "Maillard reaction"—where the surface of foods are browned and caramelized, to delicious effect—quickly and with "up to 90% less fat."
"Air is the new oil," Philips proclaimed. This is, of course, a delicious lie. (One food writer described his attempt to make crisp chicken wings as "unmitigated poultry disaster"—and dismissed the appliance as an "adult easy-bake oven.") But that didn't stop celebrity chefs from endorsing them and even promoting them on TV as a quick and fuss-free path to fried deliciousness.
So let's get that notion out of the way: The air fryer is not a secret weapon that makes your mozzarella sticks healthy.
But they are the rare appliance that is perfect for anyone who frequently cooks for one. And several new cookbooks, including Every Day Easy Air Fryer, from Urvashi Pitre (the woman who made the Instant Pot famous), show that they are very good, when used the right way, at cooking specific items.
Like convection ovens, air fryers use super-heated air to cook the food, explained Ben Mims, author of the new cookbook Air Fry Every Day, in The Wall Street Journal. Applying extreme heat to the surface of food is part of what frying does so effectively with hot oil, but Mims doesn't call what air fryers do "frying."
"An air fryer is, essentially, a small convection oven, with a heating coil up top and a fan that blows hot air inside the machine," he writes. "The food sits in a removable basket that allows the hot air to circulate all around and whisk away moisture to encourage crisping and the browning that builds flavor."
If you go looking for air fryer answers online, you'll find a full-on debate underway. Some, like Pitre and Mims, tout their ability to cook everything from okra to roast beef. Others sneer at their noisy fans and objectively uncool design. Mims argues that while "culinary movers and shakers of New York" have regarded the contraption with skepticism, he has found "users all over America who were obsessed with their air fryers."
I've been cooking with an air fryer for about a month, and I can say that they're good at crisping things that have been breaded, like frozen chicken fingers. I'll also confirm that they don't actually fry food. With the notable exception of chicken wings, foods that are traditionally deep fried, like french fries, fried tofu, and doughnuts, are just not that great prepared this way. By the time they're cool enough to eat, all the crispiness has been lost.
Another warning: They won't feed a crowd. For my family of four, almost anything cooked in our three-quart NuWave air fryer needs to be done in several batches, which is cumbersome.
But it's easy to see how the air fryer could be ideal for a person living alone. A single plate of salmon and charred broccoli, or a lamb chop with roasted Brussels sprouts, would be faster and easier to clean up in the air fryer than on the stove—and just as delicious, if not more. I can imagine Urvashi Pitre's gochujang chicken wings would become a go-to, alongside a salad. This machine is the perfect scale for a single diner, with less hassle than a meal kit, and more adaptability.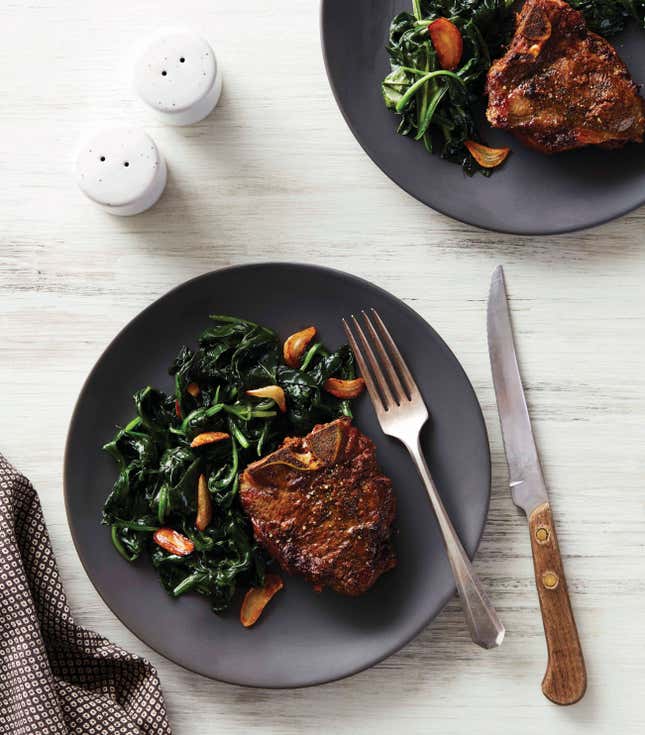 I often find myself using the air fryer to make lunch when I work from home. It's the best way to reheat lasagna, and makes delicious roasted vegetables for a grain bowl. Fish is particularly good in the air fryer—it cooks through without getting dried out and without making your apartment smell like a fish market.
And the air fryer will also give you dessert. There are also all sorts of smaller pans designed for air fryers, and recipes to go with them, which makes it possible to bake four brownies (Ben Mims' recipe is gooey perfection), or a batch of eight cookies.
It's possible to spend as little as $50 on an air fryer, and Consumer Reports actually likes some of the cheaper models the best. The drawback with them is that they are kind of giant for how much you can actually fit in them, and their weirdly rounded, retro-futurist vibe is aggressively uncool. These are appliances that would look right at home on the set of an 1980s sitcom set in the year 2030 (the wacky neighbor would be an alien).
If you are going to make this the cornerstone of your cooking, spend a little more and get a toaster oven with a convection setting. The Wirecutter hated the entire notion of air fryers, but did recommend two multi-function air fryer-toaster ovens, and this $200 Cuisinart model is about the same price as the most expensive air fryers. It looks a lot nicer on your counter, and you can even cook a whole chicken in it, if you feel like entertaining from time to time.
Miso Salmon
Excerpted from Everyday Easy Air Fryer © 2018 by Urvashi Pitre, Reproduced by permission of Houghton Mifflin Harcourt.
Servings: 2
2 tablespoons brown sugar
2 tablespoons soy sauce
2 tablespoons white miso paste
1 teaspoon minced garlic
1 teaspoon minced fresh ginger
½ teaspoon freshly cracked black pepper
2 (5-ounce) salmon fillets
Vegetable oil spray
1 teaspoon sesame seeds
2 scallions, thinly sliced, for garnish
In a small bowl, whisk together the brown sugar, soy sauce, miso, garlic, ginger, and pepper to
combine.
Place the salmon fillets on a plate. Pour half the sauce over the fillets; turn the fillets to coat the
other sides with sauce.
Spray the air-fryer basket with vegetable oil spray. Place the sauce-covered salmon in the
basket. Set the air fryer to 400°F for 12 minutes. Halfway through the cooking time, brush
additional miso sauce on the salmon.
Sprinkle the salmon with the sesame seeds and scallions and serve.