If you live in the northern hemisphere, you probably don't need to be reminded: Winter is nigh.
Along with winter comes many unpleasant things (shorter days, dry skin, vitamin D deficiency) as well as, of course, a few nice ones. Chief among the latter is soup.
As my colleague Annaliese Griffin put it, "I always find it to be a big relief to remember that there is delicious soup in the fridge." I couldn't agree more. While they may not be photogenic enough to be particularly Instagrammable, soups are a kind of an unsung hero of at-home cooking. They are easy to make, filling to eat, you can pack them with healthy ingredients and use up all the random vegetables in your fridge, reducing your food waste. Just add buttered sourdough toast and it's a meal. Plus, you only have to clean up one pot.
Whether you use a slow cooker, an Instant Pot, or simply a bubbling pot on the stovetop, here are three simple soup recipes you can prepare on Sunday and eat for lunch all week. None require more than 20 minutes of active time (not including unattended cooking), and all go well with roaring fires and chunky knit sweaters.
Slow cooker vegetable potage
This soup is not fancy, but it is wholesome and versatile. Chop and sauté a large onion and a few cloves of garlic in a few glugs of olive oil. When translucent, place in your slow cooker pot (or sauté in your Instant Pot or a stockpot large enough to make the soup in). Then, gather whatever vegetables you may happen to have on hand. Potatoes, carrots, broccoli, greens, and squash all work together nicely. Wash, peel, and chop those up, then add them to the pot. (Tip: If you're using winter squash, it works well to halve it, seed it, and place it on top of the mixture while you slow cook—you can scoop out the flesh when it's cooked.) Add four to six cups of broth (or water with a stock cube). Season with salt and pepper, any fresh or dried herbs you may have on hand (fresh sage works nicely, or dried herbs de Provence). Cook in a slow cooker or stove top until the vegetables are soft, then blend with an immersion blender to your desired level of chunkiness. Season to taste with salt and pepper, then serve with a dollop of greek yogurt. To upgrade, add a swirl of olive oil and garnish with toasted pepitas or other seeds. – Rosie Spinks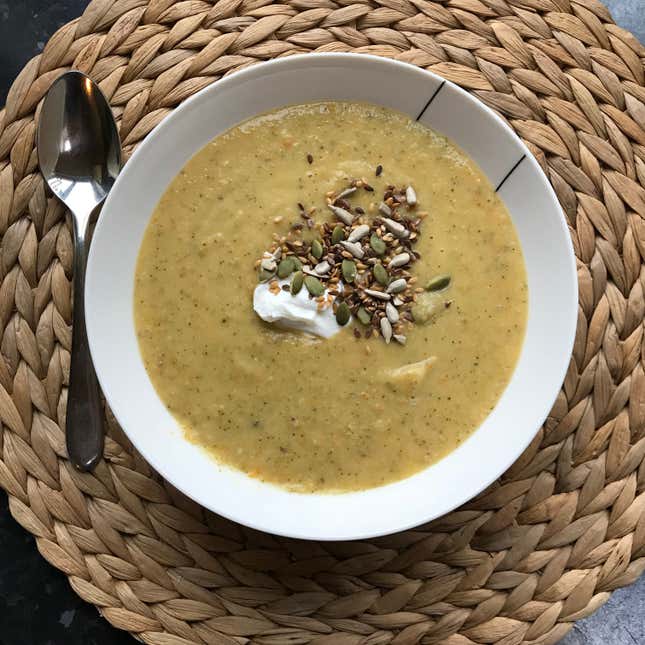 Lentil, kale, and sausage soup
Hearty as a stew, but as easy as a soup to prepare, this is perfect for cold weeknights. Place some sausage or chorizo in a pan over medium heat with a splash of olive oil, and add onion and 1-2 cloves of garlic to to cook in the sausage fat. When translucent, add chopped carrots and celery, and allow to cook for a couple minutes more. Then add a cup and a half of lentils, a chopped bunch of kale (or cauliflower, if you prefer), and about six cups of vegetable stock (or water and a stock cube). The lentils will take roughly 20-25 minutes to cook through. You can swap kale for spinach, just add a bunch with about ten minutes left of cooking, rather than at the beginning. – Annaliese Griffin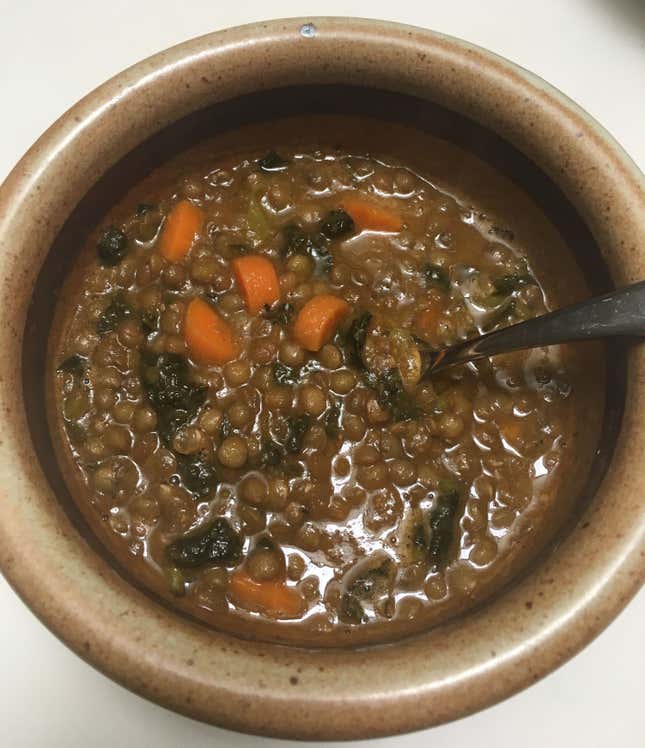 Carrot cumin coconut and ginger
This soup feels creamy and wholesome at the same time, sweet from the carrots, but with a flavorful kick from the spices. Chop and sauté a large onion in a few glugs of olive oil in a stockpot. When translucent, add a tablespoon or two of cumin, a handful of garlic cloves, a can of unsweetened coconut milk and a tablespoon of grated fresh ginger. (Tip: I keep my ginger frozen, and grate as much as I need on a microplane grater.) Sauté for a couple minutes more, then add four pounds of peeled baby carrots. Add broth to cover the carrots (or water with a stock cube), and simmer on the stovetop until the carrots can be easily mashed with a fork (20-25 minutes). Puree with an immersion blender, add water if it's too thick, and seasonings to taste. Serve with a swirl of Greek yogurt or mascarpone. – Indrani Sen