Hanging our necks and ears with baubles and trinkets—no matter what the price tag—can read as superficial. But the aesthetic power of jewelry, and the act of adorning our bodies, is one of the oldest and most universal traditions humans share.
The Metropolitan Museum of Art's new exhibit "Jewelry: The Body Transformed" explores this idea, highlighting humanity's vast and complex relationship with jewelry through a collection of 230 pieces created between 2600 B.C.E. and the present era.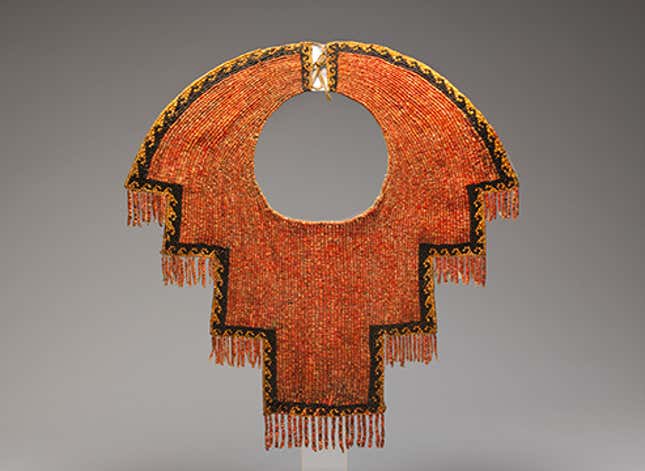 "Jewelry is one of the oldest modes of creative expression—predating even cave painting by tens of thousands of years," Met director Max Hollein said in a press release about the exhibit, which opens on Nov. 12.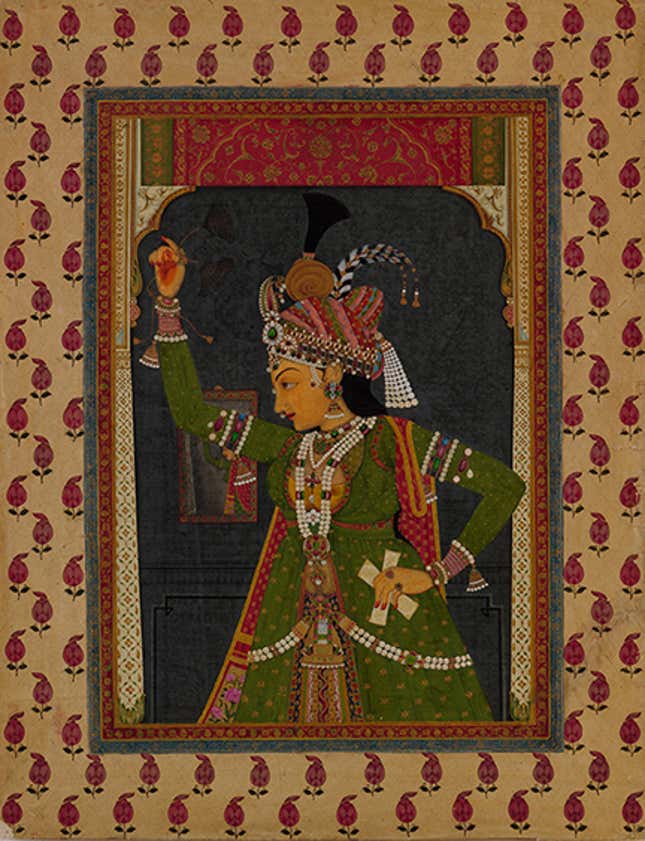 The exhibit spans both geography and history. Viewers will see headdresses from Calima (present-day Colombia), seed pearl strands from Victorian-era London, contemporary designs from Alexander McQueen, and much more.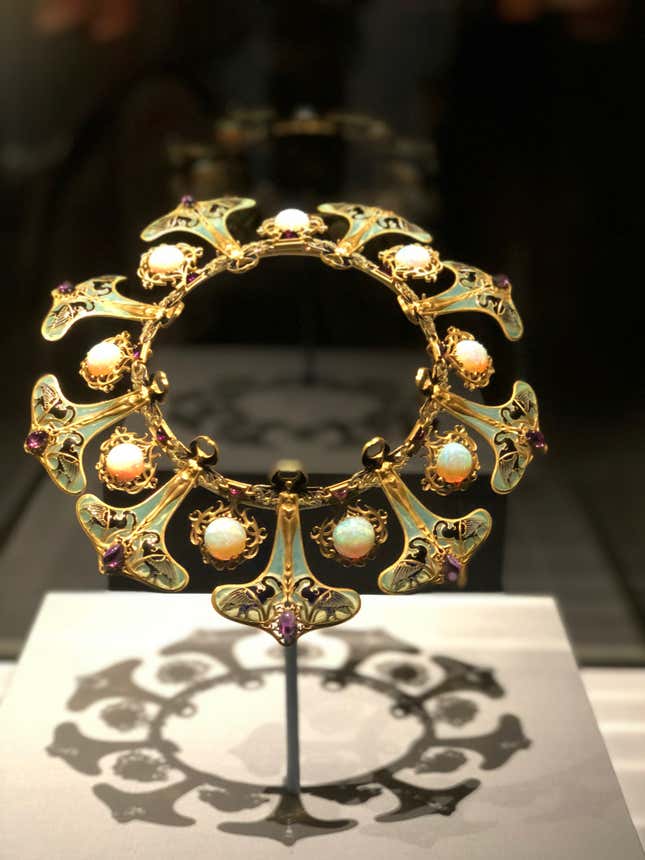 The five exhibit sections are named Divine Body, Transcendent Body, Regal Body, Resplendent Body, and Alluring Body. To underscore the profundity of self-adornment as a form of self-expression, curators separated the objects based on kinds of uses rather than by time or place.
Divine Body, for example, examines what the Met names as "one of the earliest conceptions of jewelry—its link to immortality." It features jewelry pieces, often buried with the wearer, that "capture, activate, and embody the divine." One of the most stunning examples is a hammered gold, full-body ensemble—including golden caps for the fingers and toes—that once ensured an Egyptian bourgeois safe passage into the afterlife.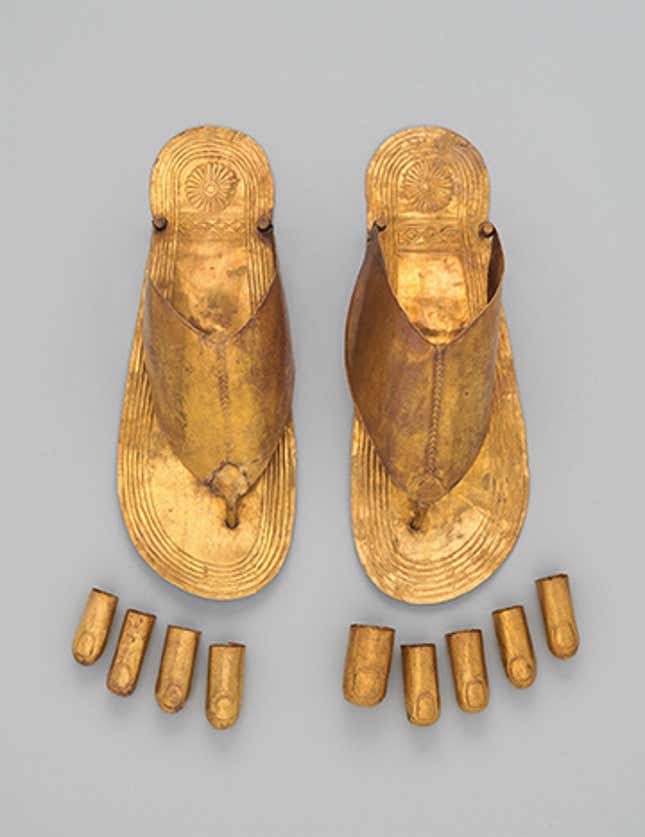 Similarly, Transcendent Body highlights how jewelry was used to "conjure spirits, appease gods, and invoke ancestors." Hindus in ancient India, as with ancient Egyptians, favored gold, and they crafted intricate jewelry to adorn statues of the gods. The ancient Maya, meanwhile, used lavish ear adornments called "earflares" made of marine shells so that gods could speak directly into their ears, and ancient Mesopotamia (present-day Iraq) and Egypt both used "noisy" jewelry, adorned with beads and bells that tinkled to catch a deity's attention.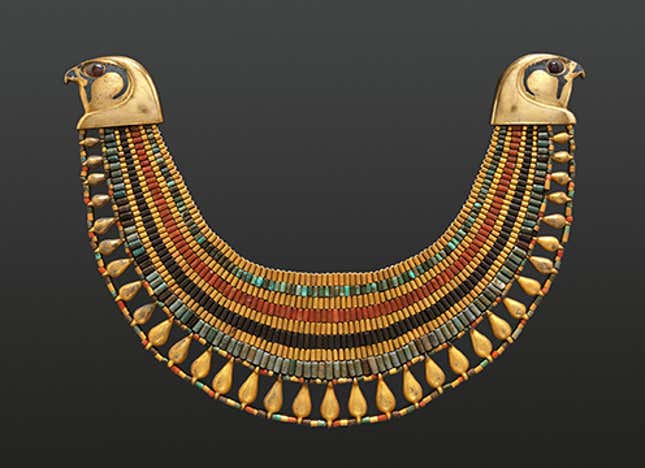 Regal Body studies how jewelry is used to assert status and spotlights heavy Byzantium jewels alongside gold armbands from Hellenistic-period Greece that look right out of The Iliad. 
Similarly, Resplendent Body demonstrates the use of jewelry purely for adornment: "Why wear jewelry, if not to be seen?" it asks.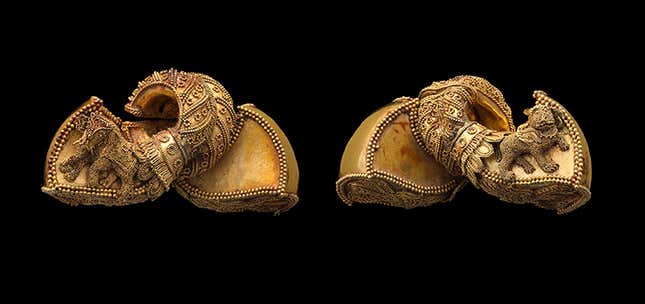 More contemporary jewelry pieces—from Cartier, Tiffany & Co., and others—make an appearance in "The Alluring Body," which explores jewelry's relationship to desire.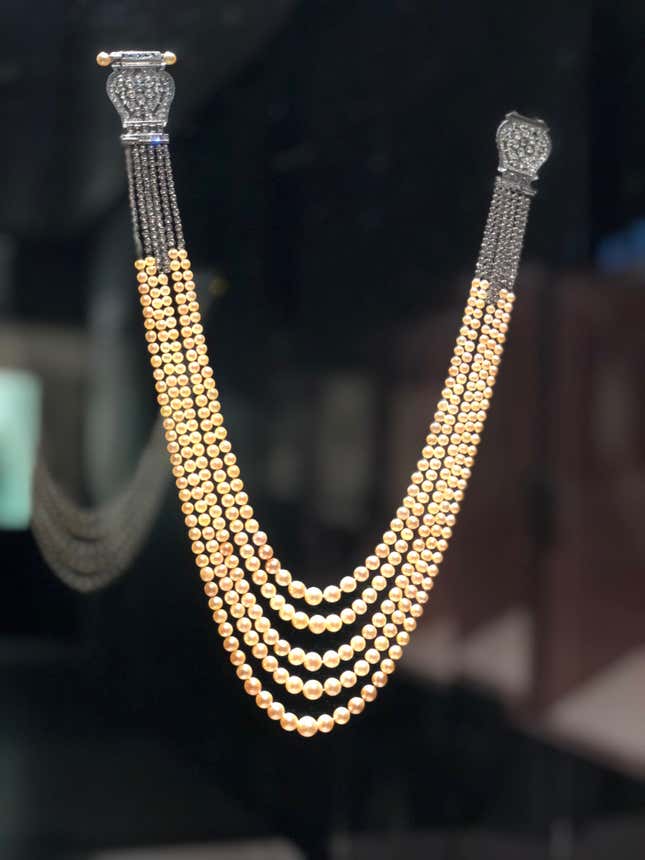 In that section, one of the most intriguing topics is the changing definition of the pearl: Although the pearl necklace was an emblem of prim respectability in late 19th-century Europe, pearls have a classical association with the erotic through their relationship to Venus, embodied in Botticelli's 15th-century painting "The Birth of Venus." Likewise, they are linked with the early 19th-century figure of the odalisque, a "sexualized Eastern figure whose exotic origins were often signaled by the 'oriental' pearl." In turn-of-the-20th-century America, the pearl came to represent sexual autonomy as associated with the flapper or showgirl.
The exhibit, in short, is an astonishing exploration of humanity's love of adornment, an interest that began shortly after humans did. If you've ever considered jewelry to be a frivolous accessory, be prepared to have your perspective seriously challenged.