"Not all cuisines share the same affinity for acid," says Samin Nosrat on her show Salt, Fat, Acid, Heat. "I realized this in college when I went to my very first Thanksgiving dinner. I loved the turkey and stuffing, but there was hardly anything acidic to cut through the richness of all the food. So I kept spooning cranberry sauce over everything."
Nosrat was used to the sour limes, bright pomegranates, and tangy yogurt that topped nearly everything her Persian family ate when she was growing up. "Acid brightens food and creates contrast," Nosrat explains. "Most importantly, acid does the absolutely necessary job of balancing flavors."
Salt and fat, two of the elements she identifies as the building blocks of cooking delicious food, are featured front and center on the Thanksgiving table, as is sweetness. Mouthwatering acidity is in short supply, which, in addition to the sheer volume of food that tends to be served, is responsible for making the meal feel so overwhelmingly heavy. In many homes, changing up the Thanksgiving spread is a challenge—these are deeply cherished food traditions whether you're talking corn pudding or mac and cheese, cornbread dressing or oyster stuffing, pumpkin or sweet potato pie, salt, fat, and sugar are dominant.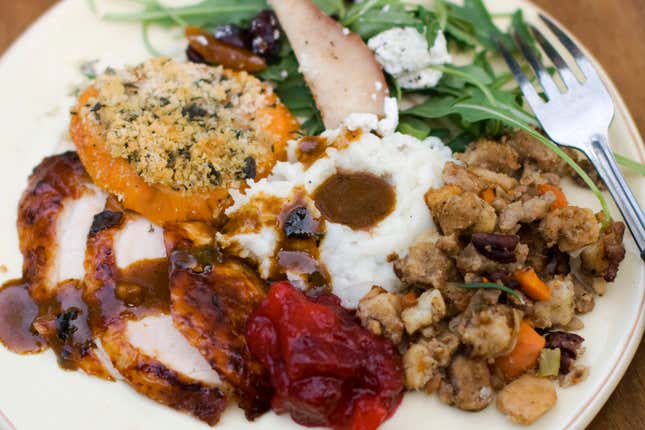 Adding acidity to Thanksgiving isn't about starting from scratch and changing everything. It's about keeping an eye out for ways to add more complexity and sparkle to an already wonderful meal. One way to do that is to incorporate acidic components into the cooking process.
My husband's trick for making exceptional mashed potatoes is to add a bottle of inexpensive white wine to the cooking water—anything that isn't oaky works. Then, replace half the butter and half the heavy cream or milk in your recipe with sour cream. They're still rich and creamy, but also lighter and more delicious. I'm also partial to a bourbon gravy—the alcohol adds acidity and a recipe with white wine and some bourbon really brightens everything it gets poured on.
As Nosrat discovered, a tart garnish like cranberry relish or sauce is another way to add acidity—and while the jellied stuff from a can is a sentimental favorite, it's actually really easy to make fresh, sweet-sour cranberry sauce, and can be done well in advance.
Or take that principle and incorporate it into some new takes on vegetable sides. With all respect to Dorcas Reilly, the inventor of the green bean casserole who died earlier this year, simply roasting green beans that have been tossed in olive oil, salt, and pepper, and then dressing them with a cranberry vinaigrette is another way to cut through the richness of other Thanksgiving staples. In Germany roast goose, which tends to be much heavier than turkey, is often served with tangy red cabbage braised with apples and cider vinegar, which also adds color to what is a relatively beige table.
And while you won't catch me messing too much with dessert, adding a dollop of sour cream, cream cheese, or mascarpone to your whipped cream incorporates a subtle contrast—and stabilizes it for leftover breakfast pie, as well.