This week, a painting by the British artist David Hockney is set to displace Jeff Koons's "Balloon Dog" as the most expensive work by a living artist to be sold at auction. "Portrait of an Artist (Pool with Two Figures)" will be sold at Christie's Post-War and Contemporary Art Evening Sale on Nov. 15 for an estimated $80 million, overtaking Koons' 2013 record of $58.4 million.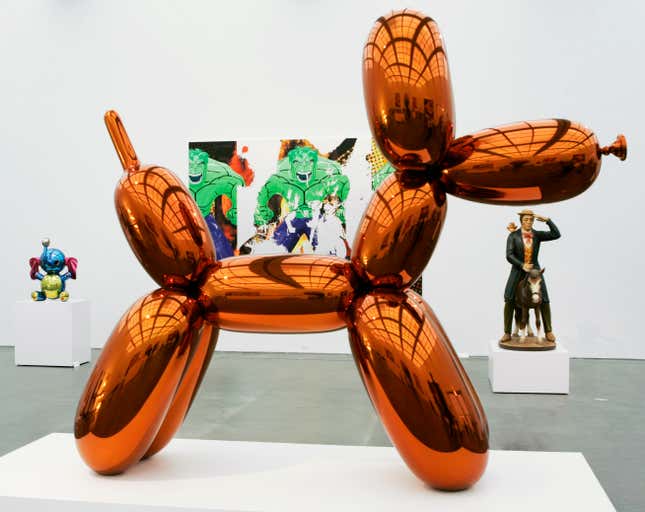 Hockney's previous auction record is $28.5 million for his 1990 painting "Pacific Coast Highway and Santa Monica."
Christie's has not revealed the private seller of "Portrait of an Artist (Pool with Two Figures)." The 1972 portrait by the 81-year-old Hockney is perhaps the most famous of his pool-related paintings. Swimming pools, specifically the private backyard pools commonplace in Los Angeles, were a major subject of Hockney's work since he moved to the city from the UK in 1964: "I always loved swimming pools, all the wiggly lines they make," he told CNN in 2017. "If you photograph them, it freezes them whereas if you use paint, you can have wiggly lines that wiggle."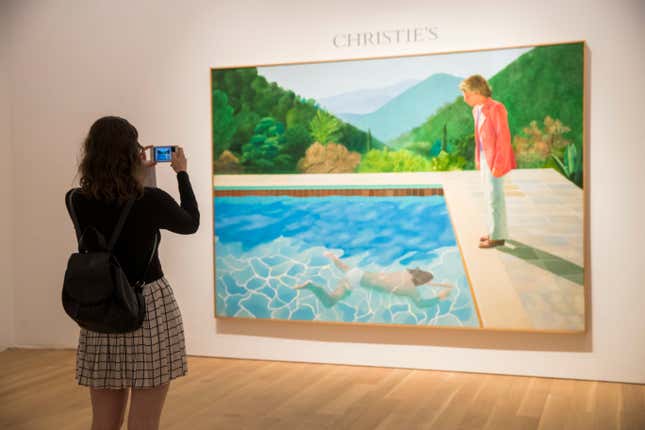 "Portrait of an Artist (Pool with Two Figures)" is hailed as one Hockney's most masterful paintings and was exhibited in Hong Kong, London, and LA prior to its Thursday sale. The double-portrait (another favorite Hockney subject) shows the artist's estranged lover, Peter Schlesinger (in the pink blazer), who Hockney had separated from the previous year. Schlesinger is contemplating an unknown swimmer, who some speculate represents Hockney himself.