Among Serious Wine Drinkers in the US, Beaujolais Nouveau gets a bad rap. Yes, it's young and fruity. No, it's not a wine to sip next to a roaring fire, while searching your soul. It's not meant to be.
In France, however, this is a wine to look forward to. The third Thursday of every November is Beaujolais Nouveau Day. Made from gamay, the primary grape in Beaujolais, a winemaking region in eastern France, traditional Nouveau is bottled not long after the harvest and is only about two months old when you traditionally uncork it.
The annual event became a marketing bonanza in the 1970s and 1980s, with brands such as Georges Duboeuf creating new labels (and even neckties based on the label designs) each year, and shipments of the juicy wine arriving in cities around the world to tutti frutti fanfare.
But Beaujolais Nouveau isn't just hype. It's a way for winemakers to celebrate the end of the harvest, a two-month period of intense work—picking and sorting grapes by hand and then pressing and bottling them into wine. In Beaujolais, these celebrations include rolling barrels of Nouveau through the streets and then pouring out glasses of the bright, cherry-red wine.
The youngness and the way the wine is made both account for its bright, often quite fruity qualities. Winemakers use a technique called carbonic maceration to produce Nouveau. They fill a tank with whole fruit, pump in carbon dioxide, and the juice inside the grapes ferments. Compared to methods in which the grapes are crushed prior to fermentation, wines that undergo carbonic maceration spend less time in contact with the skin of the grapes, and are generally less tannic, one of the hallmarks of Nouveau. It's best within a few months of when it was bottled, and is traditionally polished off before the new year.
American winemakers have started to embrace the Nouveau tradition by producing small quantities of wine meant to be poured very young, as a way to toast the end of the harvest season, and as a sneak peek at what the year's vintages might hold.
Thomas Monroe and Kate Norris, the winemakers at Division Wine in Portland, Oregon, studied their craft in Beaujolais, where they came to appreciate Nouveau as more than just a party wine. "It was this communal celebration, of community and completing the harvest and getting together with your neighbors and cooking and celebrating together and connecting with the people that had helped you," Monroe told me in a phone call, "because the community really comes together to help with the harvesting and picking."
Division has been bottling a wine called Nouveau! since 2011, made from gamay in the French style. Monroe noted that many of his winemaking peers are tweaking the formula and experimenting with different winemaking methods and grapes, including Pinot Noir and Gewurztraminer, which are commonly grown in Oregon.
These young, fresh wines aren't just an homage to the French tradition, they're a style that is finding a new market in the US. Glou glou wines ("glug glug," but in French), are known for being low in tannins, fruit-forward, and easy-drinking—even chuggable. And they have been one of the biggest trends in wine in recent years. It's part of a larger movement away from thinking about wine as a fancy, formal, expensive drink, and toward a philosophy of celebrating everyday deliciousness.
Donkey & Goat, a winery in Oakland, California, made a version of Nouveau from a blend of clairette and merlot grapes this year that it has called Nouveau Glou. "It's like adult Kool Aid," says Tracey Brandt, who owns the winery with her husband Jared. But that doesn't mean it's sweet, she went on to explain: "Because it is a Nouveau, it's very kind of primary… but then again, ours is quite dry."
As it is in France, it's important for California winemakers to celebrate together after the stress of the harvest season, Brandt said, explaining that she and her husband work 18 to 20 hours a day for weeks on end. Ordinaire, a wine bar and shop in Oakland that specializes in natural wines and small producers, throws a West Coast Nouveau party every year to celebrate the end of the harvest.
Some of these American producers are selling their Nouveaus in wine stores, not just in tasting rooms and local wine bars, but it's in limited quantities, so American Nouveaus may be hard to find. If you see a bottle from the US with a name that is a play on "nouveau" it's probably worth a try.
It's also hard to truly celebrate the French Beaujolais Nouveau day if you don't happen to be in a French winemaking region. A lot of the Beaujolais Nouveau that's exported is mass produced, and pretty lackluster. Most interesting bottles tend to stay in France, because shipping them in time to arrive by Nouveau Day is often economically impractical. "The Dupeuble that is brought by Kermit Lynch is probably the most widely available one that is well made," Monroe says.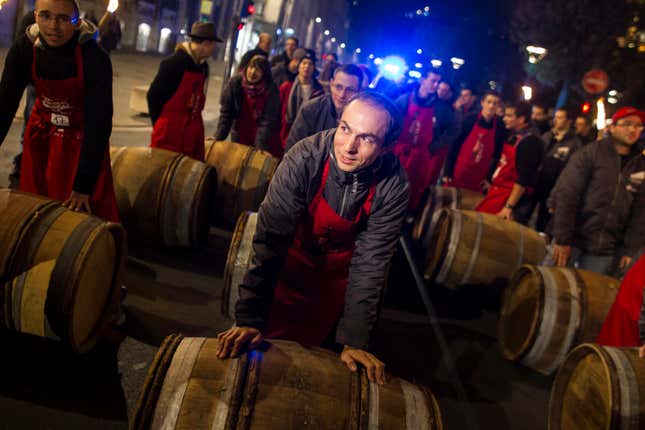 To participate in spirit at least, ask your favorite wine store if they have a Beaujolais Nouveau they truly enjoy, and if they say no or they don't seem convinced, ask for their lightest, brightest gamay, or to hear about their chillable reds. Most of these wines are going to be relatively inexpensive, topping out at around $25 a bottle—and perfect for glou glou.
And if a light, fruity wine—a "baby," as Brandt puts it—just isn't your thing, don't worry, this moment passes quickly. Drinking Nouveau is supposed to be a fleeting pleasure, not a year-round experience. "We kind of do this for fun," says Brandt. "I mean truth be told, I wouldn't sit around and drink Nouveau all winter."