Late on a Thursday morning in Eso Won Books in the Leimert Park neighborhood of Los Angeles, co-owner James Fugate was ready for a second cup of coffee.
A spate of visitors on a city tour had just left the store, and Fugate's business partner, Tom Hamilton, arrived to man the register. Above his head, a quilt bearing the likeness of Michelle Obama hung on the wall. The following week, the former first lady's memoir would be released and Eso Won—one of the oldest among the country's 110 or so black-owned bookstores—would be the official bookseller for her sold-out appearance at the Forum. Beside it is another quilt of author Ta-Nehisi Coates, who has called Eso Won his favorite place to buy books.
"Its specific mission is to make sure black authors always have a home," Coates said of Eso Won in 2016. "This is important to me, not because it's the world that I spring from but because it is the river I continue to drink from."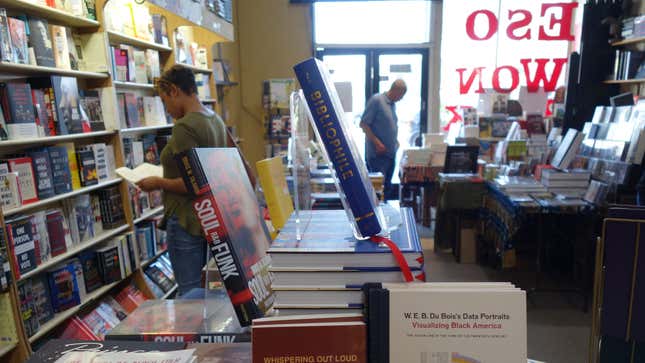 When Fugate arrived in Los Angeles from Detroit 30 years ago, he ran the bookstore at Compton College. The retailer was owned by the chain Barnes & Noble, and Fugate noticed that the authors on the shelves didn't reflect the demographics of his customers. He began to stock the store with more black writers, and started an independent book fair on weekends.
"I really didn't like repping Barnes & Noble, especially in the black community," Fugate said of his move toward independent bookselling. In the 30 years since Eso Won opened its doors in Crenshaw in 1989, the store has moved four times and hosted events for countless luminary authors including two former US presidents: Barack Obama before he was president, and Bill Clinton after he held office. Today, the store employs three people, plus another six who are available for the 25-30 community events Eso Won hosts each year.
At a desk in the bookstore's back office where a desktop computer, an iPad, and a calculator with a roll of paper sat alongside many, many books, Fugate sat down with Quartz to discuss technology's role in Eso Won's business.
"As you get older and you're busy, you have less time to learn technology," he said, adding that he didn't get a computer until around 2000 and is only now considering a smartphone for its ability to retain contacts and take pictures. That said, he used the iPad to sell books at an event the previous evening using the Square payment system, a service he deems "fabulous."
The interview has been lightly edited for length and clarity.
In terms of technology, what's the big thing you know today that you wished you knew when you started?
I wish I realized how important emails can be to a business. When Eso Won moved to this area, around 2008, we really were struggling for the first couple of years that we were here. But one thing that helped bring us back was the American Booksellers Association sent out something about Constant Contact. And so we signed up. I realized—especially I think black bookstores—we don't have as much media to really promote our books. Constant Contact, I found almost as soon as I started using it, which was probably nine years ago, I think it was $30 a month. Within the first month of each year, we would pay for the whole year. We'd see the value of it right away. Shortly after Muhammad Ali died, we got a book of memorabilia—$7.98 was the price it was on sale. It had been originally $35 and I ordered 50 of them. I sent out the email, and the first day they were gone. Our emails started keeping people in the loop, and it really helped things.
Which tech giant has had the biggest impact on your business?
Amazon, of course.
Amazon has had the biggest impact on the book business, because it brings a bookstore to all of our homes—which is why, you saw the little flyer for Mrs. Obama['s new book]. I think we started doing those in August, and sending out emails. I knew people would say, "Oh, I can get this at Amazon." But I wanted to create a sense of excitement for the book, and supporting your store. So we started doing that, and it's helped us sell over 200 books already; they've been prepaid. So that's very good.
What technology or tech service, that is not a giant company like Google or Apple, do you find is most useful in running your business?
The company we use for our book sales, it's called WordStock. They have a point-of-sale system, and we've been using it for probably 25 years. It's followed us from probably four different locations, and we really have had very few problems. We had a leak a couple doors over a week before Christmas, and they were able to get us to a new system up and running in three days.
From a technology standpoint, what can't you do, that you think you should be able to?
We can do most things now that we've wanted to do. I couldn't really think of anything.
Has technology changed anything about how you manage your company's money in last five years?
Not so much. I like online banking.
What do you use [this desktop calculator] for?
I use it all the time. The other day I looked up all of the bills I want to pay over the next week, so I just ran a sheet of all the little numbers, just adding them up. I use a spreadsheet from Microsoft to manage a budget everyday. I used to do it all with one of those little accounting books, which are still around, strangely enough. Every month I would fill it out by hand.
What's the newest competitive threat?
Amazon is the biggest competitor we have. You have to constantly reinvent yourself, especially with Amazon—because Amazon has bookstores now and it's just a matter of time before they start hosting authors.
Do you think the availability of self-driving cars might change your business?
A year ago, I thought self driving cars: No. The more I drive, the more I realize people are nuts.
I don't think we will be around to see it, but I do think that it's going to have an effect on everything, probably 25 years from now. I think it will affect our business, and I think it would make it better. Like, we used to know this lady, she was a city council woman. She used to come by all the time, but as she's gotten older, they took her license from her—I guess they felt her eyesight wasn't strong enough, and she doesn't come by anymore. But if she could call up a self driving car or go get in the car, I'm sure she'd still be coming by. It's going to be very interesting.
Can you imagine using bitcoin or incorporating the blockchain in your business?
No (laughs)! Absolutely not. I don't think so—I can't imagine, but you also have to be innovative, you have to keep up. But I doubt it.