There's something that feels so civilized about making yourself a cocktail to enjoy at home.
Whether you're sipping a warming amber drink while making dinner, or you're mixing up something sparkly for a party, these three cocktails are simple to make, delicious to drink, and elevate their ingredients into something that is far more than the sum of the parts.
Bringing the fixings for one of these drinks to Thanksgiving dinner will make you the MVP guest. But a cautionary note: Pre-mix a pitcher if you can. Bring ice and a shaker, if you need one. Don't take over the entire kitchen. You want to add to the party, not make it all about you and your delicious cocktail.
The Flannel
This is a twist on the Madras, a vodka cocktail that combines orange and cranberry juices to occupy the space between a Cape Codder and a Screwdriver. Store-bought cranberry juice doesn't do the tart complexity of actual cranberries justice, so I made a quick cranberry syrup (it really is quick, I promise), and combined that with gin, fresh-squeezed orange juice, and then added a float of sparkling wine on top for brightness.
The result is a food friendly cocktail that balances sweet and tart, and highlights the flavor of the cranberries and the herbal element of the gin. I used Barr Hill from Vermont, which has strong juniper notes—Hendricks or Beefeater would work just as well here.
Put one cup of cranberries and three tablespoons of honey in a small pan and cover with water. Cook over medium heat, stirring and mashing occasionally, until the berries have burst and the mixture is thick enough to coat the back of a spoon, about 10 minutes, then run through a mesh strainer to get rid of the skins. This can be done well ahead and kept refrigerated for a least a week.
In a cocktail shaker put two tablespoons of your cranberry syrup, 1.5 ounces of gin, and the juice of half an orange or a whole tangerine or mandarin. Stir until cranberry is dissolved, then add ice and shake vigorously. Strain into a glass with ice, top with a splash of sparkling wine—cava, prosecco, or a sparkling rosé would all work here. Stir and serve.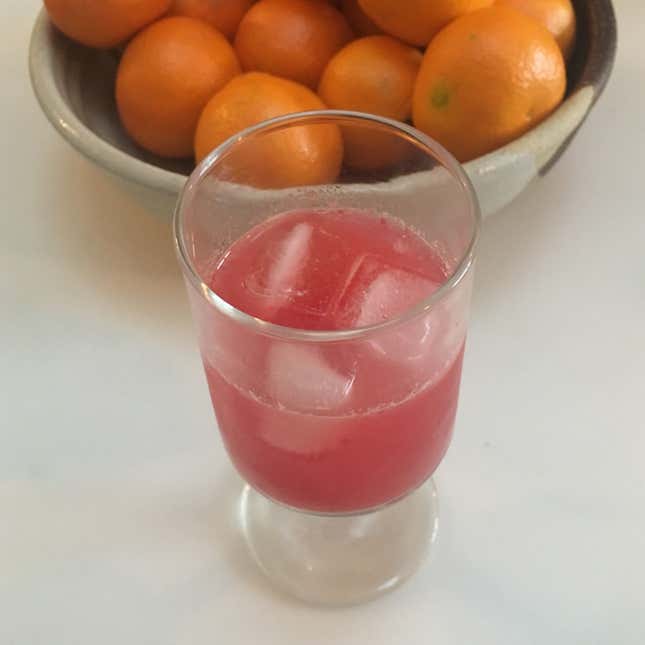 You could also try this drink with cranberry sauce that is headed for the Thanksgiving dinner table and let the cocktail shaker strain out any chunky stuff, but keep in mind that any spices like cinnamon or ginger are going to end up in the cocktail as well. That is not necessarily a bad thing in this festive season. —Annaliese Griffin
A sherry cobbler for minimalists
This drink is so simple, it's a stretch to even call it a cocktail. A friend picked up the recipe—such as it is—while on a tour of a Harveys Bristol Cream Sherry factory in Jerez, Spain, years ago. It is so outrageously delicious that it will banish the notion of sherry as a prim drink for genteel older ladies, to be sipped out of tiny glasses at room temperature.
This drink resembles a cobbler, a once hugely popular drink in the US, but many cobblers are sweetened with sugar or simple syrup as well as fruit. This simply relies upon the sweetness of the sherry, and its interplay with the acidity of the orange. There are plenty of artisanal oloroso dulce or cream sherries on the market now, or try it with a drier sherry or a Madeira if that's your preference—but good old Harveys Bristol Cream works a treat too.
Put a few ice cubes into a tumbler. Slice a wheel of unpeeled orange about half a centimeter thick. Drop it into your glass on top of the ice. Pour 3oz of cream or other sherry into the tumbler, and use a metal spoon to muddle the orange and its rind with the ice. That's it. —Indrani Sen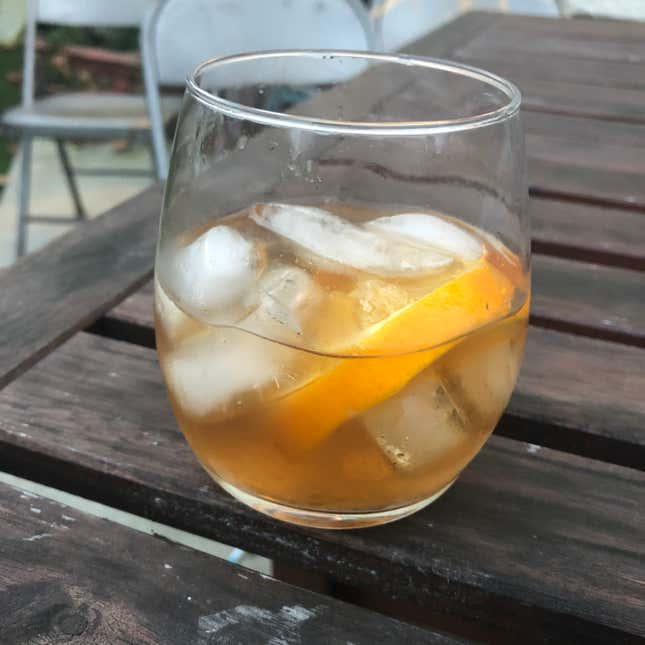 The Sharky
For autumnal boozing, it's hard to beat the Sharky. I discovered it as a cocktail special at Gaskins tavern in Germantown, NY, jotted down the recipe on a napkin, and haven't stopped making it since. In the cooler months, the subtly spicy combination of rye, apple cider, and amaro, combined with a bracingly generous squeeze of lemon, just tastes correct—cooler than a Manhattan, warmer a than Gold Rush.
Combine 1 1/2 ounces rye with 1 ounce fresh apple cider, 3/4 ounce of amaro (like Nardini or Averna) and the juice of half a lemon, and serve over ice. Or make a pitcher to share.  — Jenni Avins