Much of the art at Scope, a contemporary art fair that took place alongside last week's Art Basel Miami Beach, spoke directly to a certain stereotypical millennial experience. There were large-format oil paintings of La Croix sparkling water cans and giant ceramic sculptures of Xanax bars. An exhibit called Young Thug as Paintings—which originated as a meme that places photos of the rapper against works of fine art—was especially popular with the highfalutin art crowd.
Leah Schrager's "Female Friendly" from the Roman Fine Art gallery of East Hampton was another display that addressed a younger, social media savvy generation. The first thing you see when you approach it is two giant, plastic scrolls adhered onto the booth's walls. Both depict a blown-up version of an Instagram photo and its comment thread: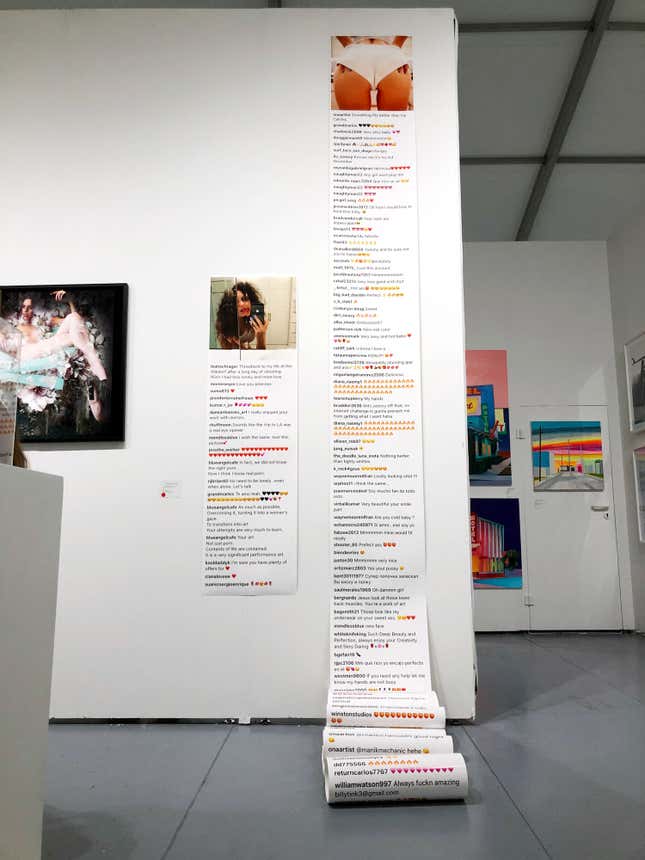 The photo on the left is from Schrager's personal account, which has 33,000 followers and is pretty edgy in itself, full of artsy partial nudes and pouty mirror selfies:
The other photo is from a woman named Ona, who is also played by Schrager. Ona is her alter ego: Schrager writes over email that the original idea behind her was "to create a celebrity as an art practice," and by cultivating Ona on Instagram, she was successful: Since her conception in 2015, Ona has garnered a whopping 2.7 million followers, released an EP, and transcended into the realm of Instagram influencer-dom (the account itself was on sale for $2,600, but Schrager notes it did not sell).
The photo installed from Ona's account is of her backside in Calvin Klein underwear (this is Ona's MO, booty pics and other sultry images, aka thirst traps). The photo's comment thread, peppered with heart eyes and peach emojis, rolls on and on until it hits the floor and begins to curl.
While it's often men who crowd the comment section with sexual remarks on sultry photos, it's also men who have created the derogatory vocabulary to describe women who post them: Kanye West coined the term "photo-thot" in 2015 to describe women who look hot on Instagram, courtesy of Photoshop. The term "Instagram thot" entered the lexicon around the same time to specifically describe women who post revealing photos on Instagram.
Many women have reclaimed these terms, but the labeling is at its core mistrusting and hostile toward women who embrace and display sexuality on social media. It's the same tired double standard for beauty and sexuality that plays out off of the internet: Women are told to look and act a certain way and will face backlash whether they do (she's a slut!) or don't (what a prude!).
This pressure is magnified and quantified on social media, a place where likes and follower counts translate to opportunity (and in this case celebrity). This is especially true in the influencer era, when people with high Instagram followings are granted business deals, sponsorships, and hard cash by companies on all different levels, from niche jewelry shops to industry giants like Dior and Google.
It's perhaps unsurprising that Ona's overtly sexual, Playboy-esque profile has garnered a bigger following than Schrager's more standard, girl-about-town account, but the comparison is an interesting examination of the catch-22 that exists for women on the platform, and does a pretty thorough job of exposing it.