In his latest movie, director Alfonso Cuarón trains the camera on Cleo, a domestic worker in a middle-class household in 1970s Mexico City.
Roma follows her from the service bathroom outside the house in the neighborhood that gives the film its name; through its rooms as she wakes up the family's kids; to the driveway, which she cleans up after a prolific dog.
Cuarón's movie, which is now on a limited theatrical release and will be available to stream on Netflix on Dec. 14, is grounded in Mexico and the disparities between its white middle class and marginalized indigenous population. But Cleo's state of constant flux—from outsider to intimate, from substitute mother to maid—will strike a chord for anyone around the world who has been served by, or has served as, a domestic worker.
In real life, it's easy to overlook the inequity of this setup. That's partly out of convenience for the employer, usually the biggest beneficiary of the arrangement. But it can also be hard to recognize the lopsidedness of the relationship when it's tangled up with genuine affection, often on both sides.
There is no such murkiness in Roma, which presents the travails of domestic workers in black-and-white, both literally and figuratively.
Informal labor
Roma, which is partly autobiographical, takes place in the time period when Cuarón himself was a child. Cleo's workload, however, wouldn't be out-of-place in a current-day household.
There are at least 67 million domestic workers in the world, most of them women, according to the International Labor Organization, or ILO. Many of them are also migrant workers who live with their bosses. Like Cleo, they typically operate in a legal limbo, without contracts or pay stubs, the UN agency has found.
Whether in Mexico City, Singapore, or Cape Town, that informality blurs the boundaries of the employer-employee relationship, and often leads to abuse. A domestic worker's hours are seldom tracked, and she is almost always on call, not unlike a parent. In fact, some employers think of them as family, as a South African woman told University of Cape Town researchers studying attitudes toward live-in domestic workers.
"She has been my son's second mother, she has been absolutely loyal and trustworthy and she has been an enormous support," said Lucy, one of the participants in the study.
But in their 2015 paper, the researchers also documented the limits of those perceived family ties. Lucy, for example, also said she felt uncomfortable about sharing her space with a non-family-member, like she never "had my house to myself properly."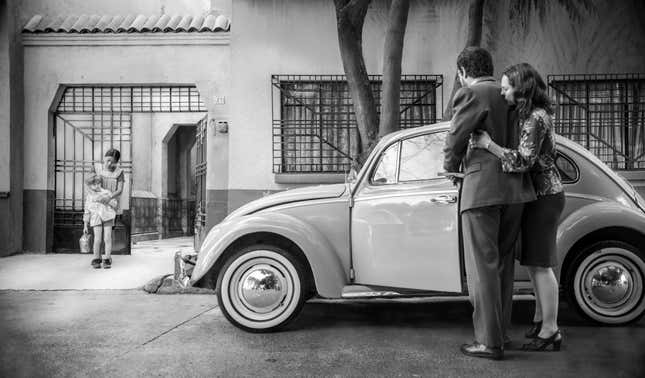 That disconnect is also obvious in the very different ways both parties live, even when they share the same house. In Roma, it shows up in Cleo's daily trek to her modest rooftop room, and her candlelit exercise sessions, due to the lights-out rule imposed by the family matriarch.
That detail is based on something Cuarón discovered as an adult, after talking with his own nanny, Libo, upon whom he based Cleo's character. "I realized that I almost didn't know her room," he said in an interview with Mexican magazine Letras Libres. "I didn't know that she exercised every night, nor that my grandmother threw a fit if she had her light on, because she was wasting electricity."
Emotional labor
The term "emotional labor" has become, as Quartz's Leah Fessler wrote, "an essential piece of the feminist-zeitgeist vocabulary," referring to the unpaid and unappreciated tending to others that many women perform in their daily life. In its original coinage by sociologist Arlie Hochschild, however, the concept refers to paid work that requires an employee to produce the emotions expected by the employer, whether it be politeness, cheeriness, and in the case of domestic workers who take care of children, affection.
To fulfill their emotional obligations, workers can resort to "deep acting"—essentially aligning their own feelings with those in their job description, instead of faking them. Whether Cleo's loving care for the kids is an act or genuine, it comes across as heartfelt, and is returned. "We love you very much," they tell her. But it's back to business just a few scenes later, when they ask her to fetch snacks while they watch TV.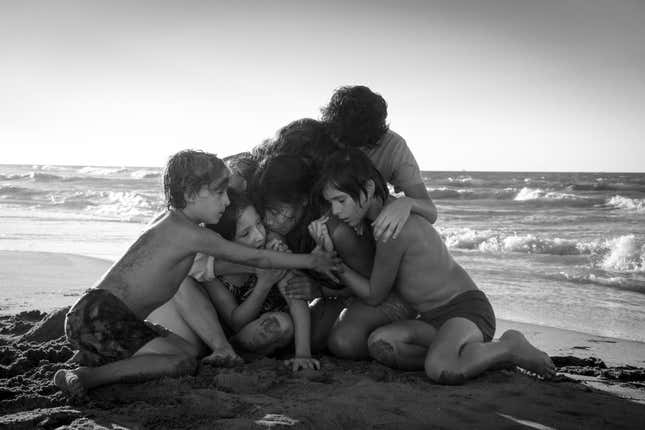 These days, the mothering/housekeeping service Cleo provides in the film is in growing demand, as more women take demanding jobs. They leave behind what social scientists call a "care deficit" that someone has to fill. Some domestic workers have been able to profitably market their emotional skills—and the $180,000 salaries commanded by some New York City nannies are proof of that.
But the work of many live-in domestic workers is poorly compensated, research shows. This is how two French-educated sociologists put it in a 2011 paper published in the Marxist research journal Actuel Marx:
Several features prevent them from being recognized by society. Confined to the space of the home, the workers suffer from a high degree of social invisibility, while the tasks performed, carried out not by "anyone" (the "maid") but mainly by poor and/or foreign women, are naturalized as properly "feminine" (cleaning, taking care of the weaker members of the family, being active in the private space of the house, etc.) and therefore those who do them are considered unworthy of social recognition.
In other words, aside from Hochschild's classic concept of emotional labor, domestic workers also endure parts of its newer iteration: the lack of recognition and paid compensation for their consideration for others.
Domestic worker rights
The world has been slowly acknowledging the unfair employment arrangement depicted in Roma. In 2011, ILO members, which include member states, trade unions and employers' associations, passed the Convention on Decent Work for Domestic Workers. It sets basic labor standards, such as time off and overtime pay. So far, though, only 23 countries have ratified the convention, and even fewer have enacted laws to implement its standards.
NGOs, such as Care International, a network of groups working to reduce poverty around the world, are pushing to expand legal protections for domestic workers. But, in a sign of the topic's touchiness, even Care's own staffers were reluctant to take on the issue. "They might have domestic workers too, and they worried how this would intersect with their professional life," wrote Care's program director Sofía Sprechmann in a blog post. "Domestic workers allow many of our employees in Latin America to come to work themselves."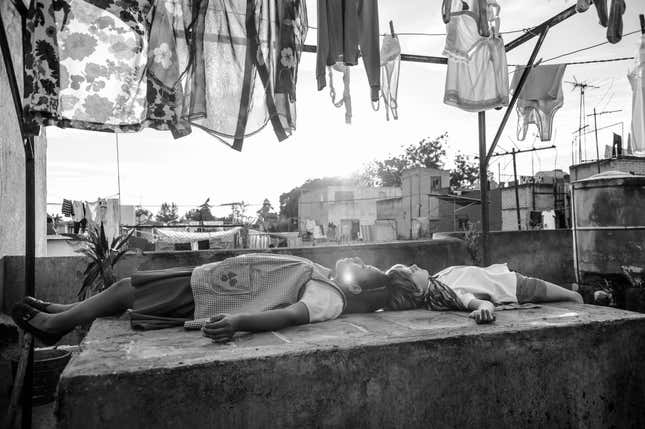 Cuarón dedicated Roma to Libo, and has used the attention he's getting from the film to advocate for domestic workers' rights.
And the film has also become a powerful tool for the workers' themselves, who are using it to raise awareness of their murky status. "Our stories will change as long as you start in your home," one said after a Roma screening. "Start treating home workers with dignity… we don't ask more than what's stated in the law."
Regulation is key to preventing abuse and changing the landscape, says Sprechmann of Care: "No one is saying that we should put an end to this work."
First, though, employers have to acknowledge that the abuse exists. The Letras Libres writer who interviewed Cuarón about Roma commented on how unsettling it is for many Mexicans—herself included—to recall as adults their repressed memories of the domestic workers who raised them.
Cuarón responds with an insight that will ring true for many. "There's a clear reason why we repress them," he says. "It makes us look very bad in our own eyes to have used a person."