Dinner. It happens every night, whether you're ready or not.
We all have a few go-to meals for days when we've simply failed to plan anything to eat—grilled cheese and tomato soup, bacon-lettuce-and-tomato sandwiches, ramen noodles and an egg, rotisserie chicken and salad. But throwing together a delicious pasta and putting it on the table at the last minute feels like another level of being a successful human.
When tomatoes are in season there's one clear choice: fresh tomato pasta. Toss roughly chopped tomatoes with a sprinkle of salt, a couple glugs of olive oil, and a handful of torn basil leaves. Add chunks of fresh mozzarella if you're feeling fancy, and then dump it all over spaghetti or linguine cooked in really salty water.
In the winter though, you can't lean so heavily on gorgeously ripe tomatoes and fragrant basil, so you need to have a few tricks up your sleeve. Here are three of our go-to recipes, each for a pound of pasta—which serves three to five people, depending on appetites. These sauces can all be thrown together in about the time it takes to boil the pasta.
Sausage and broccoli pasta
The broccoli balances out the sausage and the cheese in this dish, so it's satisfying, but also feels like you're eating some vegetables.
Bring a large pot of well-salted water to a boil. Cut up one large or two small heads of broccoli (or use a bag of frozen florets). In a large saucepan, cook half a pound of loose sweet or hot Italian sausage (about two links, removed from casings) over medium-low heat. Use more if you want a real sausage fest. When your water is at a rolling boil, add a pound of pasta—I like penne, shells, or spirals.
Add a little olive oil and half an onion, diced, to the saucepan. Once the onion is translucent, add a clove or two of crushed garlic. Add the broccoli and cover the pot for a few minutes so that it steams a bit. When it's bright green, take the cover off and continue to stir every so often. You want it to be cooked through and toothsome, but not crunchy, sort of like al dente pasta.
When the pasta is just a tiny bit underdone to your taste, transfer it, along with a half cup or so of the pasta cooking water, to your saucepan. Cook on low, tossing everything together until the meat and broccoli are evenly distributed and it all looks glossy and sauced. Grate parmesan and grind black pepper over it to taste. Don't be shy with the cheese, and serve it with more at the table.
Variation: I sometimes add a half can of chickpeas or cannellini beans to the mix just before the pasta. —Annaliese Griffin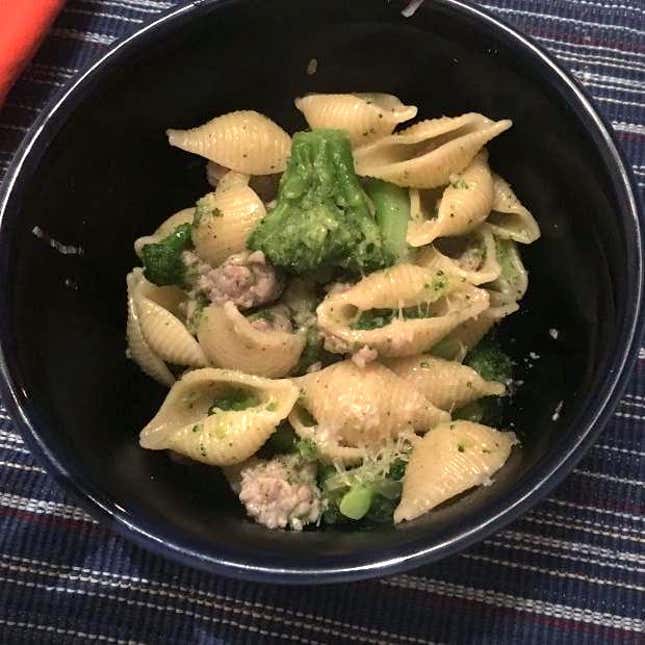 Asian pasta e fagioli
My kids love these noodles, and it takes about 10 minutes max to put together. My wife and I dose our portions with Lao gan ma Spicy Chili Crisp, and everyone wins!
Cook a pound of rice or soba noodles according to the package instructions. Defrost a cup of frozen edamame. Make the dressing: Whisk together three tablespoons each of soy sauce, rice wine vinegar, and mirin (adjust to taste if you want it more salty, sour, or sweet), plus a teaspoon of toasted sesame oil, a teaspoon of chili oil (omit if using the chili crisp or for people with mild palates), and one finely diced scallion. Toss the noodles, soybeans and dressing in a bowl to combine.
Variation: Toss in some precooked chicken, pork, or tofu.— Adam Pasick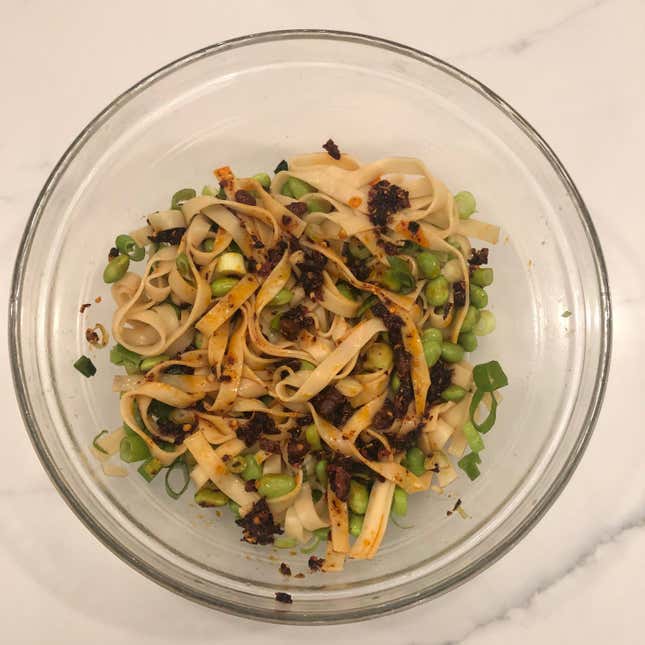 Easy-going green puttanesca
This delicious pasta recipe rewards a well-stocked larder and a bit of flexibility.
Bring a large pot of well-salted water to a boil. Mince about a dozen garlic cloves, 10 kalamata olives, four scallions, eight anchovies and two tablespoons of capers. Roughly cut up a small bunch of greens and set aside. When your water is at a rolling boil, add about a pound of linguine.
Meanwhile, warm a big glug of olive oil in a deep skillet. On low heat, gently fry the garlic, anchovies, olives and capers in the oil with about a teaspoon of chili flakes, stirring occasionally. When the pasta has about five minutes to go, add your chopped greens and scallions to the mixture in the pan, stirring until wilted and the scallion whites are lightly translucent. Add the zest of a lemon and about half its juice. Turn the heat off until the pasta is ready.
When the pasta is just a tiny bit underdone to your taste, scoop out half a cup of the cooking water and then transfer the drained pasta to your skillet. Turn the heat back on low, and toss the pasta with the sauce, adding more olive oil and a few tablespoons of cooking water. When all is incorporated and the pasta looks glossy and sauced, season to taste with sea salt and freshly ground black pepper.
Serve immediately, with a sprinkle of toasted breadcrumbs and grated parmesan on top of each bowl.
Variations: This is a forgiving recipe. Swap in whatever you have in the pantry, or change the proportions depending on what you're in the mood for. I've used kale, spinach and dandelion for the greens in the past, and swapped out kalamata olives for green ones. Even the scallions can be replaced with Chinese chives, in a pinch.— Natasha Frost