Big bottles are better. Wine-industry insiders, sommeliers, wine buyers, and importers who think about, and taste wine all day, every day, already know large-format bottles are special-occasion staples and coveted collectors' items. For the rest of us non-professionals, here's a primer.
Winemakers put their favorite wines in big bottles
"Winemakers tend to put their best bottlings—tête de cuvée, they call them—and the best vintages, wines they're really truly proud of, they'll put into a large format," says Joe Robitaille, head sommelier at Bar Boulud in New York City, where he opens one large-format bottle each night to pour by the glass. "And the reason they do that, it's a little bit of a time-capsule effect because the wine will age much more slowly and much more gracefully inside of the really thick glass of the large bottle."
The names and sizes
Everything in the wine world varies greatly, and large formats are no different, encompassing a range of quality, and a lot of quirky, regional differences. They also include a range of sizes. For example, there is some confusion between a "double magnum"—which is always three liters—and a "jeroboam"—which is sometimes three liters, and sometimes 4.5 liters, depending on where the wine was produced and bottled. In general though, a "magnum" is the equivalent of two regular bottles of wine; a "double magnum" or "Jeroboam" is four; a "Methuselah" is eight; a "Salmanazar," 12; a "Balthazar," 16; and a "Nebuchadnezzar," 20.
Every kind of wine from all over the world can be put into large format, and most are, but winemakers in Champagne are especially drawn to big bottles. "We love to make magnums," says Sophie Larmandier, of Larmandier-Bernier in Champagne. "They are the perfect size for aging and still easy to pour."
"If you find [a] Nebuchadnezzar, nine times out of 10 it'll be a bottle of champagne," says Robitaille, noting that they're often reserved for large weddings and other celebrations.
Other regions more likely to bottle in large formats include Burgundy and Bordeaux in France, and Piedmont in Italy, which is where Barolo wine is made.
Big bottles are festive
In a restaurant setting, ordering a magnum instead of several bottles feels more convivial, says Whitney Schubert, French-portfolio manager at Polaner Selections, a New York-based wine importer.  "It's more bang for your buck and a way for a larger table or a larger party to all be able to enjoy a wine without having to buy multiple bottles," she says.
For a celebration, like a wedding, a New Year's Eve party, or an anniversary, large format feels a good deal more special than stocking a bar or buying a case of wine. "Both Jeroboams and Methuselahs are so impressive," says Larmandier. "They make great parties!"
How to get your hands on a big bottle of wine
"When you're looking at large bottles, I think you really want to find a wine store that you really enjoy," says Robitaille. "I think you want to have a relationship with someone in particular at the wine store."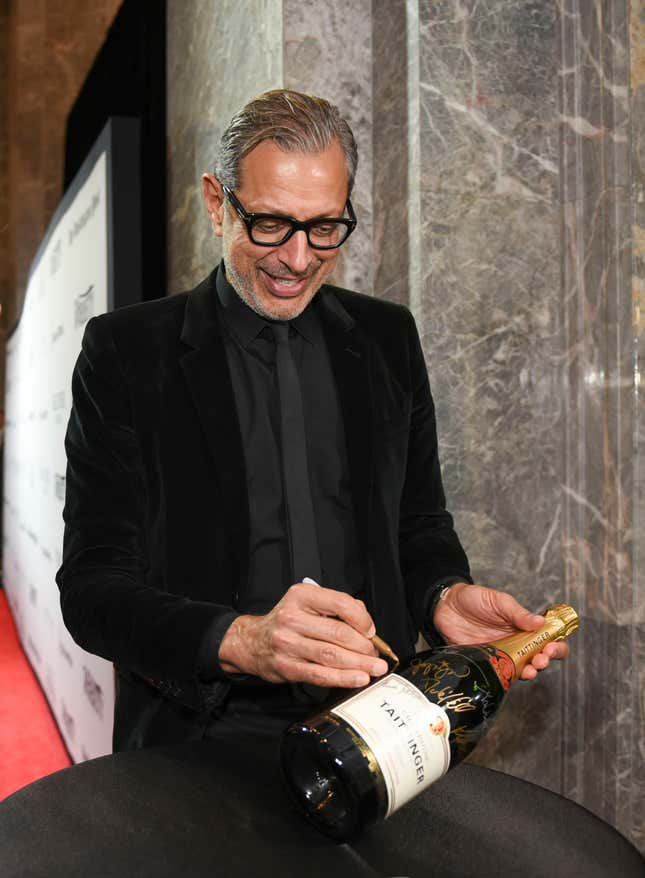 If you don't see any on the shelf at your favorite wine shop, ask if they have any—sometimes there are a few magnums hiding in the back, and, if not, the store may be able to get you them fairly quickly from a distributor. If you want something special though, or want a number of large bottles, plan on significant lead time—six months in advance, at least, says Schubert.
As for what type of giant bottle of wine to get, Schubert is a fan of "grower champagnes"—winemakers who make their champagne from grapes they grow themselves, rather than the large champagne houses that buy the harvests of others.
For lower-cost, but still delicious, bubbles, she suggests looking to the Burgundy and Loire regions of France. Crémant de Bourgogne is a sparkling wine made in Burgundy, usually from chardonnay, pinot noir, or a blend of the two. Vouvray and Montlouis-sur-Loire are two different regions in the Loire Valley where delicious sparkling wines with the chenin blanc grape are made. "The complexity that you're going to find in [some] chenin sparkling from Vouvray and Montlouis…can rival some great entry-level Champagne bottles," she says.