In Sony's new animated movie, Spider-Man: Into the Spider-Verse, some of Spider-Man's first lines to Miles Morales, the movie's teenage hero, are about his sneakers.
"You know your shoes are untied," Spidey, aka Peter Parker, says to Morales after saving him. "But they're 1s so I don't really have to worry about it." Air Jordan 1s, he means, understanding that Morales, like a lot of other kids from Brooklyn, leaves his Jordans untied by choice.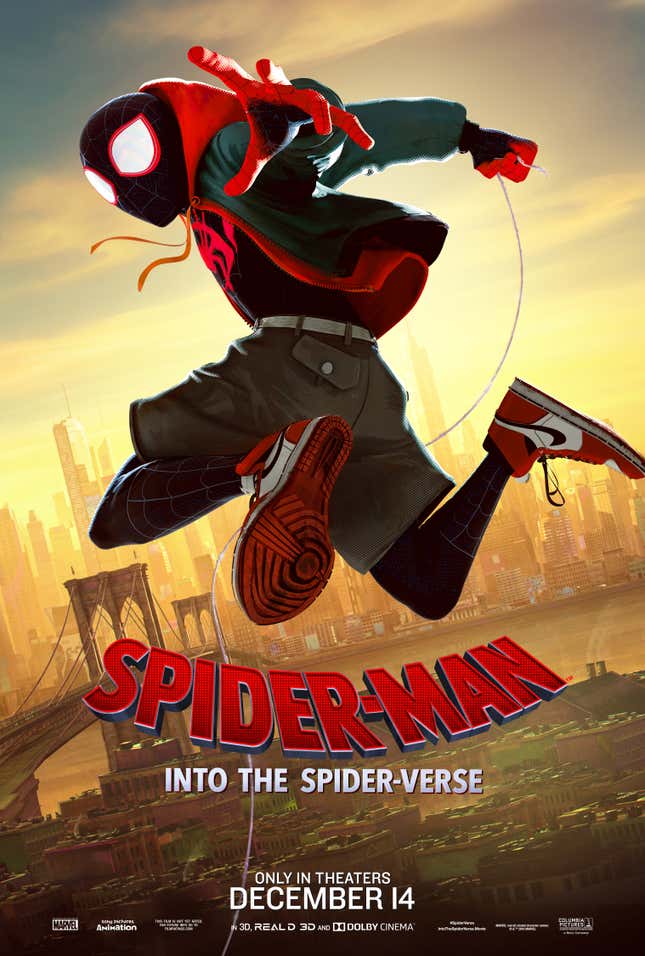 White and red, with a big black Nike swoosh—one of the Jordan 1s original colorways, matching Michael Jordan's team, the Chicago Bulls—the sneakers in the movie are unmistakable. They were the first signature sneakers of the basketball legend, and more than 30 years—and many reissues—later, remain an icon among sneaker fans. They're also a visual signature of Morales's character, visible as he runs around his neighborhood, goes to school, and comes to realize that he—a black and Puerto Rican kid from Brooklyn—must step up and be the next Spider-Man.
Their presence in the much-anticipated movie (paywall), which had a $35 million opening weekend and continues drawing viewers and buzz, is a marketing win for Nike. For a young audience that may never have seen Michael Jordan playing basketball, Jordans are now the footwear of a new superhero.
And it could hardly come at a better time—at a moment when the company is working to reenergize the Jordan brand. The company had increased its distribution of Jordan sneakers in the last couple years, inadvertently stripping some of the desirability they had long derived from being hard to get. Nike has been working to bring back the brand's cachet.
It wasn't Nike, however, that pushed to put Morales in a pair of Jordans. "The original movie sketches featured Miles Morales wearing AJ1-inspired shoes," says Sean Tresvant, Jordan brand's vice president of global marketing, "and the conversation began when Sony reached out to us for approval."
Origin story
Back in late 2016 or early 2017—Justin K. Thompson, the production designer on Into the Spider-Verse, couldn't remember the exact date—Thompson along with Shiyoon Kim, the movie's character designer; Bob Persichetti, one of the movie's three directors; and some others started sketching and developing the character of Miles Morales, who is voiced by Shameik Moore. They were trying to nail down the details that would make Morales feel authentic and "connected to a recognizable culture that kids from Brooklyn today would understand," Thompson explains.
Thompson, who is now 45, grew up in a time when the Jordan 1s were popular, and he said he and Persichetti in particular saw Michael Jordan as a hero. "We just said, 'Oh, it would be kind of cool if [Miles] was wearing Jordan 1s," Thompson says. "I think we kind of laughed about it, you know, in the sense of like, there's no way we'll be able to actually get away with that."
They decided to draw a shoe that was close to the Jordan 1s and go from there. But eventually it came time to make a decision. They knew that once they committed to something, it would be costly to change later, and that a pair of almost-Air Jordans was nowhere near the real thing. Persichetti, director Peter Ramsey, producer Christina Steinberg, and Thompson discussed it in a production meeting, and decided to write to Nike. As Thompson describes it:
Bob Persichetti and Peter Ramsey sat down and wrote this very heartfelt letter about what the brand meant to them, and who the character was, and what the character meant to not just African American and Puerto Rican kids, but to all kids. This idea that anyone could wear the mask and reaching your full potential, how that, to us, sort of fit with the Jordan brand and the spirit of what Jordan represented—reaching your full potential and becoming the greatest version of yourself.
Thompson says they didn't expect to hear back (which seems a little absurd now given the anticipation for the movie and what an opportunity it represents for Nike). The reply from Jordan brand was exactly what the team wanted to hear: The brand was excited about the spirit of Miles Morales, and to have him wear a pair of its sneakers in the movie.
The rest of the story is evident on the screen. "It's tough to think of a more effective instance of product placement in 2018 than the moment in the first Spider-Man: Into the Spider-Verse trailer when Miles Morales starts slinging webs in a classic pair of Air Jordan 1s," Geek.com wrote.
Back on its feet
Tresvant of the Jordan brand says the movie's ideas about empowerment and being your own hero—"Anyone can wear the mask" is a recurring theme—aligned with what Nike wants Jordan to represent. The company even created a special shoe for release, the Air Jordan 1 Retro High OG Origin Story. The design is derived from the original Jordan 1, and features a faint dot pattern like the dots that added texture to images in old printed comics.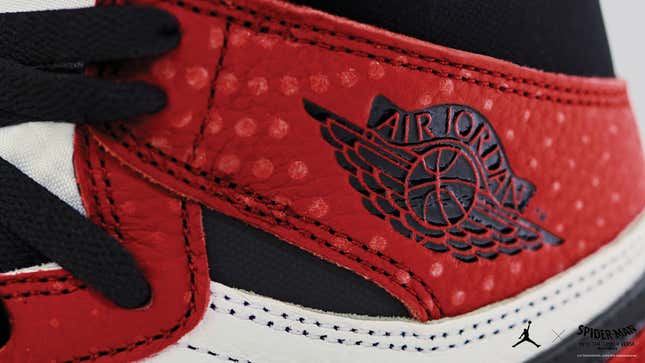 This collaboration adds to the success the Jordan 1 has enjoyed this year, as a streak of special releases such as the "Not for resale" pack and the Union LA collaboration has generated a lot of excitement around the model among sneaker fans. Sneaker News said the Jordan 1 dominated in 2018.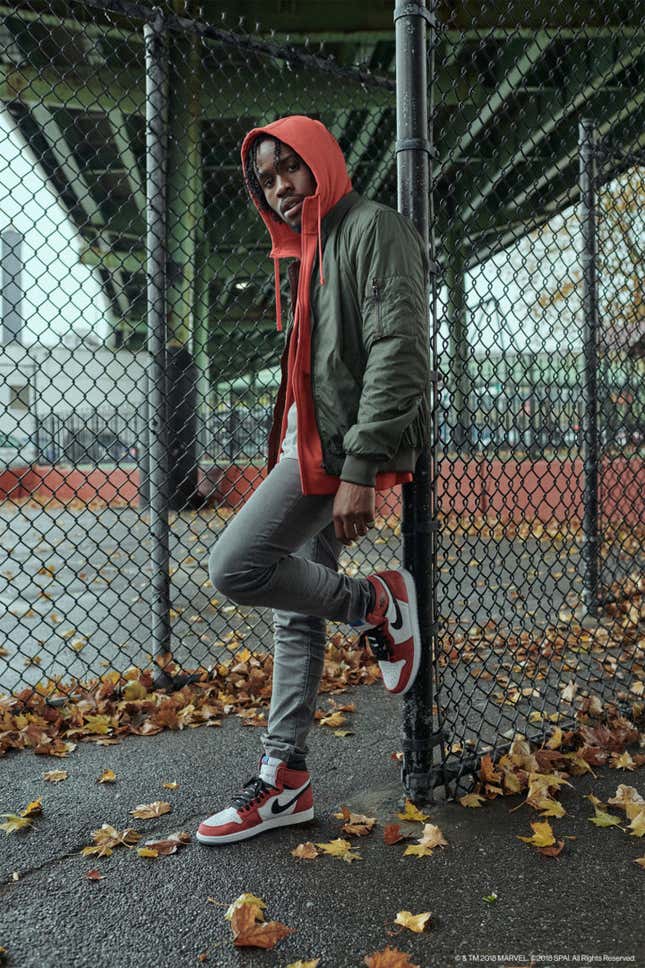 And overall, the brand is slowly getting back to its feet. "In Q2, Jordan grew double digits and we returned to healthy, sustainable growth in North America," Nike CEO Mark Parker announced on a Dec. 20 call with analysts to discuss the company's recent earnings. Among the models he called out were the Jordan XI Concord and the Jordan 1.
Maybe no one is more excited about Miles Morales's sneakers, however, than Thompson, who describes himself as a sneakerhead. "I buy Jordans all the time," he says. Now there's a version of the sneakers he grew up with, made for the character he helped to bring to the movie screen.