Today's Google homepage features a delightful dino-themed drawing by 7-year-old Sarah Lane-Gomez, a budding paleontologist who created the doodle while her family's electricity was knocked out by a snowstorm last March.
After last year's bomb cyclone left their Falls Church, Virginia, home without working electric gadgets, Sarah's mother, Maria Lane-Gomez, says she stumbled on the Doodle 4 Google student art contest while browsing her phone in search of something for her daughter to do. With the deadline looming that evening and no lights at home, the family shuttled Sarah from restaurant to restaurant to allow her to finish up on time in places with working lights.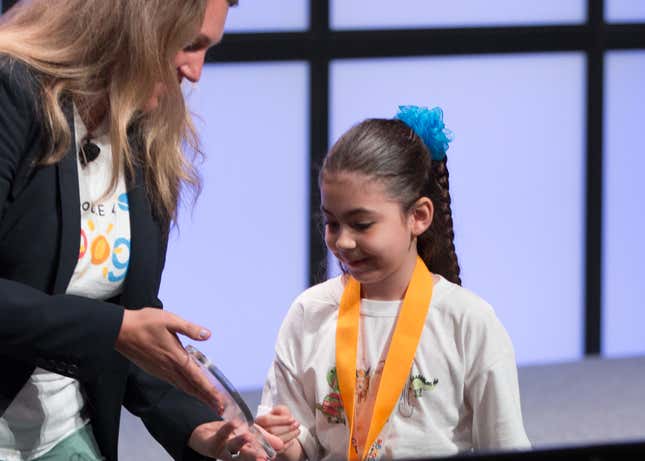 Last year's theme was "What Inspires Me" and the first-grader opted for a paleontology-inspired drawing, noting in her submission that the formidable reptiles in her doodle are her favorite dinosaurs, and that "Dinosaurs inspire me to study more to be a paleontologist. The shovel is for my future job!"
The judging panel, which included the actor Neil Patrick Harris and the celebrated humanities teacher Sydney Chaffee, selected Sarah's drawing over 180,000 other entries from students enrolled in grades K-12 schools in the US.
Google is featuring Lane-Gomez's drawing today (Jan 8) on its homepage. The young artist collaborated with the Google Doodle team turn her artwork into an interactive animation. She was awarded $30,000 in college scholarship money and her Falls Church elementary school received $50,000 to spend on technology for students.
The 11th annual Doodle for Google contest kicked off yesterday, with guest judges Jimmy Fallon and Kermit the Frog. Watch the announcement here: