Step aside, Fyre Festival. There's another disastrous influencer-sponsored event for the internet to obsess about: a series of canceled (and then un-canceled) "Creativity Workshops," promised by the 26-year-old Instagram influencer Caroline Calloway, which fell apart as Twitter watched in real time.
The saga leading up to the embattled seminar series was chronicled in painstaking detail on Twitter by the writer and critic Kayleigh Donaldson, who called the whole thing a "scam" and posted screenshots of Calloway's troubled preparation for the doomed event series. Calloway had shared the details via public Instagram story. Among the red flags: Calloway ordering 1,200 mason jars for the event, which overwhelmed her small New York City apartment; asking guests to bring their own sack lunches after struggling to cook for them, as promised, in her apartment kitchen; and asking photographers and videographers to work her events for free (or, technically, in exchange for her "creative labor as a teacher").
Donaldson's entire thread is a dramatic and hilarious read, but in particular, she highlighted the high ticket price as questionable: $165 for four hours of teaching on topics such as "authenticity," "making art," and "heartbreak," one hour of which Calloway would not even attend.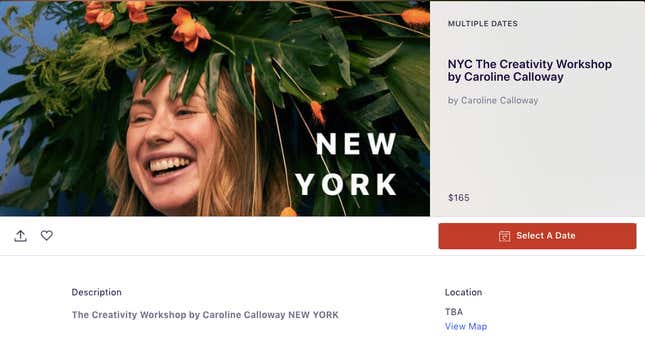 The price tag purportedly included coffee and tea, a "vegan, non-dairy, and gluten-free" salad lunch, care packages, and a lesson in making orchid crowns. The cost may have been justified had the amenities been provided, but Calloway was allegedly unable to provide most of what was promised. Moreover, a failure to book spaces in some of the cities in which she was holding her workshops lead to cancellations and rescheduling in entirely different states.
The writer Roxane Gay noted that the saga was pretty funny, but also problematic:
Calloway, who did not immediately respond to a request for comment, canceled the tour due to the Twitter thread, admitting that she had made a mistake and saying she would refund all the participants, including those that had attended workshops: "that criticism is really valid and I apologize to anyone who felt cheated by the price point," she wrote on her Instagram story. "I take full responsibility for letting my total inexperience with event planning and GREED create a situation where the details of the tour were ever-changing, preparation was inadequate, and the event did not match the description by the time it went on."
Update Jan. 17, 2019: Calloway's tour is back on, she announced Jan. 16 in an Instagram story, and she is suggesting that those she refunded who attended workshops should decide what portion to pay her back:
Calloway herself has been a subject of some public interest for a while now. After the Falls Church, Virginia native amassed over 860,000 Instagram followers, ManRepeller interviewed her and asked in a headline whether she was the first Instagram influencer. Also notable was Calloway's scoring a $500,000 book deal with Flatiron Books based off her Instagram (on which she has written lengthy photo captions replete with intimate personal details). The publisher subsequently backed out of the deal after paying her 30% up front.
Calloway is not the first to capitalize on her internet fame by joining the influencer economy (paywall). And she's far from the first to be called out for problematic uses of social media platforms. Plenty of social media users with high follower counts have run ads for dubious products, from weight loss teas to pricey personalized workout programs to a potpourri of events/workshops/seminars that are not executed as promised.
Just last summer, YouTuber Tana Mongeau tried to hold her own convention in Anaheim, California, but it was shut down on day one after a reported 20,000 people arrived to find a disastrous combination of long lines, dehydration, and none of the promised activities. And of course, there's 2017's Fyre Fest, a "luxury" music event held by Ja Rule in the Bahamas and advertised by celebrity influencers including Kendall Jenner and Bella Hadid. It ultimately ended in extreme disaster, a $5 million lawsuit against festival organizers, and a six-year prison sentence for its co-founder, Billy McFarland. A documentary about the events was released on Hulu today, and another is dropping on Netflix this Friday (Jan 18).
Of course, it's worth noting that Calloway, like many of today's social media users and influencers, is very young, and therefore has all of the problems and uncertainties and incompetencies that are normal for young people to have. Executing a tour the involves hundreds of people, food service, and multiple event spaces in different cities is a terribly complicated endeavor—one that would usually involve a professional planner. For a young woman who has no experience in the field, that is probably not going to go well.
And while the drama around the tour is easy to laugh at, a life lived so publicly can be hard on the ego and self-image. Calloway appears to have deleted most recent posts from her Instagram page, but several troubling posts from 2016 mention that she may have struggled with mental and physical health, as well as drug use, while in university.
Whatever Calloway's intentions, the question remains, why would people pay $165 for a 26-year-old's life advice? Social media influencers build powerful online brands that carefully cultivate trust with followers, which is why they're paid tons of cash to advertise products. What's more, the influencer economy is still emerging, and social media provides what is still a largely unregulated space for these kinds of guerrilla money-making schemes to take place.
Perhaps at the end of the day Calloway did end up teaching her followers a valuable lesson: to think twice before purchasing a product or service peddled by an influencer with no accountability—no matter how glowing their skin or well-curated their Instagram page might be.
This post and its headline were updated with the news that Calloway had un-canceled her tour.