Fashion is in many ways a technical business. It requires careful consideration of how flat pieces of fabric, cut into assorted shapes, can form into three-dimensional clothes, how colors and prints mix, and how all of these elements interact on the body.
But the inspirations for these assemblages of material often begin elsewhere, in history, music, film, and even fields like interior design. Sometimes they're serious; other times they're plain weird. Seeing how designers translate these ideas into clothes can be one of the entertaining bits of watching the runways season after season, and at the men's shows in Paris this week, designers drew their concepts from some especially engaging sources.
Notable among these was Rick Owens, who made a study of someone who snuck sex and debauchery into America's living rooms: Larry LeGaspi. (The study part is literally true, by the way: Owens has been working on a book about LeGaspi due out later this year.) In the 1970s, LeGaspi was the mind behind the space-diva look of Patti LaBelle and the other members of LaBelle, as well as Nona Hendryx, Sarah Dash, and later acts like Kiss, who made it OK for suburban kids to sing along with men in black bodysuits, makeup, and platform boots. The subversiveness and unusual cultural mix had a formative influence on Owens as he grew up in the small town of Porterville, California, as he explained to Vogue's Luke Leitch:
So at the very beginning, [LeGaspi] created that silver and black sleazy '70s thing, to my eyes a combination of Art Deco and campy sci-fi… He comes in and takes that and somehow, he connects with soul culture—black soul culture and music—with LaBelle. So that combination is already kind of a surprise, and then, with Kiss, he takes it into mainstream America, high school kids. And Kiss turns it into commedia dell'arte, kabuki, Greek tragedy masks… they add sex, lust, and vice. So all of this stuff coming together was very important to this kid in Porterville.
On the runway this week, it was toned down, but still evident in the show's futuristic glam, and of course the platform footwear.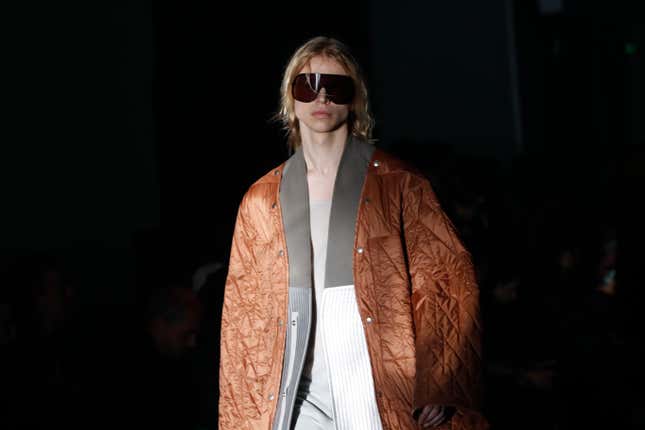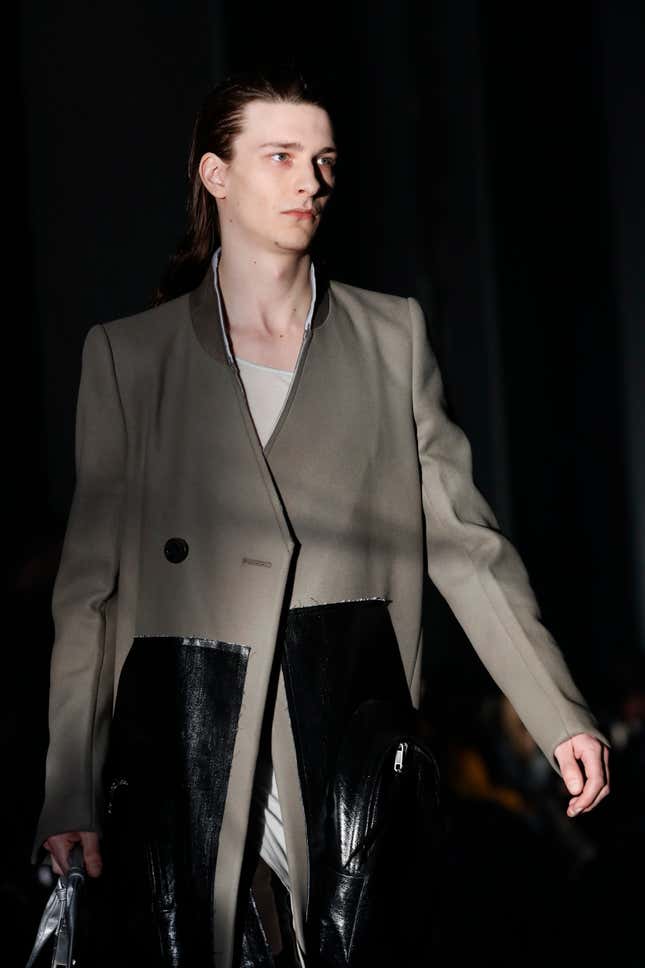 At the core of Virgil Abloh's second collection for Louis Vuitton, meanwhile, was Michael Jackson and the 1978 movie he starred in, The Wiz, a retelling of The Wizard of Oz set in New York. In an interview with Business of Fashion's Tim Blanks, Abloh called Jackson the "ultimate muse," and the show notes pointed to the power of his clothes, "every jacket, glove, sock and hat fashioned into an instrument of awe."
The collection as a whole ranged more broadly, serving as Abloh's statement on how he does tailoring, too. But the references to Jackson and The Wiz appeared in literal and subtle ways, including a print of characters from The Wiz, an Oz-ready purple look with a 1970s vibe, and the set itself, modeled after a New York City street.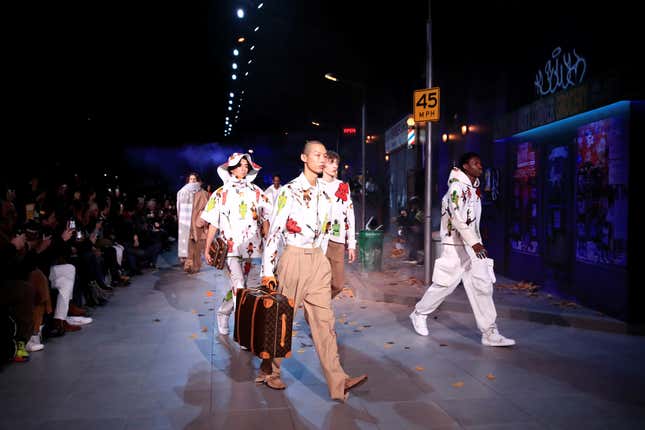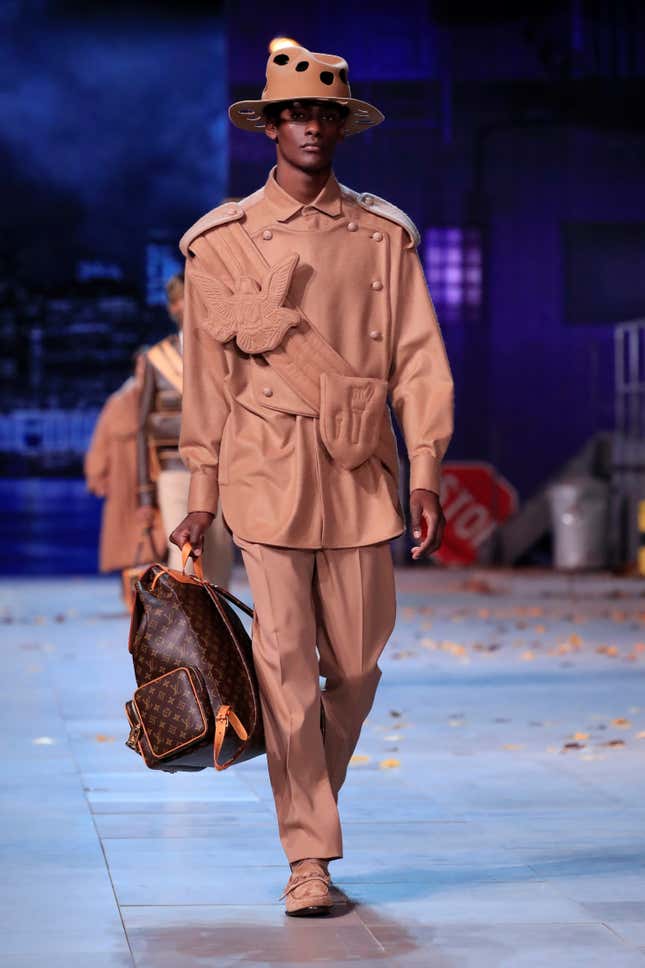 A much darker movie from the 1970s—Stanley Kubrick's 1971 adaptation of A Clockwork Orange—animated the new collection from Japanese label Undercover, created in collaboration with Italian luxury stalwart Valentino. Scenes from the film, including the face of the movie's protagonist, Alex, his eyes forced open during his reprogramming, were splashed across several pieces. The signature bowlers of Alex and his gang mates, the droogs, who gave Undercover's show its title, echoed in the hats on some of the models.
Creative inspiration can also come with a sense of humor, of course. The compellingly wackadoo theory that Edgar Allan Poe was a time traveler appeared in a few Undercover pieces via a graphic of Poe's head with his face obscured by a flying saucer. Valentino used it even more prominently in its half of the collaboration.