As you've probably heard, the prolific style blogger Roger Stone was arrested at his home in Fort Lauderdale, Florida this morning by FBI agents in ballistic vests.
There are many things to know about Stone, the Republican strategist and Trump advisor indicted in connection with Robert Mueller's Russia investigation. In addition to a resumé that includes testifying before the Watergate jury at age 19, co-founding the National Conservative Political Action Committee, and bringing New Yorker reporter Jeffrey Toobin to a Miami swingers club for an interview over p.i.n.k. vodka, Stone is also a prolific style critic, as evidenced by "Stone on Style," a standalone site and fashion column for the Daily Caller, and his 2018 book Stone's Rules: How to Win at Politics, Business, and Style.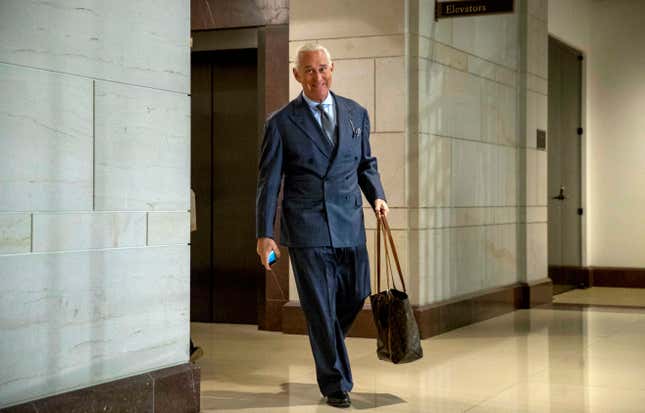 He also has a tattoo of Richard Nixon's face on his upper back, a handy excuse for Stone to display his shirtless shoulder-blades, which he apparently spends a good deal of time enlarging.
This bold choice is but a minor accessory in Stone's style arsenal, and a bit of an anomaly for a man whose top-hatted conservative look has drawn comparisons ranging from Monopoly man to Babadook.
We don't know what Stone was wearing when he was arrested in the pre-dawn raid today. It was dark outside and CNN did not come prepared with the lights necessary to feature, say, a crisp pinstriped pair of broadcloth pajamas, or a floor-length night-shirt with a band collar. The comedian Patton Oswalt was among those speculating:
Some might think it questionable to take sartorial advice from a man whose appearance has been likened to Penguin, the villain from Batman, and a "Czarist Mr. Peanut." But as Alexandra Mondalek wrote for Yahoo in 2017, after interviewing Stone over his "sixth espresso quad shot" (That's 24 espressos, is it not?), the man's commitment to fashion is impressive. He has the straps of his Louis Vuitton tote lengthened to accommodate his shoulders (we get it, you lift); his three-piece suits are custom-made by Anderson & Sheppard and the New York tailor Alan Flusser; he extensively references British royalty and the Kennedys in his discourses on menswear.
And his look is far from monolithic. He once dressed in a black leather jacket, a backwards Kangol hat, and his signature round-framed glasses, in what he called an "homage to Bobby Seale and Panther Style." The Twitter user @Spookperson, who has turned roasting Stone-style into a sport saw "racist Spike Lee," "mummified Bono," and "Larry David as Joseph Goebbels."
When Stone left the federal courthouse in Fort Lauderdale this morning, he wore a navy blue Polo shirt, in which he proceeded to re-enact Nixon's splayed arms wielding peace signs for a photo op. Whether the Polo was on standby for the occasion, to fulfill the "not premeditated" look he so admired in the Kennedys, we just can't say.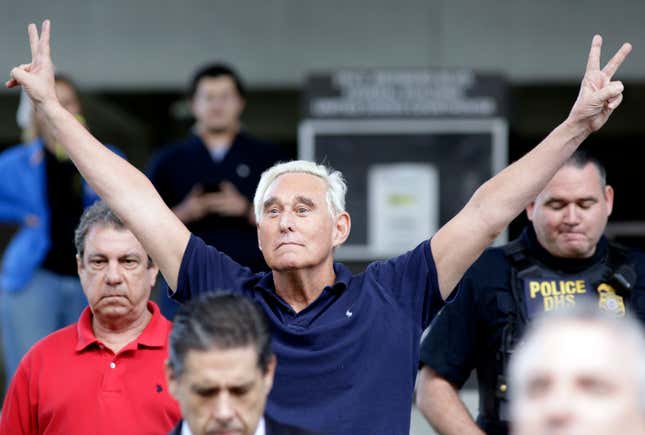 Incidentally, the sketch of Stone that tops Stone on Style's 2018 best-dressed list appears to be Stone himself, in a broad-lapeled, double-breasted suit not unlike the one he wore to testify before the House Intelligence Committee in September 2017. Five months before that hearing, he confided in Mondalek, "I'm already planning what I'll wear for Congress."
You can be sure when this fashion peacock gets his day in court, he'll be making the most of the spotlight. Though, judging by a photo released this morning, he may have to share it with his attorney.