One of the keys to staying warm, dry, and sane on wet winter days is a solid pair of waterproof boots that can keep all the snow, sleet, rain, and any other precipitation away from your feet.
Unfortunately, while some boots may look the part, they can still lack a design detail that can determine whether your feet stay dry or get soaked.
The detail is called a gusseted or bellows tongue. It basically just means the tongue of the boot is attached directly to the upper along the opening where the laces run, rather than being a mostly free-floating piece of material attached only at the bottom, as in most footwear.

Why this matters
Many boots, with or without this detail, are perfectly fine to wear during light rain or for keeping out an inch or two of water or snow on the ground. The situation changes if you're in a heavy downpour or happen to step into a puddle that reaches up to your laces.
In those instances, water will seep into any openings between the vamp—the front part of the shoe's upper—and the tongue. If your boot has a gusseted tongue, that tongue blocks water from getting inside the boot. A regular tongue, however, may allow moisture to seep in, which is exactly what the boot is supposed to prevent.
In the photo below, the boot on the left, L.L.Bean's famed Bean Boot, has a gusseted tongue. The other, from a more fashion-focused brand that also labeled its boots "waterproof," has a regular tongue.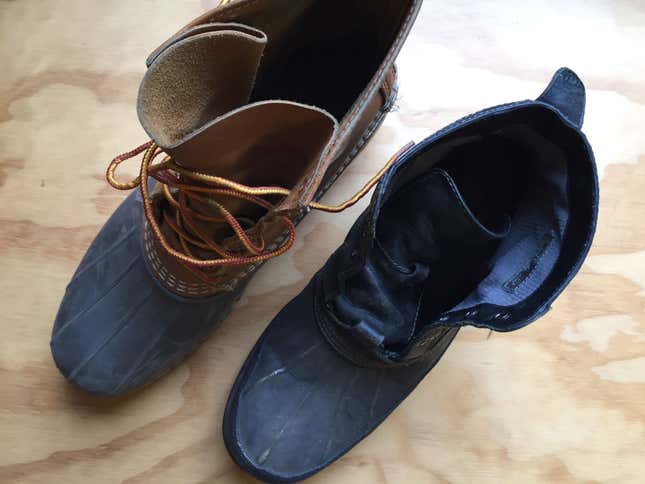 I learned about the importance of this detail firsthand: The black boot pictured is one from a pair of mine. They look like duck boots and are made with all waterproof materials, including a thick rubber coating around the toe and bottom part of the boot. But there have been several instances when heavy rain, or stepping into one of those deep, post-snow slush puddles common in winter in New York, left the top of my foot all wet.
My waterproof re-boot
During my search for a new pair of boots, after too many years of my foot getting wet in my old boots, I found that boots labeled "waterproof" by reputable outdoor brands, such as Timberland, tend to have this detail. Yet lots of so-called "waterproof" boots from other large, well-known footwear makers do not—even though they often looked like the boots offered by outdoor brands. It's not something e-commerce sites always specify and may not be easily visible when looking at a fully laced-up display boot.
A gusseted tongue doesn't guarantee that a boot will always keep your foot dry. Water has a devious way of getting in at the seams, especially as a boot wears over time.
Still, it can help a lot, and is at least a sign that the company behind it probably knows what it's doing.