If the suggestion to think of meat as seasoning, rather than the main event in a meal, sounds like a useful piece of advice that also leaves you wondering what exactly that looks like, it's time to make sausage a pantry staple. Sausage adds tons of flavor to a dish, and a little goes a long way. It also cooks up quickly, so it's a perfect way to get a weeknight dinner on the table in very little time.
Sausage, kale, and tomato pasta with goat cheese or feta
Makes three to four servings
Cook a half pound of pasta. Follow the directions on the box, but go aggressively al dente, because the pasta will cook a bit with all the other ingredients at the end. Generously salt your water, and use a shorter, stouter pasta like a bowtie. When you strain it, reserve a cup or two of pasta water.
While your pasta water is coming to a boil, wash four leaves of kale and tear it into sticky-note-size chunks. Roughly chop two tomatoes and one tablespoon of capers (you don't have to chop the capers, but they're better distributed throughout if you do). Crush and chop two cloves of garlic. Crumble feta or goat cheese to top the finished pasta, as much or as little as you like.
Put a large pan on the stove over medium heat and add a tablespoon of olive oil.
When the pan is hot, add about half a pound of loose Italian sausage, or squeeze the sausage out of two to three links. Give it a few stirs, and cook until the sausage is crispy and done all the way through, and then take it out and put it in a small bowl.
Pour out half the sausage oil, leaving half in the pan. Lower the heat to medium-low, then add the garlic and a pinch of Aleppo pepper. Cook until it starts to change color, then add the kale, capers, and half your reserved pasta liquid to help deglaze, scraping up any deliciously browned bits from the pan. Cover. When the kale has begun to wilt (about three or four minutes), add the pasta and the cooked sausage. Cook for about a minute more, adding some of the reserved pasta water if it seems dry.
Take your masterpiece off the heat, mix in the tomatoes, and transfer to plates, bowls, or a serving dish. Top with your cheese, more Aleppo pepper, and a generous spritz of lemon juice. Finally, eat. —Dave Gershgorn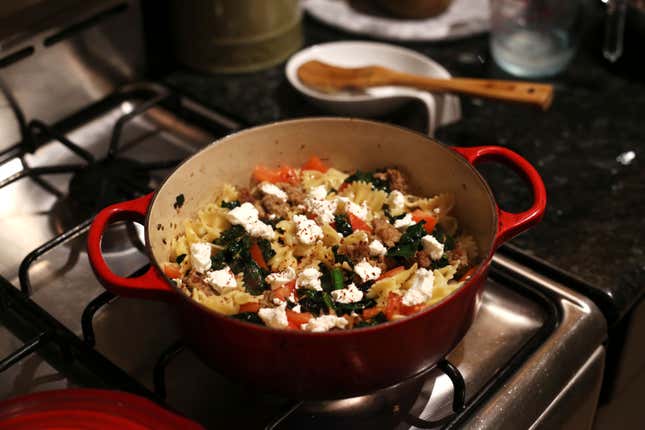 Chorizo-and-potato tacos
Four generous servings
This is one of my favorite easy weeknight dinners. Chorizo has so much flavor that it really seasons the whole dish. I usually serve the filling with chopped cilantro, shredded cheese, and some pico de gallo, plus whatever salsa is kicking around in the fridge. There's something about the chewiness of flour tortillas that is especially satisfying with potatoes, so I tend to choose them over corn in this case. You can also layer with cheese and scrambled eggs for a delicious breakfast burrito, or put poached eggs, cheese, and cilantro on top for a deluxe weekend breakfast.
In general, I don't like meat alternatives masquerading as meat—there are enough delicious vegetarian dishes to eat without making soy into bacon. Soyrizo is a major exception. You can substitute it here, just sauté the onions in your choice of oil first, since you'll just be heating it through, not cooking it. When choosing pork sausage, I'm talking about Mexican-style chorizo which is raw, not cured, Spanish-style chorizo you'd find on a charcuterie plate.
Cut three large (or five to six small or medium) potatoes into cubes and drop into well-salted boiling water until cooked through—about 15 minutes. (I have also cooked them in the oven for 40 minutes, on a sheet pan, because I was cooking something else and wanted to streamline prep. It worked well.) Take one package of chorizo (this will vary from about 10-14 ounces depending on the brand) and squeeze it out of the casing into a large skillet or Dutch oven on medium-low heat. Let some fat render out and then drop in a small onion, diced. If the bottom of the pan gets browned bits stuck to it just add a little water and scrape them up. When chorizo is cooked through, add the potatoes and cook about 10-15 minutes more. Season to taste. —Annaliese Griffin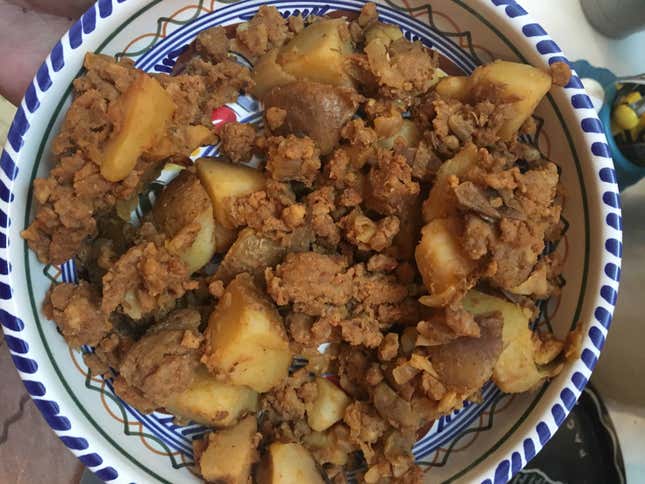 Sausage-and-bean soup with greens
Six to eight servings, depending on what's in your fridge
This could also be called "refrigerator clean-out soup" and it's a great way to use up vegetable odds and ends. Start with half a pound to a pound of Italian or spicy Italian sausage (a garlic, herb, or fennel sausage would work here, too). If it's in the casing, take it out and cook over medium-low heat with one tablespoon olive oil in a large pot or Dutch oven. Add one onion, diced.
Rifle through your fridge and pull out any vegetables that want eating. If you have carrots or celery, now is the time to chop them up and add them. Fennel would work, and parsnips or turnips, too. Cook until sausage is nicely browned and onions are translucent. Add about eight cups of stock or water. Don't be afraid to add a can of tomatoes to the mix as well. Simmer on low until your firmest vegetables are tender and the tomatoes, if any, have combined nicely with the stock and sausage. Salt to taste and add a can of white beans or chickpeas, or whatever legume strikes your fancy. It's time for greens. If you have kale, or radicchio, roughly chop and add that now. If you're going to add something less hearty, like chard, spinach, or beet greens, add about five minutes before serving and just heat through. Taste again and season with salt and pepper. Serve with parmesan to top and crusty bread on the side. —Annaliese Griffin