Dylan McKay was the coolest guy in the class of 1993. Luke Perry, the actor who brought him to life on Beverly Hills 90210, died today (March 4), at the age of 52.
The archetypal bad boy with a heart of gold, Dylan was a tough but vulnerable kid who never followed the rules but always meant well. In his white t-shirt, Levis, and sunglasses, he could never be accused of trying too hard. But the small details—the rolled sleeves, perfect denim fade, and handful of hair gel—were too precise to be unstudied. His eyebrows were perpetually raised in a wry expression that said, "I won't finish, or even start, this history assignment, because I'm too busy reading On the Road and adjusting the valve heads on my motorcycle."
When 90210 debuted in 1990, watching rich people do mundane things like taking math tests and accidentally getting drunk at the prom was still a novelty. West Beverly High School was drawn in broad strokes—red convertibles in the student parking lot, designer jeans on the student body, and lavish pools behind large houses.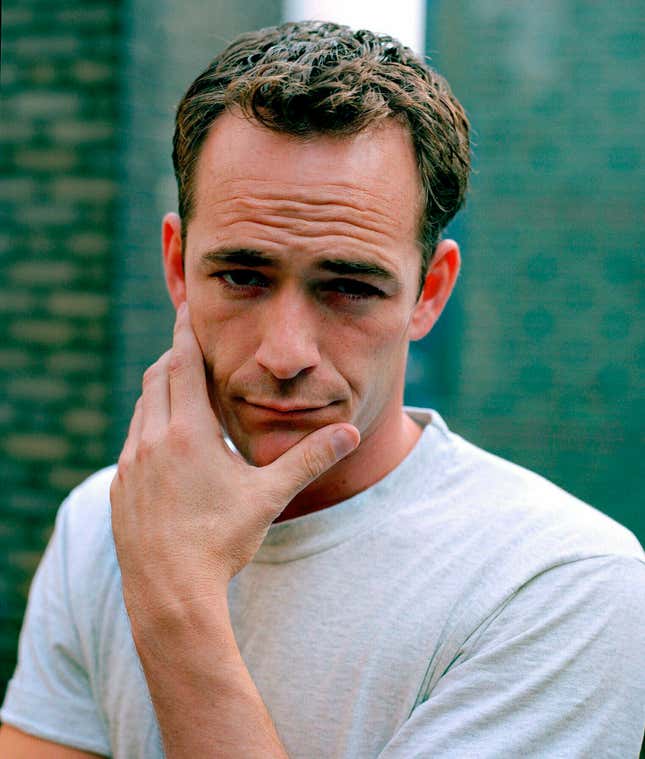 Dylan though, had more in common with James Dean and Cool Hand Luke–era Paul Newman than with big hair and expensive cars. With his leather jacket and motorcycle, he indexed with the rebellious glamour of Hollywood rather than its shiny, soap opera excess.
In 90210's first season he quickly becomes the best friend to Brandon Walsh, and the boyfriend of Brenda Walsh. The twins are transplants from the chilly, sensible Midwest, and serve as our proxies as viewers—outsiders looking in on the dazzlingly weird world that is Beverly Hills. Dylan's cool rubs off on the fish-out-of-water Walshes, but their family dynamic highlights his lonely rich kid aloofness. Where they sit down to dinner and talk over homework assignments, Dylan's divorced parents are the epitome of California flaky. He's more likely to share Ray-Bans or drug dealers with his con-man father and hippie mom than his college aspirations.
Dylan McKay's slightly feral charm inspired a long line of winning-but-wounded heartthrobs. A huge part of their appeal is the deep pain—and the suggestion of profound talent—lurking just below the surface. They're never jerks for no reason—they're always hurting inside and need you to see what no one else can. Jordan Catalano from My So-Called Life, Spike from Buffy the Vampire Slayer, and Tim Riggins from Friday Night Lights were all cut from the same slouchy, smirking cloth. These romantic anti-heroes are always a slightly bad idea, always irresistible, and never better than the perfect on-screen teen that was Dylan McKay.