Jennifer Chapin, the cofounder of Kikoko, recently recalled how she was "laughed out of the dispensaries" when she tried to sell her low-dose cannabis-infused teas in her company's early days. Three years later, Kikoko's teas, which come in sachets and canisters wrapped with pink-and-purple stripes and cartoon flowers promising benefits such as "Sensuali-tea" and "Tranquili-tea," are sold through over 300 storefronts and delivery services across California.
"We are a women-centric, women-owned, women-operated company," Chapin declared to a room full of women at Arcview, a conference for cannabis investors, in Los Angeles in February. "By women, for women."
Arcview welcomes investors irrespective of gender, but Kikoko had sponsored a women-only "tea party" (with unmedicated tea) to facilitate some female-friendly networking and announce that the company was seeking capital for expansion into new product categories, with minimum investments starting at $1 million.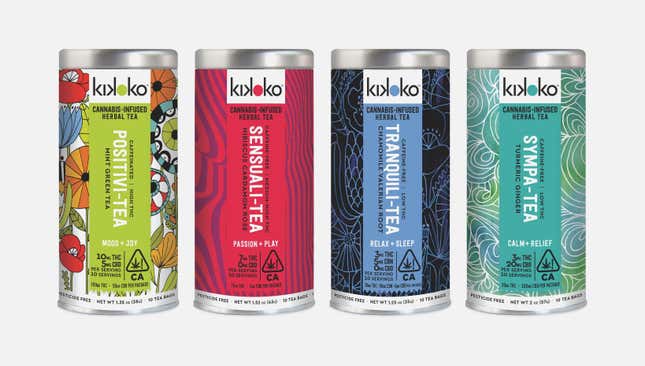 Founders of female-focused cannabis startups like Kikoko may soon be laughing all the way to the bank—and they're getting there by looking beyond millennials, and catering to women in their 40s, 50s, and beyond. Executives such as Chapin, who is 55, are listening to older women's wishes for low-dose cannabis products that address concerns such as sleep, anxiety, and sexual pleasure, and positioning their companies at the very lucrative intersection of women, weed, and wellness.
Wellness, women, and weed
It's a market that's growing. Women control the majority of household purchases, and according to the US Consumer Expenditure Survey, single women over 45 spend about $640 per year on personal care items and $400 annually on drugs. As legalization takes hold, those products are increasingly likely to contain—or even be replaced by—cannabis. According to sales data and a survey of 4,000 cannabis consumers by the San Francisco-based delivery platform Eaze, the number of female cannabis consumers nearly doubled in 2018, and with their growth outpacing men, women are on track to be half of the cannabis market by 2022. Female baby boomers on the platform grew by nearly a quarter between 2017 and 2018.
Kimberly Kovacs, the cofounder and CEO of MyJane, which delivers "curated cannabis" boxes  to women (think Birchbox-meets-Eaze), was also at Arcview. That same week, her company was acquired by the cannabis logistics conglomerate MJIC for an undisclosed sum, after completing just three weeks of deliveries. MJIC CEO Sturges Karban was unabashed about the acquisition's main attraction.
"Women are the new targets of the adult-use cannabis wellness sector," wrote Karban, in a press release. "Yet their needs are not being addressed by the cannabis industry."
"We don't call that micro-dosing. We just call that normal."
Getting stoned is not chief among those needs, Kovacs found when MyJane conducted a survey of women in Orange County, CA. When I asked what was, she didn't skip a beat: "Sleep," she said. "100%."
"I don't want to take an Ambien," said Kovacs, who is 52, with blonde hair and clear blue eyes. "I don't even want to take Melatonin … half a cup of tea, I sleep through the night." (MyJane includes Kikoko tea amongst its offerings in its boxes.)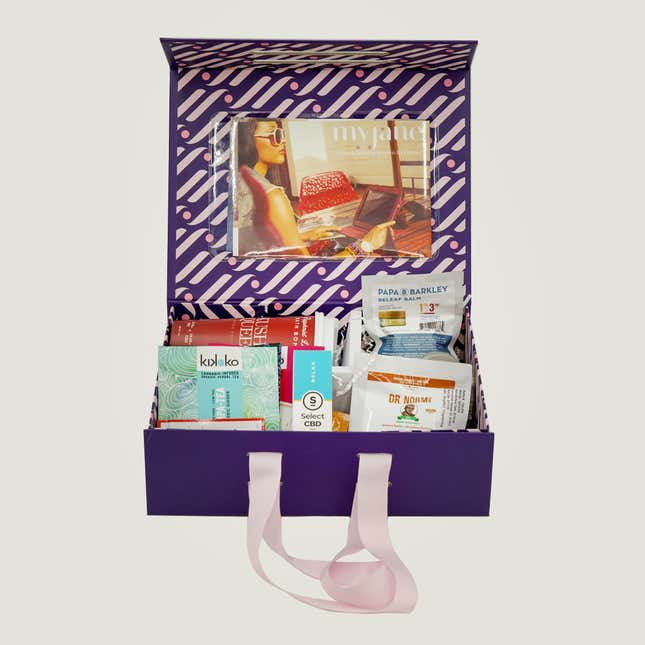 In addition to better sleep, women told MyJane they were seeking relief from pain, anxiety, and stress. Many hadn't used cannabis before and said they wanted their THC—the chemical compound that results in feeling high—in very low doses.
"By the way, we don't call that micro-dosing," said Kovacs. "We just call that normal."
Ding-dong, Avon calling
Both Chapin and Kovacs referenced Avon—the 135-year-old cosmetics company known for its door-to-door saleswomen. "I don't want to go to a dispensary," said Kovacs. "I don't even want to go to the grocery store anymore!"
Instead, these companies strive to deliver both products and education in personal and familiar settings, outside dispensaries. Part of what they're doing is teaching their customers how to use the range of new products available in the sector.
MyJane's customers create online profiles answering questions about their symptoms, food allergies, preferences, and prior experience with cannabis. Then, a female "ambassador" from the company arrives at a customer's doorstep on the agreed-upon date and time to deliver a box of selected products and walk the recipient through each one.
Kikoko's teas are sold via dispensaries and delivery services, but the company also holds tea parties which include a "cannabis 101" slideshow about the plant's history and benefits. Chapin estimates that in 2018, the company held over 100 of these events in private homes, country clubs, and retirement communities throughout California. (It was at a Kikiko tea party in Santa Monica that Chapin and Kovacs first met.)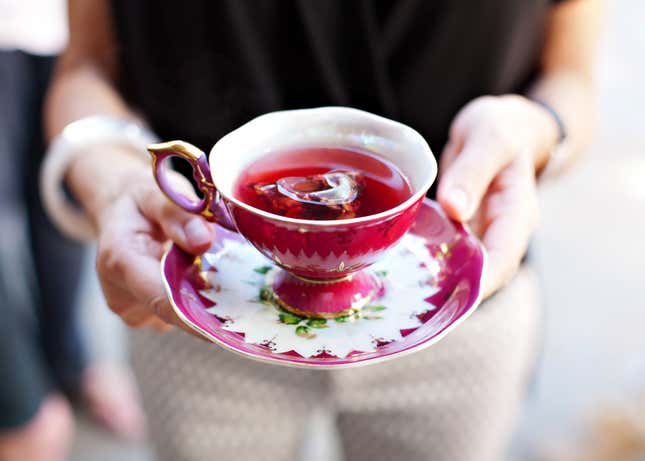 Kikoko's website has a page for people who want to host their own "High Tea Parties," complete with downloadable images for invitations, tips (take public transit), and a Pinterest page of suggested menu items.
"We envision an army of women throughout the state of California," said Chapin, of the consumers she hopes to recruit into hosting high teas.
Bridgett Davis, the founder of the Los Angeles-based cannabis topicals brand Big Momma's Legacy, is also building a business based on older women customers—using a similar model of cohosting tea parties with local cannabis brands at private homes to slowly build her business from the ground up.
"It's a group of maybe 10 to 15 of my golden girls," she said of a typical event. "I have a variety of clients, from white ladies in Brentwood to old grandmas in Compton."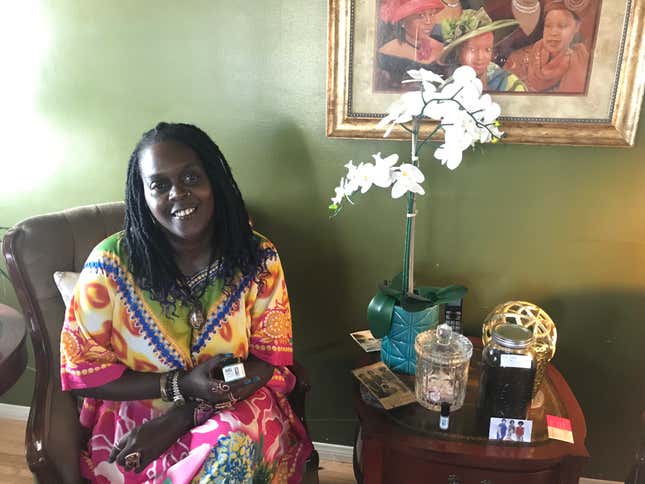 Davis agreed that a familiar setting and privacy were crucial to her customers, who use her salve and roll-on oil to ease the pain of rheumatism and sciatica, and said she's counting on her "golden girls" to help her grow her business.
"I cannot ask for better brand ambassadors, and they're not paid," she said. "It's grass-roots, and I'm building it bit by bit. When one of my seniors talks to their friend, their friend is listening."
Riding the wellness wave
With the global wellness industry now worth an estimated $4 trillion worldwide, it's little wonder that cannabis companies such as MyJane, Kikoko, and countless others position themselves as purveyors of supplies for self-care rather than recreation. And women—especially those in middle-age—are frequently caring not only for themselves, but also for their friends, children, and aging parents. (Kovacs told me she supplies her father with topicals for his arthritis, and her mother with tea for sleeping.) No wonder they're tired.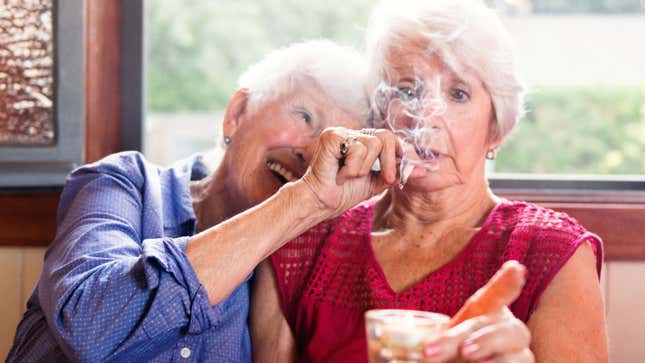 Both Kovacs and Chapin came to cannabis by way of a woman close to them suffering as a result of cancer. In Kovacs' case, it was her mother-in-law, who eased her post-surgery pain and reduced her opioid use with cannabis. In Chapin's, it was a dear friend who used edibles to aid her sleep and appetite, but was getting pummeled by high dosages. Both women saw the opportunity for products that spoke to women's wellness.
Plus, noted MyJane cofounder Cara Raffele, "There's a trust gap in healthcare for women." Indeed, as Quartz's Annaliese Griffin has written, that trust gap has made women particularly receptive to wellness brands that address their health concerns, respect their pain, and speak to them personally.
During her presentation at Arcview, Chapin said at one point, "we're really tired of taking Ambien." A women near me whispered under her breath: "That's so me."