The most popular Airbnb in the world is not a loft in Manhattan or beachfront apartment in Barcelona. It's a tiny "mushroom dome" in Aptos, California, according to the company.
Guests have been checking in to Kitty and Michael's mushroom-shaped cabin in the woods since 2009, a year after Airbnb was founded in San Francisco, when the company says it became one of the first Airbnb listings outside a city. "Since then, it has amassed nearly 1,300 reviews, with guests coming from all over the world to stay in its tiny, 100-square-foot confines," Airbnb said in a press release highlighting the company's quirky history today (part of a flurry of press before it goes public, as analysts predict it might do this year).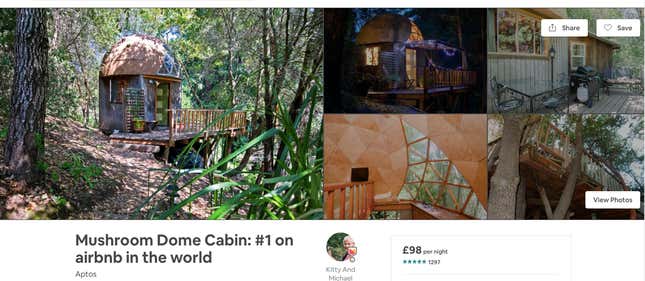 The listing describes the property as a "geodesic dome loft & a large deck in the trees" which sits on ten acres of land in the small town of Aptos, just outside of Santa Cruz. It can sleep three people (two on a Casper mattress, and one on a sofa-bed) and the bathroom includes a self-contained composting toilet, because this is environmentally conscious central California after all.
Guests are warned to expect some woodsy hubbub: "Most of the sound here comes from the birds or crickets chirping, the tree frogs croaking and the breeze blowing through the trees. People do live on the land here though, so don't expect it to be totally devoid of human sounds and the occasional chain saw."
The "cozy and clean semi-rustic cabin" is of a piece with what Airbnb staked its massive success on: offering quirky places to stay that are unconventional and far from the bland experience of a hotel room or serviced luxury apartment. Though, as the platform has grown to offer 6 million listings and prepares for an IPO, it has added plenty of those too.
In addition to the fungi-inspired dome, the company noted that there are another 14,000 tiny houses listed on Airbnb, as well as over 4,000 castles, and over 2,400 tree houses. If you want to stay in the mushroom dome though, you're going to have to book ahead. There are only a few open dates before October.