Kohlrabi. Normally it's the kind of vegetable you grudgingly accept responsibility for when it shows up in a CSA box. Or, it's a project vegetable, one you go looking for to properly complete a many-step Ottolenghi recipe. But for most home cooks, Kohrabi's squid-like shoots and bulbous body are more likely to spark curiosity than joy.
In the right hands though, the brassica is bright, fresh, and slightly spicy. An innovative farmer's hands, that is.
Bowery Farming, whose greens and herbs New Yorkers might recognize from the grocery store, has been developing root vegetables specifically for its vertical farming system. This is something of a new development in the world of indoor vertical farming. While it has become common for Manhattan restaurants and grocers to source lettuces and delicate herbs from rooftops and basements. More substantial fare, like the stolid turnip, has largely been left to grow in the dirt. But in its warehouse in New Jersey, Bowery Farming has managed to grow radishes and turnips on racks, under LED lights.
Then there's this kohlrabi. This is no dusty orb, extracted after a winter in a root cellar. It's a designer kohlrabi that I'll be happy to add to my spring salads.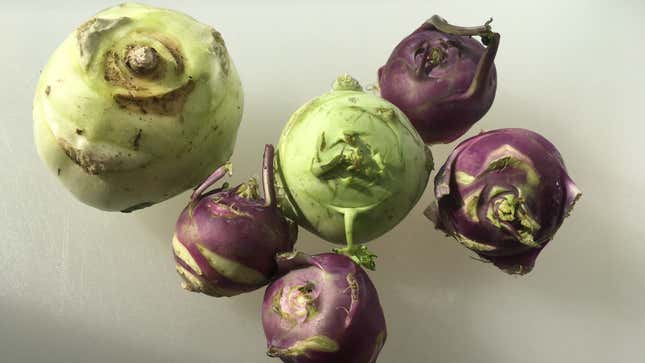 The Oxford Companion to Food rather uncharitably describes kohlrabi as, "a bizarre form of the common cabbage in which the base of the stem swells into a globe the size of an orange, while the leaves remain comparatively slight." While brassicas, the family of vegetables that includes heavy hitters such as broccoli, Brussels sprouts, and cabbage, are some of my favorites to cook, my past forays into preparing kohlrabi have been just OK. It never seems like the best choice—cabbage is easier to shred for a bright slaw, and radishes are spicier for a sliced vegetable salad.
The two different kinds of kohlrabi Bowery sent me to sample, neither of which are available for retail customers yet, totally changed my view of the vegetable. The larger green ones were crunchy and sweet, with an earthy note. They combined all the best elements of jicama, cucumber, broccoli stems, and radishes into once delicious vegetable. The smaller purple ones were less sweet, more earthy, but also delicious in a subtly different way. Best of all, neither had a fibrous skin that needed peeling, which kohlrabi often does.
One of the advantages of indoor vertical farming systems is that they harvest year-round, and each new crop of fully grown vegetables is an opportunity to refine the process. To sketch a rough picture of how Bowery's indoor vertical system works, seeds are planted in plugs, much like the pucks home gardeners use for early season starts. Those sit in rafts that are placed in trays of nutrient-infused water, under LED lights. Those trays are stacked floor to ceiling, and every variable is controlled and tracked.
"From an agricultural perspective, we are gathering millions and millions of points of data in real time," Irving Fain, Bowery's CEO told me over the phone. "That data is helping us understand things like how is the plant growing, what's its health? It's looking at things like…look and feel, texture, and even taste and flavor, and of course yield."
What does all that obsessive kohlrabi development get you in the kitchen? Tossed in olive oil, salt, and pepper and then roasted at 400° F for 20 minutes, it's an earthy-sweet addition to a grain bowl.
But I like treating it as a sort of winter cucumber, slicing it and eating it raw, as in this super crunchy salad that's bright, fresh, and slightly addictive. It's just what one craves after a winter of dusty roots.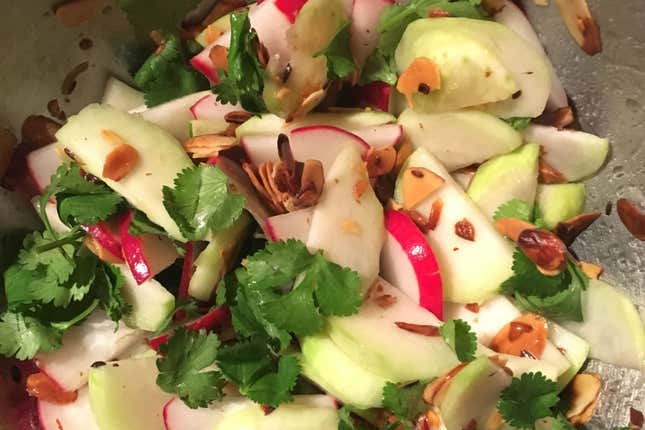 Crunchy kohlrabi salad
This salad is loosely based on a sliced radish and carrot salad I used to eat at Marlow and Sons in Brooklyn. The kohlrabi from Bowery Farming that I used is smaller than what you usually find, but a larger bulb will work, too. Just cut a slice to taste before you start to see whether the outer layer is tough, in which case you'll want to peel it before slicing. You could also substitute broccoli stems, or make it with two different kinds of radish.
1/3 pound kohlrabi
1/3 pound radishes
1/2 cup slices almonds
1 handful cilantro
3 tablespoons olive oil
2 tablespoons white wine or sherry vinegar
1/2 teaspoon cumin
1/2 teaspoon coriander seeds
salt and pepper to taste
Trim any tentacles from the kohlrabi and peel if the skin is tough. Remove the greens from the radishes. Slice into bite-sized pieces—half moons work well. Put your vegetables into a bowl and set aside.
Put olive oil in a small pan over medium heat. Crush to crack the coriander and cumin with the flat side of your knife or a mortar and pestle, and add to oil. Add the almonds. Cook over medium heat until the almonds are toasted brown. Strain oil into a small bowl and set aside. Add a big pinch of salt to the almonds and spices, toss to coat, and then add to the bowl with the kohlrabi and radishes.
Whisk your reserved oil with the vinegar, another pinch of salt, and pepper to taste. Drizzle the dressing over your kohlrabi-radish-almond mixture and toss to combine, then taste to see if you want any additional salt or pepper. Top with cilantro leaves.
This is a great make-ahead salad that can hold for up to an hour before serving.