As cocktails go, the Brown Derby isn't a household name. But it has a history as enjoyable as the drink itself—a crisp and surprisingly harmonious blend of whiskey, honey, and grapefruit.
The drink's origins lie in 1930s Hollywood, during the film town's "Golden Age," when the studios were producing some of their greatest classics and movie stars were drinking their way down the Sunset Strip. The man credited for transforming the strip from an unremarkable 1.7-mile stretch between Los Angeles and Beverly Hills into a destination for the rich and glamorous is Billy Wilkerson, founder of the Hollywood Reporter. And the bartenders at one of his well-attended establishments, the Vendôme Club, were the ones who created the Brown Derby.
They named it, curiously enough, for a nearby restaurant, called the Brown Derby. The original, which had a dome that resembled a brown derby hat, opened in 1926, with other Derby locations following, including in Hollywood. That location regularly drew celebrities and other characters to its tables, and became a part of Hollywood lore.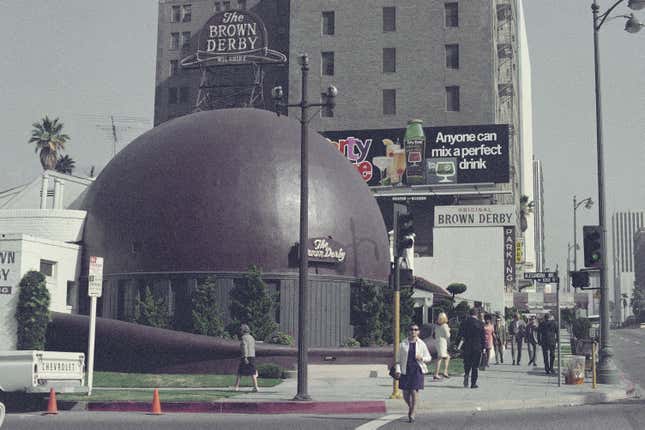 Filmmaker Cecil B. DeMille owned one at one point, and it was where Clark Gable proposed to Carole Lombard, where Marlene Dietrich caused a fuss by daring to walk in wearing pants, and where Spencer Tracy drank late. A Brown Derby bar appeared in the 1945 film "Mildred Pierce," tended by Joan Crawford, no less. And it was where a star-hunting Lucy Ricardo, played by Lucille Ball, met actor William Holden in a 1955 episode of I Love Lucy—though their version was in reality a replica set.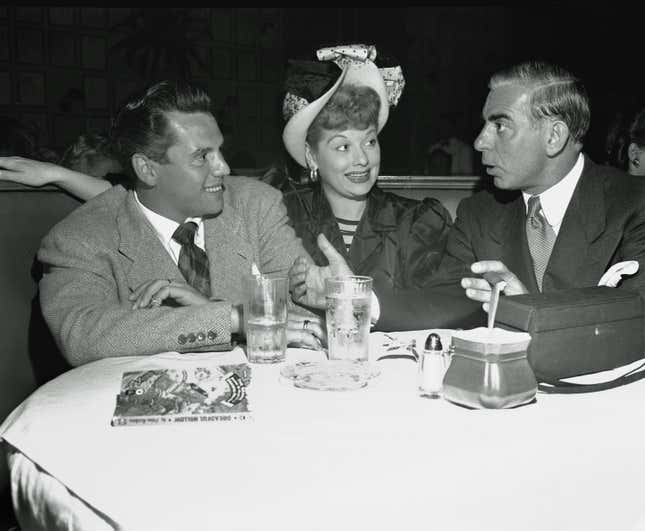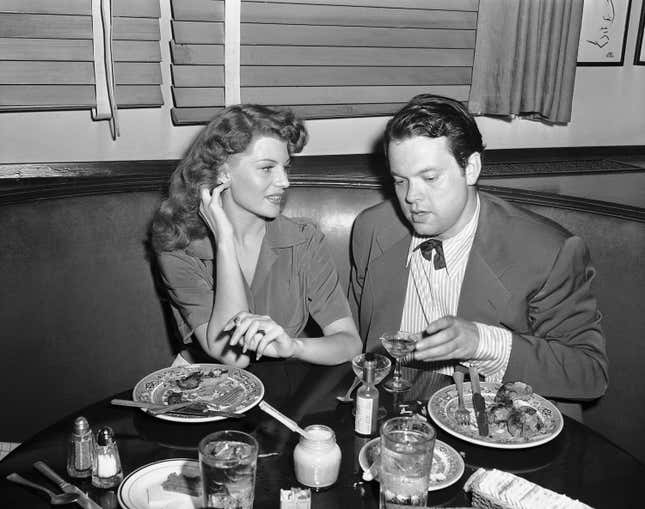 After several battles to preserve the last remaining Brown Derby, in 2012 it was sold to developers to build a mixed-use retail and condo complex on the site.
Whether you care anything for that history or not, the cocktail itself is well worth a try. The classic version calls for bourbon, which has such a distinct flavor that it can be tough to pair well. To that you add grapefruit, itself sometimes a finicky ingredient. But mix those with honey, and something magical happens.
"Honey is this weird ingredient that can tie flavors together when you need it to," wrote the bartender and cocktail authority Jeffrey Morgenthaler of the Brown Derby. "And by some miracle it sits in this perfect place between bourbon and grapefruit."
The drink is deliciously tart, with just the right amount of sweetness, and wholly unlike most popular whiskey cocktails in that it comes across as light and fresh.
It's also an excellent cocktail to make at home, requiring just a few ingredients. There are some easy, herbaceous ways to shake it up, too. A sprig of rosemary works perfectly with it. You can even make a rosemary-honey syrup if you're so inclined. And the drink also plays well with sage.
A note on the liquor: Bourbon works great here because of its vanilla and caramel character, and it's really the standard for this drink. But I also like rye for its dry sharpness. Made with rye and served very cold, it's extra refreshing. Try both, and pick the one you prefer.
Brown Derby recipe
Ingredients for one drink:
1.5 ounces of bourbon
1 ounce of grapefruit juice (preferably fresh-squeezed)
0.5 ounces of honey syrup (mix together equal parts honey and hot water to dissolve the honey, then cool)
A sprig of rosemary (optional)
A grapefruit twist (optional)
Instructions:
Add the bourbon, grapefruit juice, and honey syrup to a cocktail shaker with ice, shake about 20 to 30 seconds, and strain over fresh ice. Garnish with the rosemary and twist, if using.