Subscribe to the Quartzy newsletter to receive this in your inbox each Friday.
Here in Los Angeles, my house contains a dining room table—a real novelty for me, after 13 years in New York apartments. When I moved here two years ago, one of my many lifestyle-related ambitions was to have more dinner parties. We've hosted a handful for special occasions—birthday barbecues, a Hanukkah potluck, our first Thanksgiving (with vegans!)—and a few impromptu roast chickens for last-minute guests. But I haven't embarked on the sort of creative menu- and guest-list planning I imagined I'd do regularly, back when I consumed most dinners on my coffee table.
But a recent assignment, like a gift from a culinary fairy godmother, may have changed all that. The editors at Food52, my go-to recipe resource, asked me to help judge their annual cookbook contest, The Piglet. The Piglet functions like a March Madness tournament bracket that whittles 16 of the year's best cookbooks (first selected by Food52's editors) down to a single winner. But rather than competing in, you know, basketball games, contenders are knocked out by a varied crew of judges, yours truly among them. Each of us pits two cookbooks against each other, reading introductions and headnotes, testing recipes, and writing a review that ultimately makes a determination on which book better fulfills its promises, and deserved to advance in the contest.
This means the final winner has been reviewed by four different people when the tournament is done. This year, that book was Naz Dervavian's Bottom of the Pot, which was tested and judged worthy by Padma Lakshmi, Emily Weinstein, Emeril Lagasse, and Roxane Gay. But believe me when I tell you that in this tournament, everybody wins. What I won was an approach to dinner party planning that might change my game forevermore. Plus two great new cookbooks.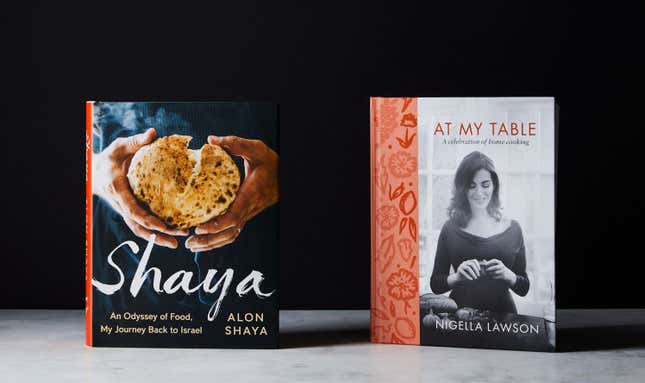 The books I was assigned to judge were Alon Shaya's Shaya: An Odyssey of Food, and My Journey Back to Israel, and Nigella Lawson's At My Table: A Celebration of Home Cooking. I needed to cook at least three dishes from each book, and had limited time to make it happen, so a Saturday night dinner party seemed in order.
The Piglet forced me out of my comfort zone and gave me a new framework for dinner party planning. Here's what I'll take away from it.
Embrace the dinner party process as a creative project
I now realize my past approach to dinner party-planning has been somewhat impatient—an attempt to squeeze out maximum impact from minimal prep time.
My "assignment" gave me license instead, to embrace the process as a project. Before I knew it, I'd spent an hour flagging more than a dozen recipes and assessing how they would combine—not only in terms of balancing flavors and textures, but also cooking times and kitchen real estate.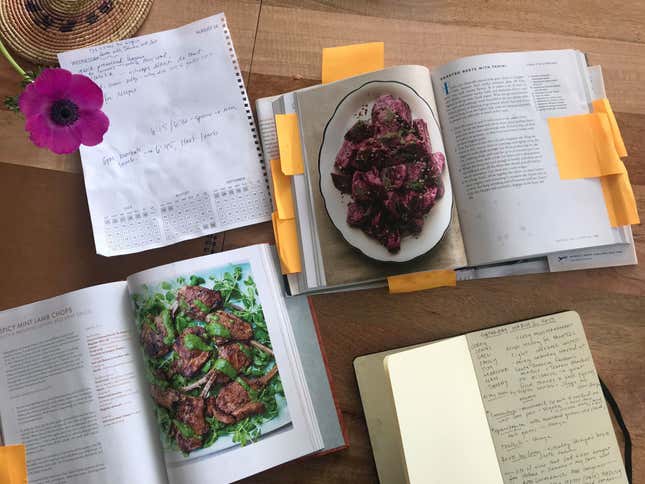 I favored those that would lend themselves to advanced preparation (fried eggplant medallions sound amazing, but not if they've cooled to sogginess) and also looked mildly attractive. (Sorry, log-shaped lamb kebabs.) I had Post-Its everywhere, at least two lists of recipes and ingredients, and books splayed open.
Here's the menu I landed on:
Spicy marinated lamb chops with preserved lemon and mint sauce (Lawson)
Collard spanakopita (Shaya)
Tzatziki (Shaya)
Beets with tahini (Shaya)
Sticky toffee pudding (Lawson)
To drink: Wine, both orange and red. The standout was Ruth Lewandowski's Boaz Carignan. Plus, scotch to sip with dessert.
This was far more fun—and creatively satisfying—than opening 37 tabs in Google Chrome only to come away with a single salad recipe, which brings me to my next point.
Limit your resources and scope
On one hand, the Piglet gave me a mega-assignment: to prepare and judge at least six recipes from two cookbooks that I'd never laid eyes on. (Note: I cooked from them during the week too.) On the other, it stopped me from diving into my cookbook shelf—or worse, the internet—for endless menu alternatives.
I love cookbooks, but too often cook the same three recipes from each of the dozens on my shelf. Even if I'm not judging a contest, I can see myself now deciding: this will be the weekend I finally cook from Kris Yenbamroong's Night + Market book, which I impulse-bought after eating a spoonful of crispy rice salad at the release party. I'll plan a spice-loving guest list accordingly.
Enlist help
I got my husband onboard early with the dinner party plan, and Saturday morning shopping. We got produce at the farmer's market, then hit up a Middle Eastern grocer for Aleppo pepper, Bulgarian feta, and yogurt. I also assigned him a recipe—the beets with tahini—and when guests asked what they could bring, I was clear: red wine, orange wine, cheese, crackers, and olives.
Go for the spanokopita

I recognize this is a very specific takeaway, but I cannot recommend Alon Shaya's spanokopita strongly enough. Usually I would shy away from a recipe with so many ingredients and steps, but this time I embraced the preparation—and hoo boy, was it worth it. (Note: I only used half a jalapeño for the spanokopita…and there are more notes in my full review.) And if not for a dinner party, then when?
The double-main-course strategy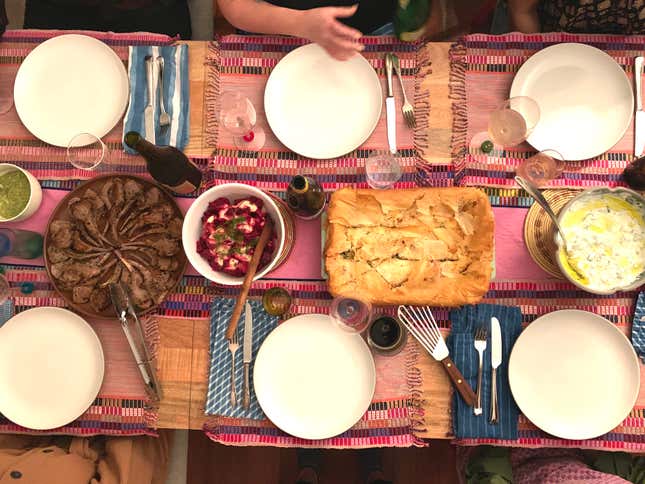 I also cooked Lawson's lamb chops, searing them on a cast iron skillet—and I might never put lamb chops on the grill again. Try this marinade, from At My Table—I used it for eight lamb chops, but I bet it'd be good for other meats too: 7 tbsp. olive oil, the zest and juice of one lemon, 2 tsp. dried mint, 1 tsp. crushed red pepper flakes, 1 tsp. sea salt, 2 cloves of peeled and minced garlic. As per Lawson's instructions, I gave the chops a "squidge" in a baggie full of marinade, let them sit for about 40 minutes at room temperature, then gave them two minutes per side on a hot cast iron pan. This was the last thing I did before serving dinner, and I felt like a real pro.
Finally, take notes
I documented this feast in the form of a written review for Food52, but I also started a new practice: a dinner party diary—just a blank book in which I noted who came, and what we ate and drank. This was wholly inspired by the wonderful book Life is Meals: A Food Lover's Book of Days, which the couple James and Kay Salter first published in 2006. In its introduction, the Salters write of their 1970s-era dinner parties in Aspen, Colorado, and in particular, of an old brown notebook in which they documented the details of them: "to keep a record of what we had served people so as not to give them the same thing, at least not too often."
"The notebook ran out of pages. There was another and then a third. They became a kind of archive, stories otherwise forgotten, couples that had parted, familiar names, others hard to place," they wrote, adding that they would also note details such as who fell asleep in the woodpile or pronounced a roast inedible. "At breakfast—tea and oranges for a period, as in Leonard Cohen's beautiful song—we read aloud to one another and often leafed through cookbooks, deciding what to make for a party or simply at the end of the day. Life never felt richer."
One can only hope to fill such a book.
Have a great weekend!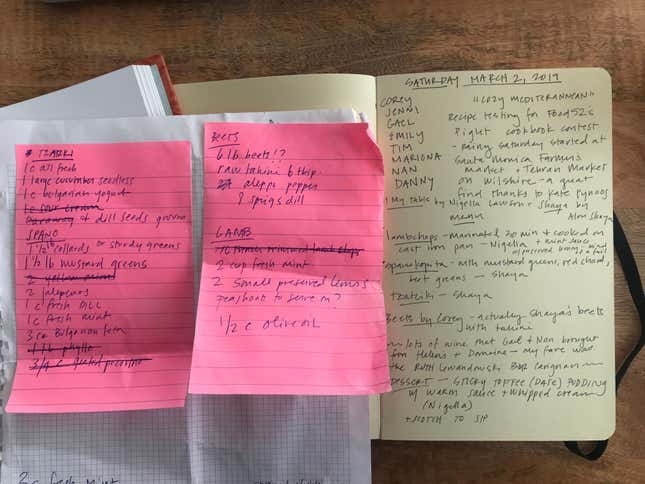 PS: The special sauce
Shaya's tzatziki was like the Dude's rug of this meal: It really tied the room together, cooling down the spices and cutting through the fat of the other dishes. I've used the same tzatziki recipe my whole life, which requires salting and "sweating" cucumber slices. This one calls for dicing the cucumber—unpeeled!—instead. It's less fussy, and it's better.
Shaya's tzatziki. Mince 1 cup of lightly packed dill fronds. Halve a large unpeeled cucumber lengthwise, scoop out any seeds, and cut it into a small dice. Mince or grate one large clove of garlic. In a large bowl, combine 1 cup Bulgarian yogurt (which is slightly thinner and tangier than the Greek variety, and creamier than the plain stuff), 1 cup sour cream, 1 tbsp. olive oil, the grated zest of a lemon, 1 tbsp. lemon juice, 1/2 tsp. ground dill seeds, and1 1/2 tsp. kosher salt. Fold in the dill, cucumber, and garlic, and drizzle more olive onto the bowl before serving.