Macy's is trying really hard to be Instagram-friendly. Today (April 11) the struggling department store giant rolled out its in-house concept store, "Story," in 36 locations across the US. Most of the shops will be at least 1,500 sq ft (140 sq meters), with its Manhattan flagship location spanning a whopping 7,500 sq ft.
Macy's, which also owns Bloomingdales and luxury beauty store Bluemercury, acquired Story in a surprise move last year. Story was kind of like a gallery-slash-pop-up store (its tagline is "Changes like a gallery, sells things like a store") that rotated its products based on different themes. The shop—which will now only exist within Macy's locations, and not as a standalone store—also held classes, workshops, and events, which will continue to take place within its new home at Macy's.
Last year, Macy's announced that it planned to downsize real estate to save money. The company's CEO, Jeff Gennette, told CNBC that existing space within its locations would then be repurposed to "create a vibrant destination." Converting real estate into hashtag-able Story "pop-ups" seems to be an effort to meet that goal.
For instance, the Cut reports that the Story location within Macy's Herald Square store has a M.A.C station where you can create your own eyeshadow palette, and a rainbow "light tunnel" that leads you into the shop. CNBC writes that it also boasts the world's biggest "Lite-Brite light-up display," a pingpong table, and many more "Instagramable moments."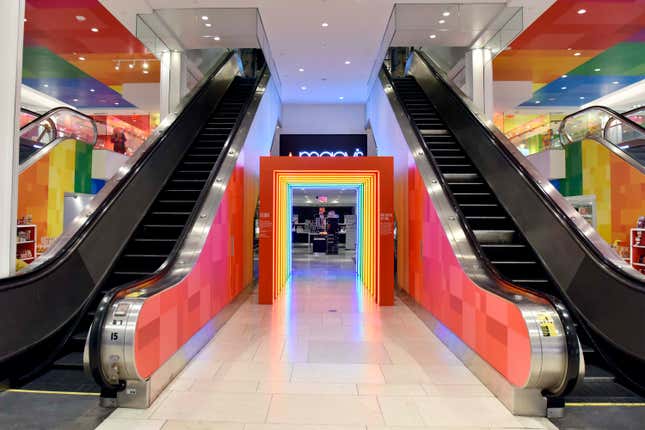 Department stores, those bustling palaces of consumerism and society that rose to prominence in the late 19th century, have in recent years resembled ghost towns. Online shopping and direct-to-consumer business models have put these bastions of the retail industry through the ringer. Struggling to stay afloat, former behemoths like Bon-Ton and Sears have filed for bankruptcy, while others, like J.C. Penney and Kohl's are shuttering stores on sinking sales.
To avoid the same fate, surviving department stores are being forced to innovate. Macy's Story echoes rival Nordstrom's "PopIn@Nordstrom," a series of curated pop-up shops that rotate on a monthly basis. Like Story, each is based on a different theme (K-beauty, Paris) or a collaboration (Goop, Everlane) Each is, of course, extremely Instagrammable—they're designed more like art installations than the usual mannequin jungle of merchandise you'd see throughout the rest of the store.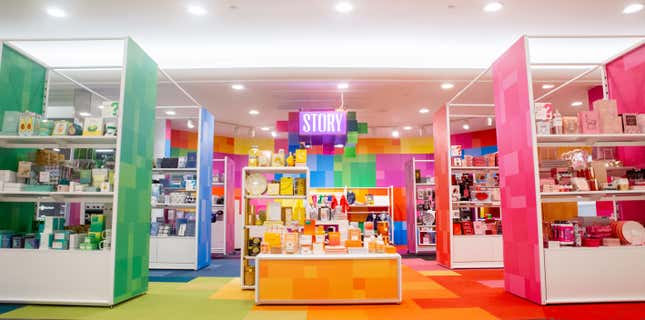 Overall, Story seems like a step in the right direction for Macy's. Investors speculate that the brick-and-mortar retailers that have thrived during the rise of e-commerce—such as beauty stores like Sephora and Ulta—have made the in-store experience a major draw.