Recently I went to a dinner party where the hosts had prepared a pitcher full of delicious cocktails ahead of time, which struck me as the height of graciousness. It's a move I fully intended to replicate.
I decided to go with a wine-based punch, which is a perfect low-alcohol sipper at an afternoon barbecue or spring brunch—and it can also be spiked with harder stuff if desired. Despite the unfortunate association with the sickly sweet wine coolers of the 1980s—in flavors like fuzzy navel and exotic berry—wine-based cocktails are great for when you want something bright and refreshing.
They have long been a festive choice around Europe, but while you're probably familiar with Spain's sangria and Italy's spritzes, you may not have encountered the German tradition of the weinbowle—a wine and fruit punch that often includes citrus or brandy, too. There's one for seemingly every occasion, including a holiday version that features a flaming, rum-soaked sugar cube, called a feuerzangenbowle.
In the spring, a maibowle is made from a combination of still and sparkling white wines, sweet woodruff leaves and flowers. Like sangria, the exact recipe varies, and brandy, sugar, and fresh strawberries are all common ingredients. Sweet woodruff (paywall), or waldmeister in German, which roughly translates to "forest master," has an herbal, slightly anise-y flavor, and in Germany the herb flavors jello, hard candies, sorbet, and Haribo gummy ghosts. Elsewhere, waldmeister syrup is available online or in European speciality stores.
I couldn't get my hands on it, so to replicate the flavor of sweet woodruff, I made an herb-infused simple syrup. Any combination of mint, dill, tarragon, and basil will work. You want a balance of floral, green flavors with a little sweetness from the brightness of mint and the anise-y qualities of basil.
This sits at the crossroads of a punch, a white sangria, and a spritz, and it's very adaptable: I've built a few variations into the recipe to adjust, depending on how boozy you want it. Any crisp, un-oaked white wine works here, but riesling is traditional and particularly delicious—adjust the sweetness level to taste by adding more or less simple syrup. Add seltzer or sparkling wine to give it zip. Gin is an optional addition, which will play nicely with the botanical flavors.
Oh, and if you have a punch bowl, by all means, make this in there, and freeze lemon slices or strawberries in a bundt pan for a real looker of an ice ring.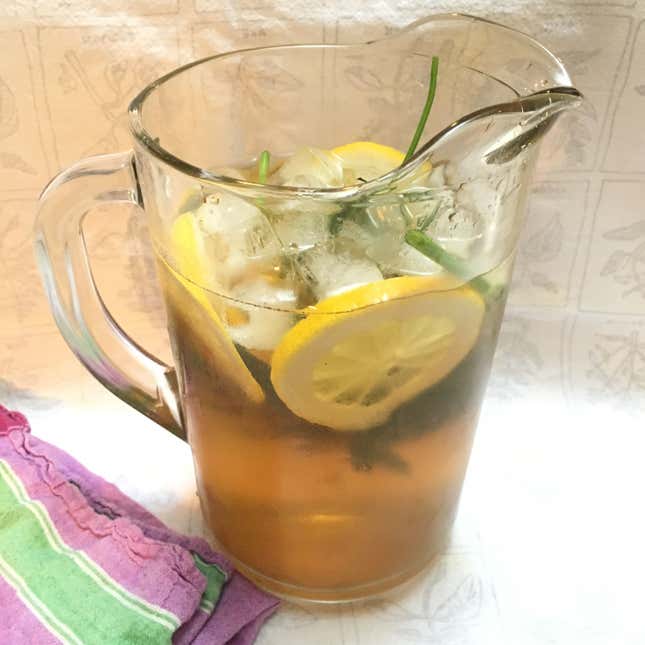 Herbaceous spring punch
Ingredients for a pitcher or large bowl of punch:
1 bottle riesling
6 ounces herbed simple syrup (see recipe below)
1 lemon
12 ounces seltzer or sparkling wine (like cava or prosecco)
Mint, basil, dill, or tarragon to garnish
4 ounces gin (optional)
Pour the riesling into a pitcher filled with ice. Add the simple syrup. Add gin, if using. Cut your lemon in half and juice one half into the pitcher, then give it a stir. Make 4-5 thin slices with the other half and add those to the pitcher, along with a handful of herb springs.
Stir and taste again. If you want a sweeter punch, add a little more herb syrup. If you want something more tart, add more lemon juice. Top with the seltzer or sparkling wine and stir.
To make the simple syrup: Combine 2 cups of sugar with 2 cups of water in a saucepan over medium heat, and cook until sugar dissolves. Add the zest of one lemon, then add about 2 cups of herbs total—some combination of washed basil, mint, dill, and tarragon, in whole sprigs, depending on your taste and what's available. Give them a rough stir to bruise a bit and release their aromatic oils, then turn off the heat, cover the pot and let sit for about an hour to steep. Strain into a jar or other container.