Subscribe to the Quartzy newsletter to receive this in your inbox each Friday.
I distinctly remember hanging out on a friend's front porch one spring evening when I was in high school. As the guys passed a cannabis-packed pipe, they kept saying "Four-twenty, man." Although I was aware the date was, indeed, April 20, I also wondered silently: What does that even mean?
4/20: a very brief history
It's unlikely those guys were aware of anything other than 4:20 symbolizing a good time in the day to smoke weed (at least if you're in school or have a very low-pressure job). Actually, that's all it did mean, at least to five San Rafael, CA high-schoolers in the 1970s who called themselves the Waldos—apparently a wisecracking crew of well-rounded stoners who enjoyed secret missions and the Grateful Dead. (Not unlike those guys on the front porch a few decades later.)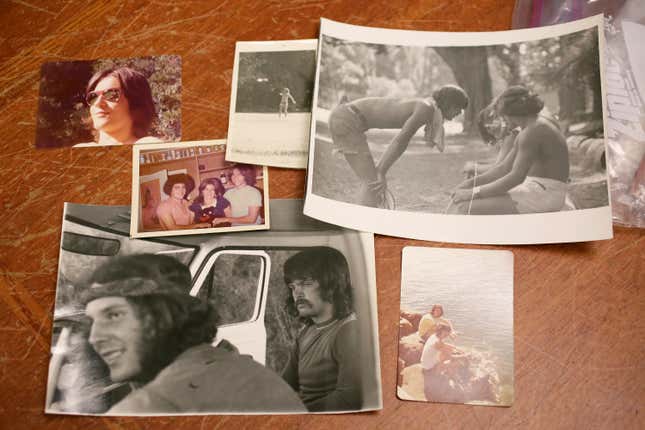 One such mission involved meeting regularly after school at 4:20pm to search for a purported weed patch. "420" became code for their search, and later, just for smoking herb. A Grateful Dead flyer helped spread the gospel 20 years later, according to High Times. There's a little bit of controversy over exactly which guys from San Rafael coined the phrase, but it belongs to stoners, social media, and society now.
And increasingly, to corporations, companies, and brands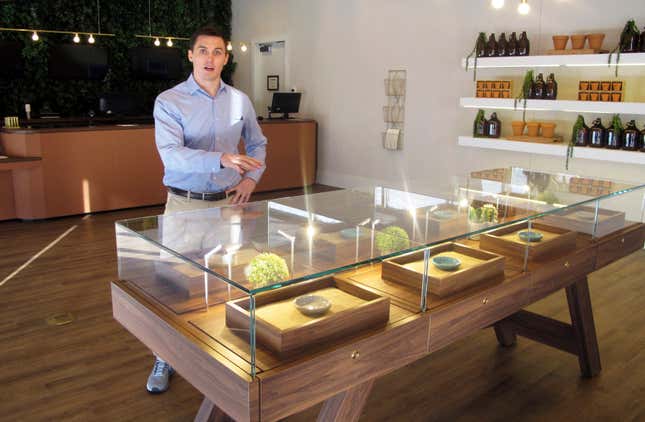 Now that cannabis is big business, 4/20 has totally lost its chill. It's no longer just code for a nice time to toke up. It is a time to pitch, sell, and promote—in other words, a true American holiday that we can complain about being co-opted by capitalism. 4/20, meet Mother's Day, Valentine's Day, and Christmas.
My email inbox is inundated with pitches for 4/20-related products and predictions. Among them: packs of pastel-colored pre-rolled cones (fill-your-own), shiny gold grinders, cannabis-infused olive oil, tinctures galore, and one data set predicting that US cannabis sales on Saturday could reach $90 million.
Dispensary door-busters
That's at least in part because dispensaries and delivery services entice customers with timely deals, as traditional retailers often do during holidays. According to a Headset report, pre-rolled joints were discounted by an average of about 20% last year in the US, and I just received word that the first 420 customers at one of my local dispensaries on Saturday will receive $200 of merchandise in a free gift bag.
But wait: People are still being punished for cannabis-related convictions
The California cannabis delivery platform Eaze has a 4/20 initiative underway that begins to address the injustices of its industry: For every delivery on Saturday, Eaze will donate $4.20 to Code for America's "Justice at Scale" program, which is using software to automatically identify criminal records that are eligible for expungement, helping people affected by the War on Drugs to reduce the convictions on their records (say, from a felony to a misdemeanor) or have them erased altogether.
If all this corporate 4/20 talk is getting you down and you live where it's legal, you might consider that spring is the season to start growing your own. Here's a guide I wrote last year on how to get started. Or if that sounds too messy…
Welcome to the weed pen boom
One category that's been growing in popularity for 4/20 sales? The weed pen, as these nifty little disposable cannabis vaporizers are known, are designed and marketed with specific end results in mind. With product names like "Connect," "Create," and "Calm," these pens promise to make users feel exactly as sexy, social, or sleepy as they like.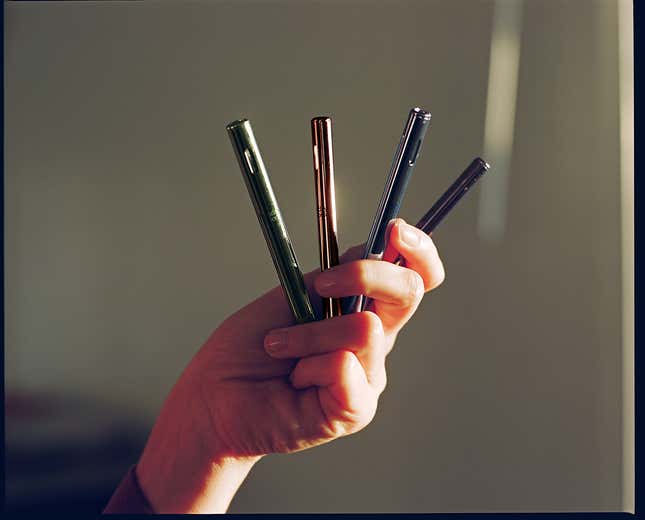 These devices—which look more like contemporary design objects than crunchy paraphernalia—contain a battery that powers a tiny heating element that converts the oil inside, which contains some combination of cannabinoids and aromatic compounds called terpenes, into vapor to be inhaled. They range in price from about $40-$100, and are good for about 50-200 tokes, depending on the user.
Here's a rapid-fire breakdown of a few brands to know about. (To learn more, see our roundup.)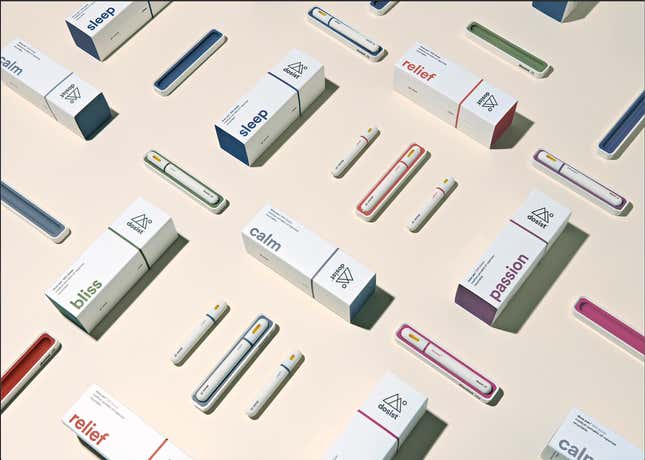 The OG of the category launched its smooth white pens that vibrate when the user has inhaled a 2.25 mg dose in 2016, and they just opened a Los Angeles store where they sell weed-as-wellness in six blends: Bliss, Calm, Relief, Sleep, Arouse, and Passion.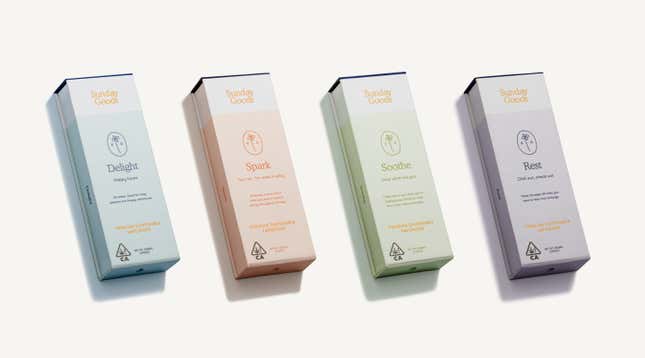 Sunday Goods' four new "effect pens," which are slightly longer than a cigarette with a metallic surface and an elliptical shape to keep them from rolling off a tabletop, were designed by Gin Lane—the same firm behind the millennial-friendly design strategy at companies from Sweetgreen to Harry's.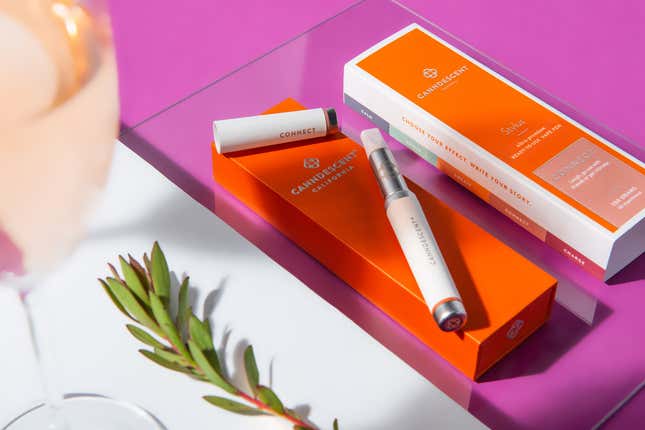 Canndescent, which sells buds and pre-rolled joints with names like Cruise, Charge, Calm, and Connect, this month launched a new "Stylus," which looks like a chunky white-and-silver fountain pen and is available in both disposable and rechargeable models.
A CBD update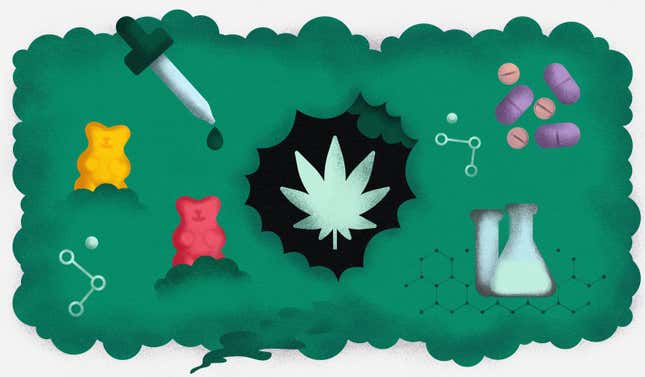 Quartz surveyed a cool 2,000 people in the US about their attitudes and experiences with the increasingly popular CBD (AKA cannabidiol, the cannabinoid that doesn't get you high). We found most enthusiasts are using it to find relaxation, relief from anxiety and pain, and maybe even a nap.
But does CBD actually work?
I asked Ziva Cooper, who heads up research at UCLA's Cannabis Research Initiative, what kind of evidence we have that CBD works for these things. In short? Not much… unless you're a mouse or rat. There's a lack of rigorous, placebo-controlled studies for humans, says Cooper—which is what labs like hers are working on. On the other hand, she says there's also not much research proving that cannabidiol doesn't work to treat some ailments.
In the meantime, I took a deep dive into the peer-reviewed studies that do exist—many of which are in mice and rats, plus one on a creature called an Asian musk shrew—and found it pretty fascinating, if a bit stressful at times. But there's a chance that a dose of CBD might actually help ease that symptom, if those little mammals are any indication. You can read all about it here.
Have a great weekend!

PS: Beychella
This weekend marks Passover, Easter (Make a feast!), and 4/20. It's also the second weekend of Coachella. Lucky for you, Beyoncé's epic "Homecoming" set is streaming on Netflix and on Spotify, so between seders, Easter egg hunts, and 4/20 sessions you might want to make time to join the dance party—in your own living room.