You've probably seen her on your Instagram feed: a woman awash in natural light, wearing a cocoon-shaped dress in a shade of golden turmeric or faded paprika. She wears flat leather sandals, has unkempt-but-pretty hair, and is likely in the company of a handmade ceramic, a succulent plant, or a piece of avocado toast. She is LA's Silver Lake shaman, and she's coming soon to a city near you.
The Silver Lake shaman
The Silver Lake shaman is the heir apparent to the Brooklyn lumberjack—a lifestyle concept popularized by the young dwellers of New York City's hippest borough. As Brooklyn became an international brand, selvage denim, artisanal whiskey, and Edison bulbs have proliferated in the "Brooklyns" of Paris, Chicago, and Tokyo. Although the reign of the Brooklyn lumberjack has felt eternal, it seems now that his final winter has waned (he flourishes in cooler months), and the springtime of a new aesthetic is upon us. Close your eyes and breathe in the Palo Santo.
In recent years, the cultural lens (and Instagram feed) has shifted its focus to Los Angeles, and to a very a specific idea of it at that. This is not the LA of spray-tanning, silicone, and Malibu mansions, any more than the Brooklyn lumberjack was related to the power suits of Wall Street in their Manhattan skyscrapers. No, the shaman's natural habitat is more desert canyon than beach; more Duplass Brothers than Michael Bay; more feminine mystique than masculine posturing. It lies to the east of Hollywood, in the hills of Silver Lake, Los Feliz, and Echo Park—the epicenter of this easygoing wave, which is on the verge of becoming a global tsunami.
If the Brooklyn lumberjack was nostalgic for the 1870s, the Silver Lake shaman yearns for an imaginary era that melds the flowing gauze dresses and high-waisted dungarees of the 1970s with the minimalism of the 1990s. The SLS seems to long for a simpler life, where dyeing fabric with wildflowers or brewing coconut oil-based skin salves take precedence over dialing in to conference calls. (Same!)
While the tech bros of New York and San Francisco—and even the west side of LA, where Snapchat, Facebook, and YouTube reside—embrace uniform dressing via Uniqlo, Bonobos, and this J.Crew gingham shirt, the east side shamans' clothing is distinctly anti-tech, with natural textures, sun-bleached colors, and finishings that suggest a human touch.
The Silver Lake shaman is no more an actual shaman than the Brooklyn lumberjack felled trees for a living, but the lifestyle does include supplies a person might find in a healer's tipi: crystals, smudge sticks, and essential oils among them. (And she might well sip "a copper cup of silver needle and calendula tea" for breakfast.)
Even Jen Mankins, owner of the influential Brooklyn boutique Bird—who the New York Times has called "the curator of the 'Brooklyn look"—is under their spell. She recently opened a location in Los Angeles, the first outside her home borough.
"Every person I knew in New York was moving to LA," said Mankins, with a laugh. "There's always been a little bit of back and forth, but I just feel there's been this real wave of development and excitement and movement—literally—to the West Coast, from everywhere."
Desert minimalism
Mankins credits a resurgence in Los Angeles' garment manufacturing with helping to perpetuate this new LA look, one she characterizes as "desert minimalism," marked by its ease of shapes and shades-of-sandy color palette. ("In the past, one option of sand would have been enough," she said.)
A decade ago, only one or two designers represented at Bird made their clothes in Los Angeles, Mankins said. Now she carries dozens of LA-based labels. These include Raquel Allegra, who tie-dyes, cuts, and sews her tie-dyed dresses and flow-y pants in downtown Los Angeles; and Shaina Mote, whose elegant, spare dresses and sweaters recall aprons and kimonos.
As these and other designers grow their grass-roots fashion businesses in southern California, the international fashion industry is shining its spotlight on the American West as well. In recent seasons, labels including Vetements, Tommy Hilfiger, and Rachel Comey have favored Los Angeles for the sorts of events that typically take place in Paris or New York. Earlier this month, Dior showed its resort 2018 collection on a remote canyon preserve northeast of Los Angeles. Dior artistic director Maria Grazia Chiuri cited shamanic healer Vicki Noble and the modernist artist Georgia O'Keeffe as inspirations for the clothes, which included prairie dresses, ponchos, and flat-topped straw hats. Indeed, O'Keeffe could be called the spirit mother of this "desert minimalism," with her rustic, elegant lifestyle at her New Mexico home, Ghost Ranch. (And she's finding new fans with the recent book and exhibition, Georgia O'Keeffe: Living Modern.)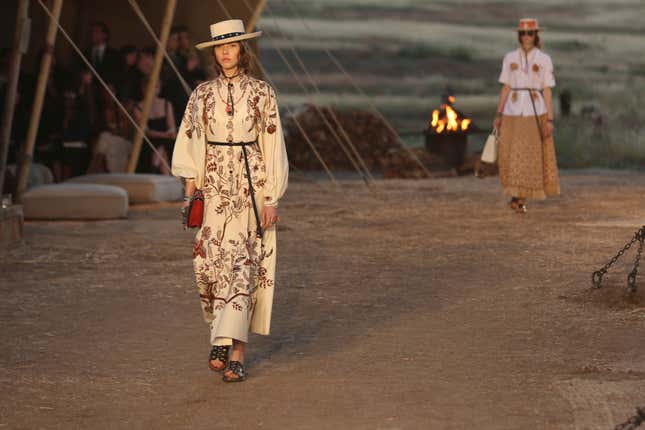 The Instagram migration
Today, the poster children for this neo-hippie aesthetic can be easily found on Instagram, where they display creative and productive lives bathed in natural light and amongst palm trees. (Perhaps that's what prompted one New York-based artist to ask recently on a visit to LA: "Why do we live in a trash can?!" and countless others to just move there.)
Thousands of Silver Lake shamans convened in real life last weekend at the Echo Park Craft Fair: a semi-annual event with an artist roster that reads like a source list for this highly desirable, super-chill lifestyle: wide-brimmed straw hats from Clyde; floral-printed Fleetwood Mac-style frocks by Doen; mushroom protein and Sex Dust (yes, Sex Dust) from Moon Juice; coconut sugar-sweetened almond butter from Solstice Canyon; and so many ceramics.
Beatrice Valenzuela—who creates flat, cushioned sandals perfect for padding across one's patio—founded the fair in 2009 in her Echo Park backyard, and was joined two years later by co-founder Rachel Craven, whose convex linen caftans are also an elemental piece of the Silver Lake shaman's wardrobe.
Participating designers have influenced one another, Valenzuela said. Muted colors with bright pop accents prevailed last weekend, and organic shapes echoed between jewelry and ceramics. That aesthetic is echoed far from America's Pacific coast, too: Valenzuela's friends have sent her photos of the look, and boutiques selling it, from France to Australia.
"I don't know if we can take total credit for that," said Valenzuela. But, she conceded, "Our community has really become global now."