Bob Jones is the third generation in his family to run The Chef's Garden, a 300-acre farm in Ohio that has used regenerative agriculture methods for the last 10 years.
"Our belief is that modern agriculture in the United States is broken, both economically and agronomically," said Jones. The model for decades has been to go to the bank and borrow operating capital with the hope that it can all be paid back, a cycle of debt that makes it difficult for farms to be financially sustainable. "That's how we've gotten to a tremendously shrinking number of farms in the United States," said Jones.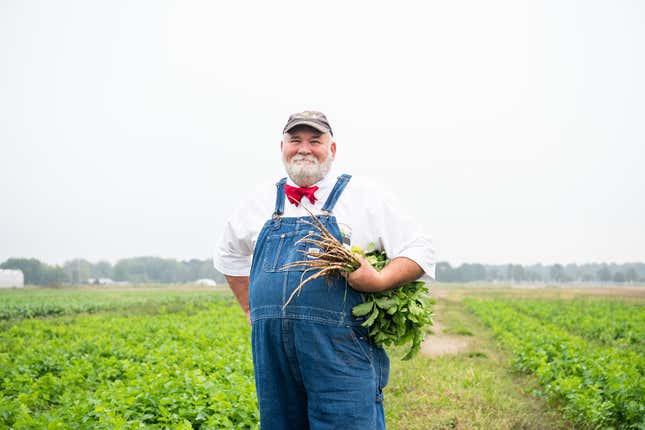 To combat that, the Jones family decided to veer away from the conventional farming model. Instead, they invested in regenerative methods like rotating fields in thirds: land for crops to be harvested, land to be filled with cover crops, and land to be left alone. The result is soil that has time to recover, regain microbes that keep the soil healthy, and grow higher quality produce that has gained a reputation. (The farm now provides produce for Michelin Star restaurants across the country.)
Farmers at The Chef's Garden are also experimenting with new methods to scale up their operations while maintaining the fields. "To see these guys doing regenerative practices on a major scale was shocking," said Dr. Nasha Winters, a naturopathic doctor who recently toured The Chef's Garden. "They took us through all these growing environments, from microgreens to various indoor and outdoor crops, different temperature greenhouses and lighting processes—how technology is meeting traditional old farming practices was cool to see."
At the end of the tour, Winters watched produce being packaged for shipment. She was in awe as she saw recipients that included top chefs at places like the Four Seasons and the Ritz-Carlton. "You're recognizing that people are willing to pay top dollar and that this can compete with conventional farming," said Winters. "But they also allow a more cost-affordable approach to eating really healthy."
Connecting soil to human health
For decades, farmers have leaned on chemical fertilizers and pesticides to yield larger amounts of monocrops. The more robust harvests help farmers pay back start-up loans and turn profits. But decades of chemicals have ruined soils, making them less capable of providing nourishment for the crops, and lessening their nutritional value as a result.
They also can have adverse affects on humans. Winters is an expert in metabolic oncology, metabolic health, and terrain health. Diagnosed with cancer at 19, Winters was baffled as to how she, a young person in rural Kansas, could be struck with such a disease. She believes her exposure to big farms using pesticides contributed to her diagnosis.
Now in her fifties, Winters advocates for holistic health practices. "You have to go out of your way to seek out and ingest healthy food today," she said. "To tell the average American or anybody in a western developed country to eat healthy, that leaves a ton of room for interpretation." 

When trying to eat healthy, we often tend to look at the produce itself, but the quality of the soil in which it was grown is more indicative of a plant's nutritional value.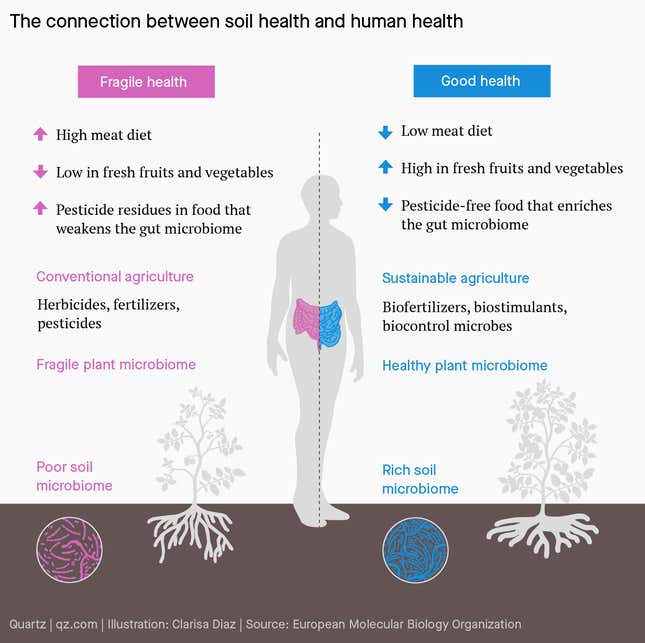 More medical professionals are seeing food as medicine. Physicians and nurses at the healthcare company Geisinger, for example, recently created the Fresh Food Farmacy, which focuses on providing healthy meals for clients in need.

"Folks in the medical community are reaching out to the agricultural community," said Jones. The United States has the lowest per capita spending on food of any industrialized nation in the world. Conversely, the US also has the highest per capita spending on healthcare of any industrialized nation in the world.
"We believe there's a direct link between those two statistics," said Jones. 

Collaboration between farmers and doctors
Transitioning a conventional farm to a regenerative one requires an initial investment and about three years of development, but the long-term benefits are real. Regenerative farms produce more sustainable harvest and higher profits. Jones estimates the profits of The Chef's Garden have grown by 30% over the last 10 years.
"We have to accept responsibility as farmers and do what we can to manage nutrients on the farm and keep it on the farm," said Jones. The know-how of managing The Chef's Garden has been years in the making: figuring out how to create a multi-species cover crop effect, plowing in the biomass back into the soil, no-till plantings where possible, and using straw mulch instead of plastic mulch. "And we're still learning," he says.
The joint goals of Jones and Winters drove them to plan a future collaboration, turning a dormant 1,200-acre golf course in Arizona into a regenerative farm, wellness center, and 80-bed hospital.
"Every single living plant on that property is going to have some edible or medicinal quality so that people can literally go out between their hospital treatments and graze right there," explained Winters. "The patients will be on the farm with the farmers, and the farmers will be in the kitchen with the chefs, and everyone will be cross-pollinating everywhere."