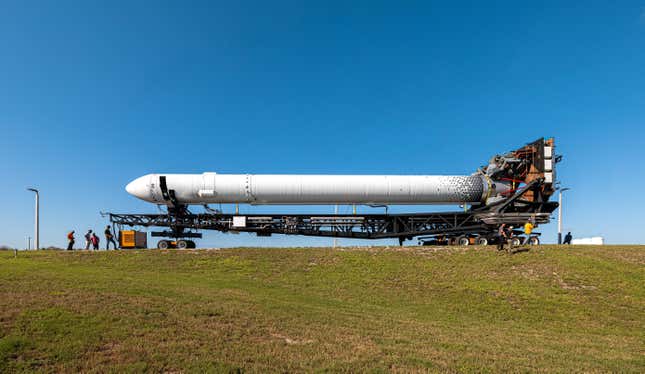 The world's first 3D-printed rocket proved its strength in its inaugural test flight.

Why a tightening of credit conditions could lead to a weak economy
Relativity Space's Terran 1 rocket lifted off for the first time yesterday (March 22) from Launch Complex 16 at Cape Canaveral Space Force Station in Florida at 11:25pm east coast time. The methane-fueled rocket vaulted into the night sky, successfully reaching space but ultimately failing to reach orbit due to an anomalous engine failure.
Though the mission, dubbed "Good Luck, Have Fun," did not achieve all of its goals, Terran 1's launch still marks an important milestone for the California-based startup. The rocket proved to hold up under Max-Q, the segment of the flight where peak stress is placed on its structure.
"Today is a huge win, with many historic firsts. We also progressed through Main Engine Cutoff and Stage Separation. We will assess flight data and provide public updates over the coming days," Relativity Space tweeted after last night's launch.
Yesterday was Relativity Space's third attempt to launch a prototype of its novel 3D-printed orbital rocket. Previous launches, scheduled on March 8 and March 11, were called off due to fuel temperature issues, low fuel pressure, and unfavorable wind conditions.
Relativity Space, founded in 2015, aims to use Terran 1 as a budget option to launch small and mid-sized commercial satellites into space. The company has already secured several high-profile partnerships with NASA, US Space Force, Iridium, Impulse Space, and OneWeb.
Quotable
"While we didn't make it all the way today, we gathered enough data to show that flying 3D-printed rockets is possible." —A statement from Relativity test program manager Arwa Tizani Kelly over the company livestream yesterday (March 22)
Relativity Space's Terran 1 rocket, by the digits
110: Height in feet of the Terran 1 rocket, or 33.5 m

2,755: Maximum weight the Terran 1 rocket can carry, or 1,250 kgs

85%: Amount of the Terran 1 rocket that is built with 3D printing technology
$12 million: Relativity Space's advertised price per Terran 1 launch
60: Number of days Relativity Space says its 3D-printed rocket can be built in
100x: Fewer parts needed for its Terran R rocket, as advertised on the Relativity Space site
Related stories
🚀 Relativity Space aims for a record-breaking debut launch of the Terran 1 rocket
🛬 The venture-backed rocket industry is finally coming back to Earth
🦾 SpaceX will flex its monopoly muscle with a Falcon Heavy launch