Teams today are distributed around the world, and in order for them to feel connected and moving in the same direction, we need to be clearer than ever before on how to work together. They need a shared understanding.
Creating a shared understanding—that feeling where everyone on the team is on the same page about their mission, purpose, and what needs to get done to deliver on goals—is critical to building high-performing teams that can get things done. There's also a tool every team can use to build it: A working agreement, or a contract for how a team wants to intentionally work together. For teams, it makes the implicit explicit—from how we give each other feedback to where we raise issues, and from which tools we use to communicate to how we continuously improve as a team.
Better yet, a working agreement takes less than an hour to put together. Here's how your team can make one of its own.
Step 1: Create a collaboration space
I love creating working agreements with big sheets of paper and sticky notes when in person, but if your team is distributed, you can use these templates in Confluence or Trello.
Step 2: Pre-work for team members and leader
Before the session, ask team members to share details on how they work. Send out that template and have the team add information like what their working environment is like, what hours they typically work, how they like to receive feedback, and anything else that might help provide context on how they work best.
If you're the facilitator, take the first pass at filling out communication channels, meetings, and escalation process sections. A tip: Ask what the team is doing today, then bring it on to the page. Make sure not to fill out the info in too much detail; you want it to feel like there's still room to add ideas, instead of the agreement being fully baked.
Once you're all together, take the first ten minutes to have the team review the pre-populated information.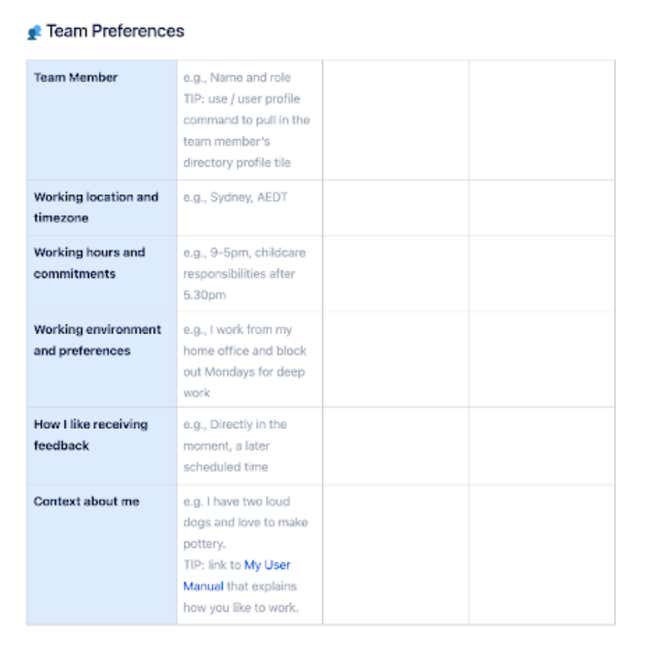 Step 3: Establish communications channels
Next, take ten minutes to discuss how the team is going to communicate effectively. Identify a communication channel, its purpose, audience (like your team, an adjoining team, or someone external, like your clients), and any expectations for you you want to communicate and collaborate in that space. For example, your team may use Confluence for documentation and Slack as your daily team chat space.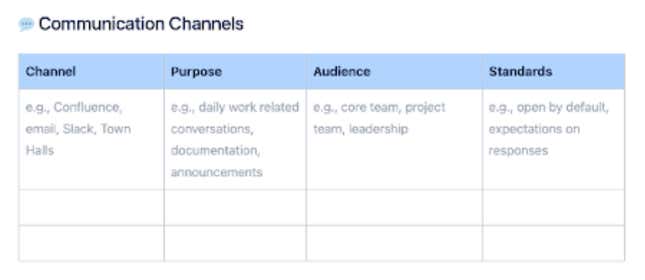 Step 4: Establish meetings
The next 30 minutes will be dedicated to effective meetings. Consider these questions:
What format of meetings do we want?
Who attends meetings? What are their roles and teams?
What mediums and tools do we need?
How do we manage follow-up?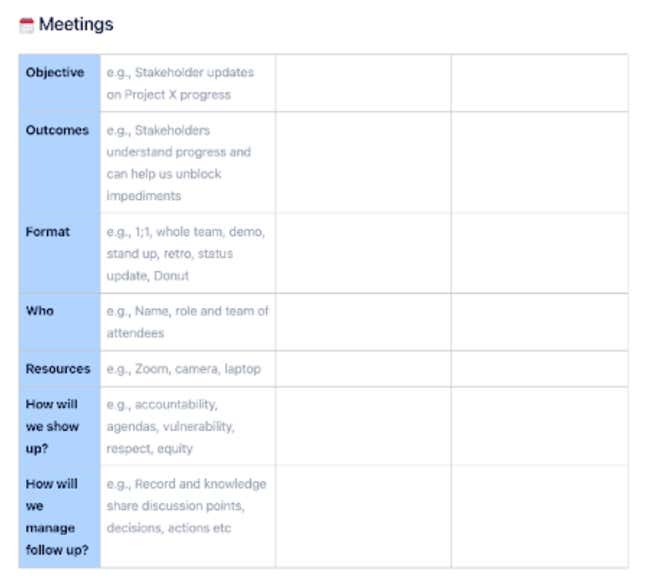 Step 5: Outline an escalation process
The next 10 minutes will be spent reviewing the escalation process section together. Any good team knows that failure to plan is a plan to fail. Consider how the team will raise up a pressing issue, or one that just can't reach a consensus. Fill in who the decider is, how they will handle an escalation, what level of transparency the deciders will provide to the rest of the team, and how they'll share the decision with everyone else.

Step 6: Make a plan for continuous improvement
One of the most important things to cover as a team is planning ahead for learning and adapting together. Take ten minutes to discuss the rituals and communication standards for sharing feedback, reflecting on lessons learned, celebrating success, and recognizing personal milestones.

Revisit your team's working agreements periodically, especially when onboarding new team members, during team reorgs, when work scenarios change, or an agreement can no longer be upheld. And it's especially helpful if you were once an in-office team that has become hybrid or fully remote, or vice versa: Your rituals and agreements will have to change to accommodate different geographies, time zones, and technology.

In my career, I've helped hundreds of teams develop working agreements and can say that no matter the team, they all benefit from taking time to become more intentional with how they work with each other—and deepening the understanding they share of the work they do. It's the mortar that holds the bricks together.
​​Mark Cruth is Atlassian's resident Modern Work Coach. Focused on practice over theory, Mark spends his days coaching both Atlassian and customer teams on new ways of working, then sharing what he's learned at events around the world.